Mecum Auctions kehrt vom 8. bis 11. September in das Kay Bailey Hutchison Convention Center in Dallas zurück, wo geschätzt 1.000 amerikanische Muscle Cars, Klassiker, Corvettes, Trucks, Exoten, Zollfahrzeuge und vieles mehr versteigert werden sollen.
Seit 2011 findet die Mecum-Auktion einmal im Jahr in Dallas statt. 2021 weisen die angebotenen Lose eine hohe Konzentration an klassischen amerikanischen Fahrzeugen auf. Zu den Highlights gehört ein 1969er Chevrolet COPO Camaro (Los S116) mit einem Kilometerstand von 3.645 Meilen, mit Original-Lackierung, -Blech und -Innenausstattung und seit 45 Jahren im Besitz der gleichen Familie. Außerdem gibt es einen 1970 Ford Mustang Boss 429 Fastback (Lot S138) mit der KK-Nr. 2274 und einem 429/375 PS V-8 Motor und einem 4-Gang-Schaltgetriebe. Letzteres Pony Car erhielt die MCA Gold Auszeichnung in der "1969-1970 Boss Concours Trailered or Driven Class" bei den MCA Nationals und auch den MCA Diamond bei den Boss Nationals in Tulsa.
Unter den Losen befindet sich auch ein 1966 RCR Ford GT40 Replica (Lot S126), einer von sechs, die von RCR für den preisgekrönten Film "Ford gegen Ferrari" gebaut wurden. Angetrieben von einem 5,7-Liter-V8-Motor und einem 6-Gang-Schaltgetriebe erhielt das Fahrzeug den Spitznamen "Dan Gurney Car", da es in den Le-Mans-Rennszenen als Wagen Nr. 3 eingesetzt wurde.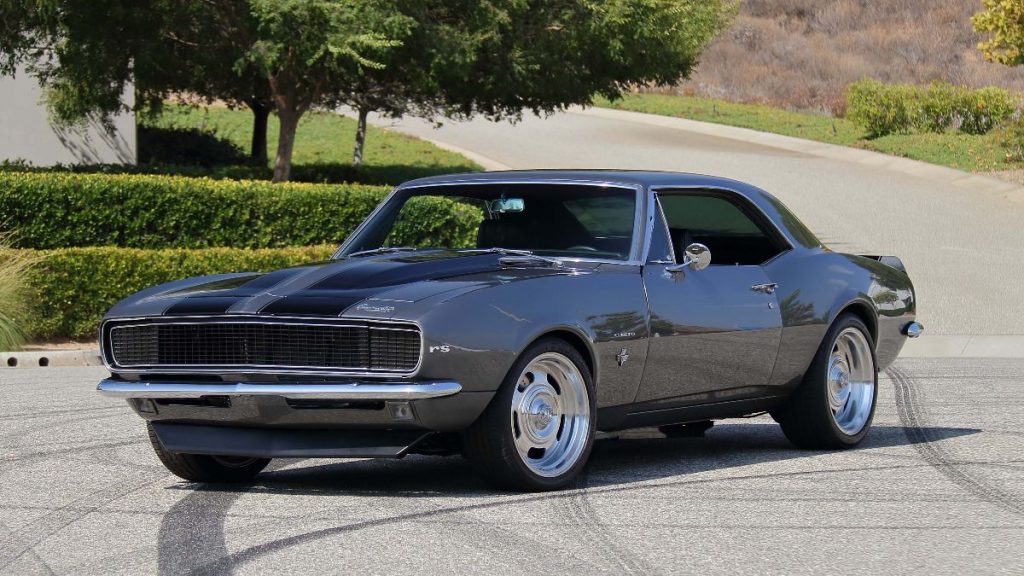 Die William Scott Collection umfasst fünf Lose, die Gruppe wird von einem mit dem MCA Gold Award ausgezeichneten 1969 Shelby GT350 Fastback (Los S110) mit einem nummerngleichen 351 CI-Motor und 4-Gang-Getriebe angeführt. Weitere Lose der Sammlung sind ein 1970 Ford Mustang Mach 1 Fastback (Los S106) mit einem nummerngleichen 428 CI-Motor und einem 4-Gang-Getriebe; ein 1965 Pontiac GTO (Los S107) mit einem 389/335 PS-Motor und einem 4-Gang-Getriebe; ein 1969 Chevrolet Camaro SS (Los S108) mit einem 396/375 PS-Motor und seinem originalen Muncie M21-Getriebe; und ein 1970 Plymouth GTX (Los S109) mit einem V-Code 440 6-BBL-Motor, Getriebe und Differential.
Die Triple B Collection bietet eine große Auswahl von 18 Ford Mustang- und Ford Shelby-Modellen sowie einen abgelegenen 1967er Chevrolet Camaro (Los F108.1) mit LS V-8-Motor und Tremec 5-Gang-Schaltgetriebe. Die Meaney Collection mit sechs Losen umfasst eine vielfältige Auswahl, darunter ein 1941 Cadillac Series 62 Deluxe Coupe (Los F91.1), ein 1971 Austin America Coupe (Los F93) und ein 1963 Ford Falcon Futura Convertible (Los F92.1).
Mehr Infos: http://www.Mecum.com.
Fotos: ©MecumAuctions
Die unbefugte Verwendung und / oder Vervielfältigung von redaktionellen oder fotografischen Inhalten von Classic-Car.TV ohne ausdrückliche und schriftliche Genehmigung des Herausgebers ist strengstens untersagt. Auszüge und Links dürfen verwendet werden, sofern Classic-Car.TV mit einem angemessenen und spezifischen Verweis zum ursprünglichen Inhalt, vollständig und eindeutig in Verbindung gebracht wird.

The unauthorized use and/or duplication of any editorial or photographic content from Classic-Car.TV without express and written permission from the publisher is strictly prohibited. Excerpts and links may be used, provided that full and clear credit is given to Classic-Car.TV with appropriate and specific direction to the original content.