Das Petersen Automotive Museum in Los Angeles hat nun die zweite von zwei "Luftgekühlt"-Ausstellungen, Prototype Giants, eröffnet, die sich mit der Geschichte und dem Vermächtnis der legendären Porsche-Rennwagen 956 und 962 beschäftigt.
Der Porsche 956 wurde gebaut, um das neue Gruppe-C-Reglement der FIA-Sportwagen-Weltmeisterschaft (WSC) von 1982 zu erfüllen. Er war der erste Rennwagen, der ein Aluminium-Monocoque-Chassis und aerodynamische Bodeneffektelemente aufwies. Werks-956er gewannen in diesem Jahr die 24 Stunden von Le Mans, führten jede Runde an und belegten die Plätze eins, zwei und drei. Im Jahr 1983 stellte ein 956 mit Stephen Bellof am Steuer den Rundenrekord auf der Nürburgring-Nordschleife auf, der 35 Jahre lang Bestand hatte, bis er 2018 von einem modifizierten Porsche 919 Hybrid überboten wurde.
Der 962 wurde entwickelt, um die aktualisierten IMSA-GTP-Spezifikationen zu erfüllen, wobei die Gruppe-C-Teilnehmer die Bezeichnung 962C erhielten. Der 962 wurde zu einem der dominantesten Rennwagen aller Zeiten und gewann 1985 und 1986 die WM, 1985-88 die IMSA GT-Meisterschaft, 1986 und 87 die 24 Stunden von Le Mans, 1994 die 24 Stunden von Le Mans 1994 (ein modifiziertes Kundenfahrzeug) und 10 Jahre lang andere Rennserien.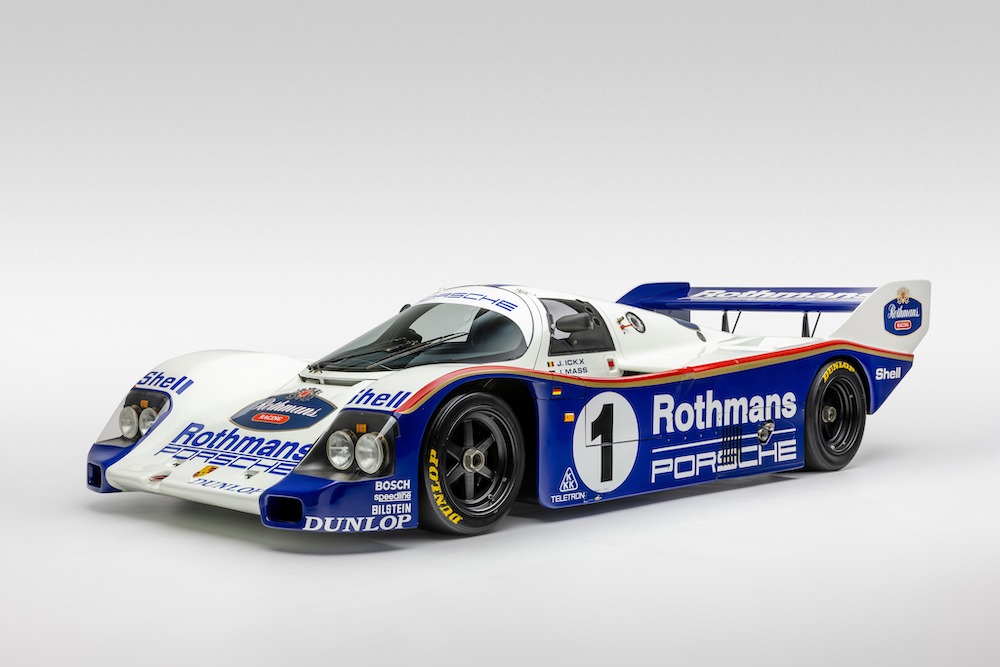 "Wir freuen uns, unsere zweite Luftgekühlt-Ausstellung zu präsentieren, die einige der kultigsten 956er und 962er zeigt, die jemals produziert wurden", so Terry L. Karges, Executive Director von Petersen. "Diese Galerie wird die reiche Geschichte dieser Rennwagen erforschen und mehr Licht darauf werfen, warum sie auf der Rennstrecke so dominant waren."
Zu den ausgestellten Fahrzeugen gehören ein weißer Porsche 956, der von Bob Akin und Hans Stuck gefahrene 962, der von A.J. Foyt eingesetzte Kopenhagener 962, der Miller High Life/BF Goodrich 962, der 1989 das Rolex Daytona 24 gewann, ein dreimaliger Rennsieger, der von Jacky Ickx und Jochen Mass gefahrene Werks-Rothmans 962C, ein von Kremer gebauter Leyton House 962C und der von Hurley Haywood gefahrene 0123/Art 962C. Fast alle diese Fahrzeuge nehmen auch noch lange nach ihrem Rückzug aus dem Spitzensport regelmäßig an Oldtimer-Rennen teil.
Die Ausstellung bildet den Abschluss einer zweiteiligen Ausstellungsreihe im Petersen Museum in Zusammenarbeit mit dem Porsche-Veranstalter Luftgekühlt. Der erste Teil, "Pfaffenhausen Speed Shop – The RUF Gallery", wurde am 15. Mai 2021 eröffnet und beleuchtete die Arbeit des deutschen Herstellers und Porsche-Tuners RUF Automobile.
Fotos: ©Petersen Automotive Museum
Die unbefugte Verwendung und / oder Vervielfältigung von redaktionellen oder fotografischen Inhalten von Classic-Car.TV ohne ausdrückliche und schriftliche Genehmigung des Herausgebers ist strengstens untersagt. Auszüge und Links dürfen verwendet werden, sofern Classic-Car.TV mit einem angemessenen und spezifischen Verweis zum ursprünglichen Inhalt, vollständig und eindeutig in Verbindung gebracht wird.

The unauthorized use and/or duplication of any editorial or photographic content from Classic-Car.TV without express and written permission from the publisher is strictly prohibited. Excerpts and links may be used, provided that full and clear credit is given to Classic-Car.TV with appropriate and specific direction to the original content.