Paul Walker, der verstorbene Schauspieler, der durch seine Rollen in der Filmreihe "Fast and Furious" bekannt wurde, war ein leidenschaftlicher Autofan und besaß mehrere Hochleistungsfahrzeuge. Eines seiner berühmtesten Autos war ein Nissan Skyline GTR R34 aus dem Jahr 1999.
Der Nissan Skyline GTR ist ein Hochleistungssportwagen mit einer reichen Geschichte in der japanischen Autokultur. Er wurde erstmals 1969 vorgestellt und seither in verschiedenen Iterationen produziert. Die R34-Version, die von 1999 bis 2002 produziert wurde und für ihren leistungsstarken RB26DETT-Motor, ihren fortschrittlichen Allradantrieb und ihr schlankes Design bekannt ist, gilt vielen als die ikonischste und begehrteste Version der Skyline-Modelle.
Der R34 GTR wird von einem RB26DETT-Reihensechszylindermotor mit zwei Turboladern angetrieben, der rund 280 PS und ein Drehmoment von 293 lb-ft liefert. Durch Modifikationen kann dieser Motor jedoch auf eine wesentlich höhere Leistung getrimmt werden. Das Fahrzeug verfügt außerdem über ein fortschrittliches Allradsystem, das für eine hervorragende Traktion und Wendigkeit sorgt.
Der R34 GTR von Paul Walker wurde mit leistungssteigernden und kosmetischen Upgrades stark modifiziert. Das Fahrzeug bekam ein komplettes Veilside Bodykit, das eine Frontstoßstange, Seitenschweller und einen Heckdiffusor umfasst. Außerdem erhielt er eine maßgeschneiderte Auspuffanlage, Volk Racing-Räder und ein Motec-Motormanagementsystem. Im Innenraum verfügte das Fahrzeug über ein Rennlenkrad, Recaro-Rennsitze und ein maßgeschneidertes Audiosystem.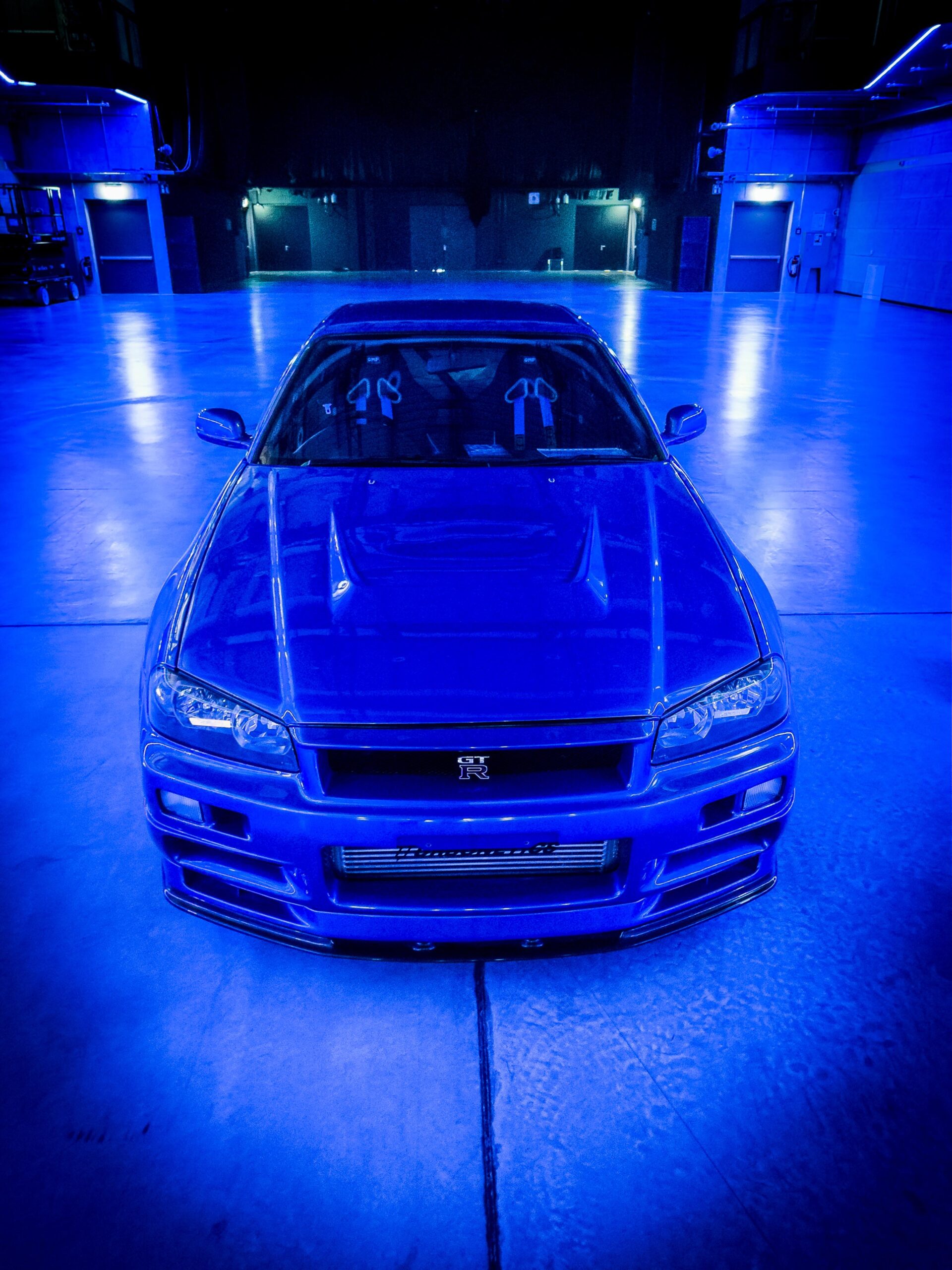 Walkers Liebe zum Nissan Skyline GTR spiegelte sich auch in den "Fast and Furious"-Filmen wider, in denen sein Charakter Brian O'Conner im zweiten Film einen 1995er R33 GTR und im vierten, fünften und sechsten Film einen 2002er R34 GTR fuhr.
Neben seinem persönlichen R34 GTR war Paul Walker auch ein Autoenthusiast und besaß mehrere andere Hochleistungsautos, darunter einen BMW M3 E30, einen Porsche 911 GT3 RS und einen Ford Mustang Boss 302S.
Am 2. April 2023 in der Motorworld Munchen
Der Nissan Skyline Live
Der Nissan Skyline R34 GTR steht derzeit in der Motorwelt München bei GTA Munich. Am Sonntag 2.4.2023 wird das Fahrzeug in der großen Lokhalle fahren.