Walter Glöckler leitete in den 50erJahren den Betrieb Glöckler, eine Motorrad- und Automobil-Handlung. Vor dem Krieg handelte Glöckler mit Fabrikaten wie NSU,  BMW, Hanomag und Volkswagen. Nach dem Krieg wurde die Firma hauptsächlich eine Generalvertretung für Volkswagen und Porsche. Walter Glöckler liebte es, an Automobilrennen teilzunehmen. Daher baute er sich seine eigenen Rennwagen auf der Basis von Volkswagen und Porsche 356 auf. Die Fahrzeuge waren Einzelstücke und gingen nie in Serie. Zwischen 1948 und 1954 konstruierte Walter Glöckler zusammen mit Herman Ramelow, seinem Mitarbeiter, sieben unterschiedliche Rennsportwagen. Die Karosserien wurden von der Frankfurter Spenglerei C.H. Weidenhausen gebaut und angeliefert.
1952 baute Glöckler den hier gezeigten Glöckler-Porsche 1500 auf. Da dieser Porsche dem Vorgänger Nummer 3 sehr ähnelt, wird das Fahrzeug vor allem in den USA als zweiter Porsche Nummer 3 bezeichnet. Der erste Porsche Nr. 3 wurde allerdings auf einem Gitterohrrahmen aufgebaut, während die Nr. 4 auf einem verkürzten Porsche 356-Fahrwerk aufgebaut wurde. Auch Getriebe und Motor wurden unverändert übernommen.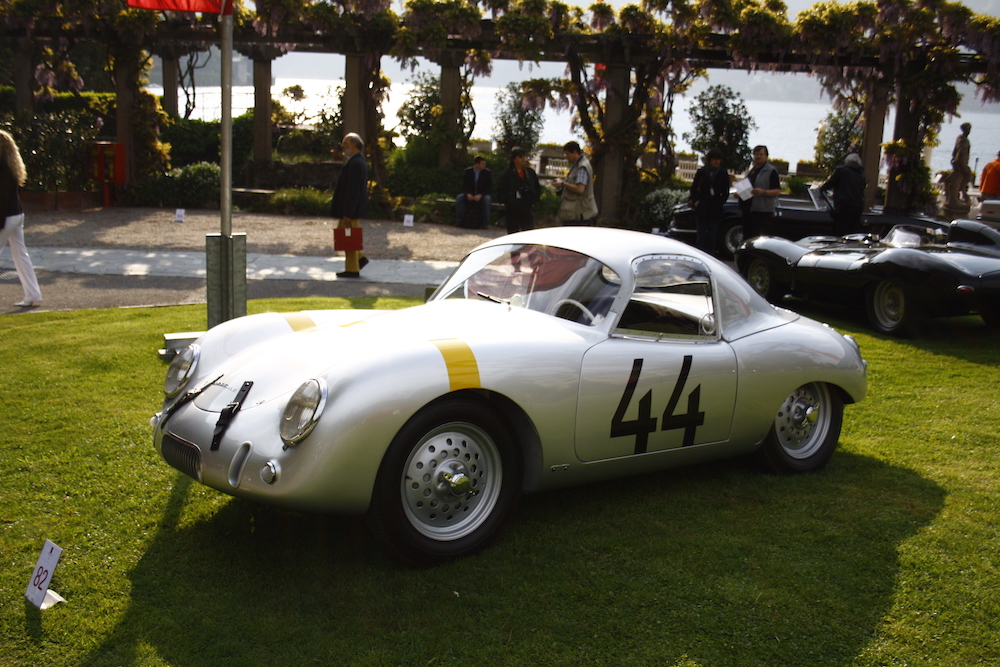 Walter Glöckler gewann 1952 mit dem Glöckler-Porsche Nr. 4 die Deutsche Sportwagenmeisterschaft in der 1,5 Liter-Klasse. Nach einigen Renneinsätzen wurde der Rennsportwagen verkauft und von dem neuen Besitzer bei einigen Sportwagen- und Bergrennen in den USA eingesetzt. Auch dies nicht ohne Erfolg. Bei einigen Rennen erzielten die Fahrer des Glöckler-Porsche den zweiten Platz. Der sehr besondere Porsche 356 wurde schon bei Pebble Beach, Concorso D´Eleganza und anderen Concours gezeigt und ist jedes Mal ein echtes Highlight.
Übrigens wird heute der Glöckler-Porsche als Grundlage für den Porsche 550 bezeichnet.
Fotos: ©Kay MacKenneth
Die unbefugte Verwendung und / oder Vervielfältigung von redaktionellen oder fotografischen Inhalten von Classic-Car.TV ohne ausdrückliche und schriftliche Genehmigung des Herausgebers ist strengstens untersagt. Auszüge und Links dürfen verwendet werden, sofern Classic-Car.TV mit einem angemessenen und spezifischen Verweis zum ursprünglichen Inhalt, vollständig und eindeutig in Verbindung gebracht wird.

The unauthorized use and/or duplication of any editorial or photographic content from Classic-Car.TV without express and written permission from the publisher is strictly prohibited. Excerpts and links may be used, provided that full and clear credit is given to Classic-Car.TV with appropriate and specific direction to the original content.