Der Goodwood Motor Circuit hat – nach der Rückkehr des Goodwood Revival nach West Sussex – am vergangenen Wochenende nach einer Covid-Pause wieder seine Pforten geöffnet.
Zu den Höhepunkten auf der Strecke gehörte die Stirling Moss Memorial Trophy am Freitagabend, die von Harvey Stanley und James Cottingham im E-Type gewonnen wurde, während die John Whitmore Trophy am Samstagmorgen von Nick Swift und Andrew Jordan für sich entschieden wurde. Die Royal Automobile Club TT Celebration am Sonntagnachmittag wurde von Ollie Bryant und Darren Turner im AC Cobra der Familie Bryant gewonnen.
Beim Settrington Cup fuhren Dutzende von Kindern in ihren Austin J40-Tretautos auf der Pit Lane Straight um die Wette, um die Zielflagge zu sehen.
Zahlreiche bekannte Gesichter wie Jason Momoa, Hugh Bonneville und John Bishop genossen die Action des Wochenendes, während legendäre Fahrer wie Sir Jackie Stewart, Jenson Button, Jean-Éric Vergne, André Lotterer, Emanuele Pirro, Maria Costello, Damon Hill und Derek Bell auf die Strecke gingen.
Goodwood feierte das Leben und die Karriere von Sir Stirling Moss mit einer Streckenparade an jedem Tag, so auch am Samstag, dem Jahrestag seines ersten Rennens im Jahr 1948. Derek Bell, Sir Jackie Stewart, Damon Hill und der Herzog von Richmond zollten ihm Tribut, und der Mercedes-Benz 300 SLR, mit dem Moss und Denis Jenkinson 1955 die Mille Miglia gewannen, fuhr auf der Strecke.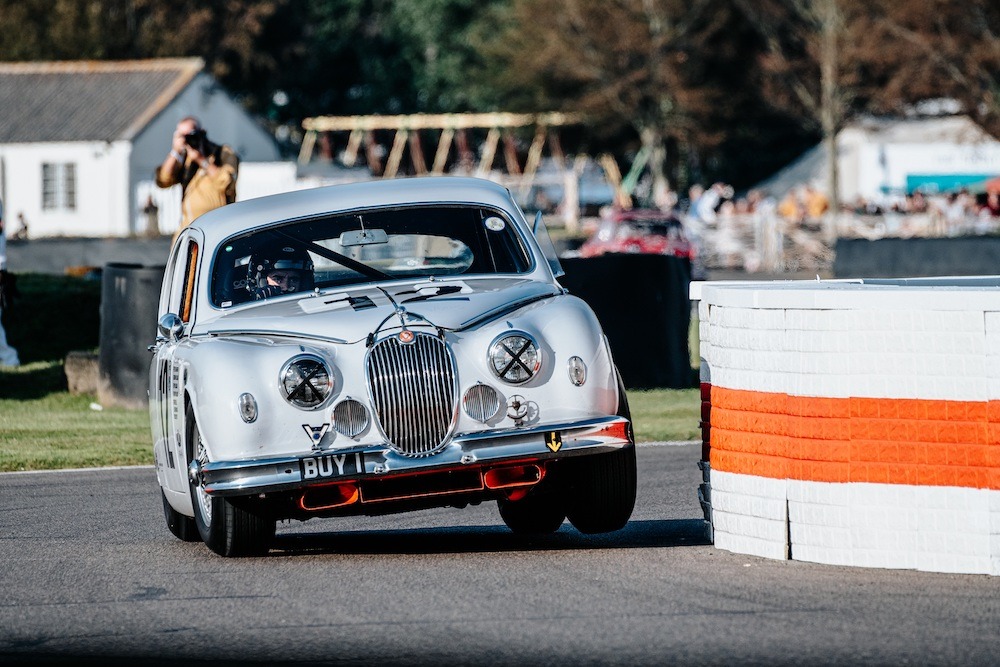 Die erste Revival-Auktion von Bonhams seit zwei Jahren wurde als großer Erfolg gewertet, da fast drei Viertel aller Lose verkauft wurden. Der größte Verkauf des Tages ging an den Jaguar D-Type des Revival-Rennfahrers Valentine Lindsay. Der Kurzheckwagen aus dem Jahr 1956, dessen Einzelteile in der Zeit zerlegt und in den 1980er Jahren wieder zusammengebaut wurden, erzielte einen Preis von 799.000 Pfund.
British Racing Motors feierte den 70. Jahrestag ihres ersten Auftritts in einer Grand-Prix-Startaufstellung, als die größte Ansammlung von BRMs aller Zeiten am Wochenende zu einer Reihe von Streckenparaden auf die Rennstrecke kam. Am Freitag wurde der "neue" V16 der Marke enthüllt, eine exakte Nachbildung des Originals.
Am Sonntag führte Sir Chris Hoy im Anschluss an die Eröffnung des Eroica Britannia Radsportfestivals in Goodwood 150 Oldtimer-Radfahrer auf eine Runde um den Goodwood Motor Circuit. Die erste Eroica Britannia findet nächstes Jahr am Samstag, 6. und Sonntag, 7. August statt.
Bei der spektakulären Nachstellung der Londoner Siegesparade von 1946 am Sonntag führten 250 örtliche Mitarbeiter und Angehörige der Streitkräfte über 150 historische Militärfahrzeuge die Pit Lane Straight hinunter. Der Herzog von Richmond hielt eine Rede und dankte den Teilnehmern für ihren selbstlosen Einsatz.
Am Sonntag fand auch der erste Car Boot Sale des Revivals statt, an dem fast dreißig Verkäufer teilnahmen, darunter Liberty, The Circle, EarlyBird Club und The Circle of Style, die den Gästen eine Fundgrube an Vintage-Designerkleidung, Haushaltswaren, Büchern und Schmuckstücken boten.
Der Titl Best of Show ging an Kate Keamena und ihr Team, die eine atemberaubende Auswahl an Kleidung und Accessoires präsentierten.
Fotos: ©Goodwood Revival
Die unbefugte Verwendung und / oder Vervielfältigung von redaktionellen oder fotografischen Inhalten von Classic-Car.TV ohne ausdrückliche und schriftliche Genehmigung des Herausgebers ist strengstens untersagt. Auszüge und Links dürfen verwendet werden, sofern Classic-Car.TV mit einem angemessenen und spezifischen Verweis zum ursprünglichen Inhalt, vollständig und eindeutig in Verbindung gebracht wird.

The unauthorized use and/or duplication of any editorial or photographic content from Classic-Car.TV without express and written permission from the publisher is strictly prohibited. Excerpts and links may be used, provided that full and clear credit is given to Classic-Car.TV with appropriate and specific direction to the original content.