Classic Investments, Restaurierungsspezialist aus Großbritannien, wird auf der diesjährigen Lancaster Insurance Classic Motor Show im NEC Birmingham an diesem Wochenende bis 14. November drei sehr unterschiedliche Restaurierungsprojekte präsentieren.
Bei seinem Debüt in Birmingham zeigt Classic Investments einen nummerngleichen 1966er E-Type FHC RHD Series 1, der zusammen mit einem nummerngleichen 1970er Dodge Charger 1970 und einem kleinen Gaz M20 zu sehen sein wird. Bei diesem Triptychon hat jedes Fahrzeug eine eigene Persönlichkeit.
Der britische Spezialist stellr seinen Hand-in-Hand-Ansatz bei Restaurierungen vor, der es den Kunden ermöglicht, sich von jedem Ort der Welt aus voll in das Projekt einzubringen.
Der 1966er Jaguar E-Type von Classic Investments ist eines von nur 1.583 gebauten Rechtslenker-Coupés der Serie 1 4.2 und gehört sicher zu den am sorgfältigsten gefertigten Exemplaren überhaupt. Mit übereinstimmenden Nummern und einer dokumentierten Historie ist es wahrscheinlich, dass die 24.555 Meilen auf dem Kilometerzähler korrekt sind.
Der Wagen ist in modernem Opalescent Gunmetal mit rotem italienischem Lederinterieur lackiert. Der Dodge Charger, eine wahre Ikone auf der Straße und auf der Leinwand, bedarf keiner weiteren Vorstellung, und Classic Investments' Ruf für die Restaurierung dieser Ungetüme wird mit dem 1970er 318CI (5,2-Liter)-Modell, das auf der Messe präsentiert wird, zementiert. Das komplett überholte und schwarz lackierte Fahrzeug wurde bis ins kleinste Detail restauriert – von der Verchromung bis zum neu gestalteten Innenraum. Eine Besonderheit ist auch die vollständig restaurierte und funktionsfähige R2V-Original-Klimaanlage. Der Wagen wurde 2020 für den renommierten Virtual Concours nominiert.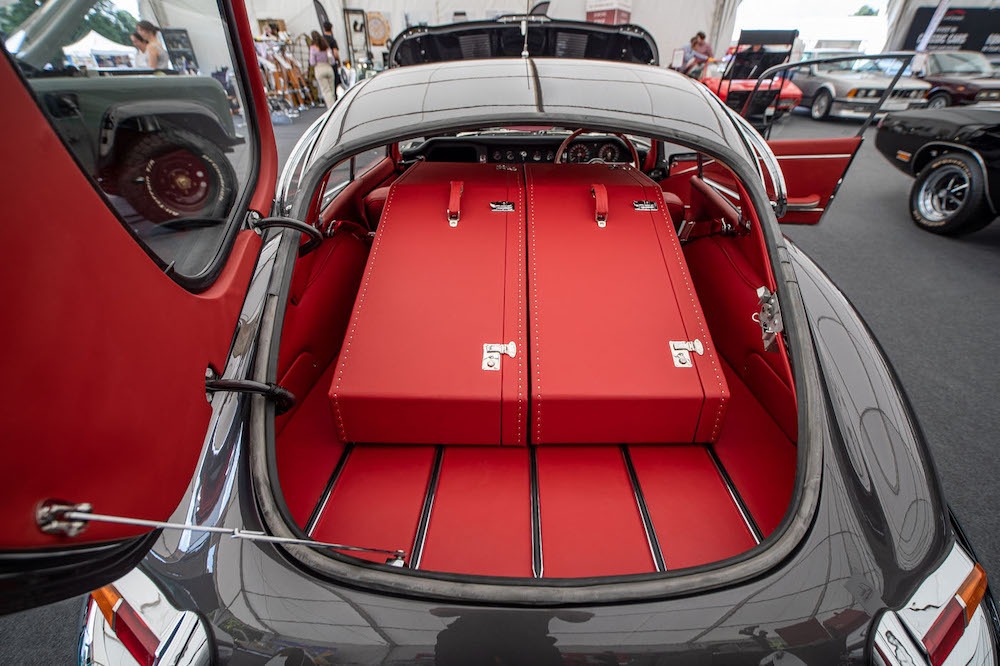 Trotz seiner geringen Größe hat das Einzelstück Gaz M20 "Pobeda" von Classic Investments nicht weniger Aufmerksamkeit erhalten als seine Stallgefährten. Tausende von Stunden wurden investiert, um den russischen Wagen in einen Zustand zu versetzen, der wesentlich besser ist als der, in dem er das Werk verlassen hat. Es handelt sich wahrscheinlich um die ultimative M20-Restaurierung. Das fertige Auto bleibt jedoch dem Original treu, mit einem werkseitig korrekten Motor und Getriebe sowie einer zeitgemäßen Innenausstattung.
Neben den Fahrzeugen zeigt Classic Investments auch einige der Dienstleistungen, die seine Arbeit auszeichnen, wie z. B. maßgeschneidertes und maßgefertigtes Gepäck. Durch die Verwendung traditioneller Techniken und Materialien zur Herstellung von Kofferaufbauten oder Kofferräumen können zeitgemäße Stücke oder Artikel geschaffen werden, die vom Original nicht zu unterscheiden sind.
Fotos: ©Classic Investments
Die unbefugte Verwendung und / oder Vervielfältigung von redaktionellen oder fotografischen Inhalten von Classic-Car.TV ohne ausdrückliche und schriftliche Genehmigung des Herausgebers ist strengstens untersagt. Auszüge und Links dürfen verwendet werden, sofern Classic-Car.TV mit einem angemessenen und spezifischen Verweis zum ursprünglichen Inhalt, vollständig und eindeutig in Verbindung gebracht wird.

The unauthorized use and/or duplication of any editorial or photographic content from Classic-Car.TV without express and written permission from the publisher is strictly prohibited. Excerpts and links may be used, provided that full and clear credit is given to Classic-Car.TV with appropriate and specific direction to the original content.