Die Synetiq, ein Bergungs- und Fahrzeugverwertungsunternehmen aus Großbritannien, versteigert seine Winsford-Sammlung. Die Winsford Collection stammt aus dem privaten Synetiq-Museum und umfasst rund 25 Autos, von schnellen Fords über seltene Jaguars bis hin zu einer großen Auswahl an klassischen Minis. Die meisten Fahrzeuge sind nach jahrelanger Trockenlagerung bereit, wieder in Betrieb genommen zu werden. Ein großer Teil der Auswahl umfasst Fahrzeuge, die als Investitionsprojekte betrachtet werden können und eine leichte Restaurierung benötigen.
Die Gebote können ab sofort und bis zum 28. Mai online abgegeben werden. Insgesamt stehen 25 Autos aus allen Epochen zum Verkauf, hier die fünf Vielversprechendsten.
1953 Jaguar XK120 OTS. Dieser XK120 ist in British Racing Green lackiert und läuft auf zeitgemäßen Speichenrädern und Diagonalreifen. Ausgestattet mit einem Überrollbügel, Aero-Scheiben, Feuerlöscher, Gurten und einer externen Zündabschaltung ist dieser Jaguar bereit für Touren, historische Rallyes oder Rennen.
Zum Los: https://auctions.synetiq.co.uk/auction/items/details/1953-jaguar-xk120-road-going-competition-3880cc/155930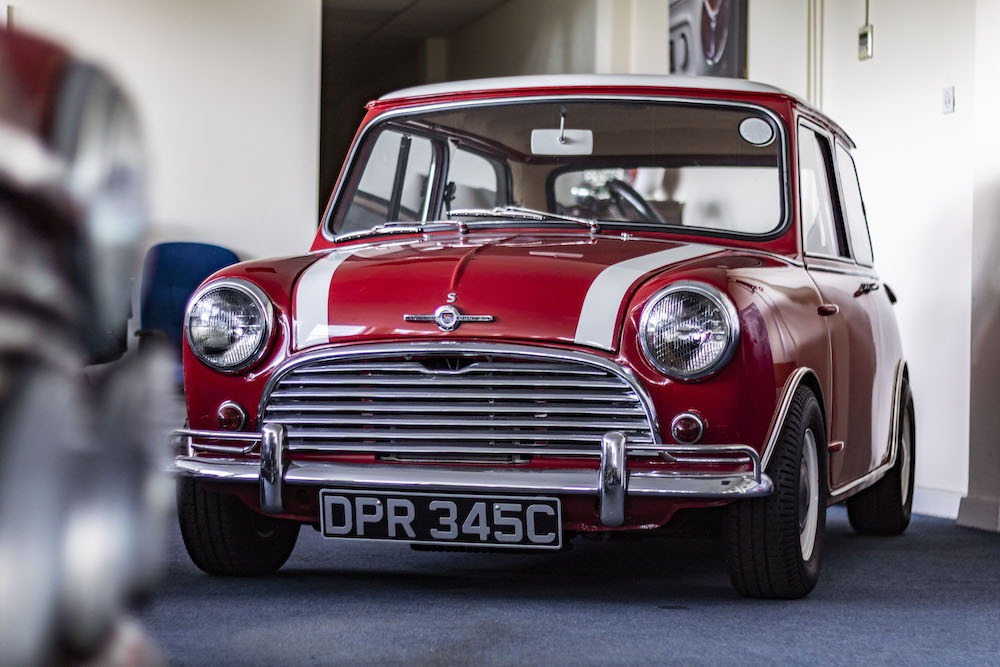 1964 Austin Mini Cooper S, Downton getunt mit Radford-Interieur. Dieses seltene, frühe Beispiel des Austin Mini Cooper S ist möglicherweise einzigartig. Als Modell von 1964 verfügt er über den größeren 1071ccm-Motor der A-Serie, mit servounterstützten Scheibenbremsen, aber nicht über die Doppeltanks der späteren Autos. Dieser Mini wurde von den Mini-Experten von Downton Engineering noch weiter getunt und verfügt über eine maßgeschneiderte Innenausstattung von den führenden britischen Karosseriebauern Harold Radford & Co.
Zum Los: https://auctions.synetiq.co.uk/auction/items/details/1964-austin-mini-cooper-s-petrol-manual-2-door-saloon/152731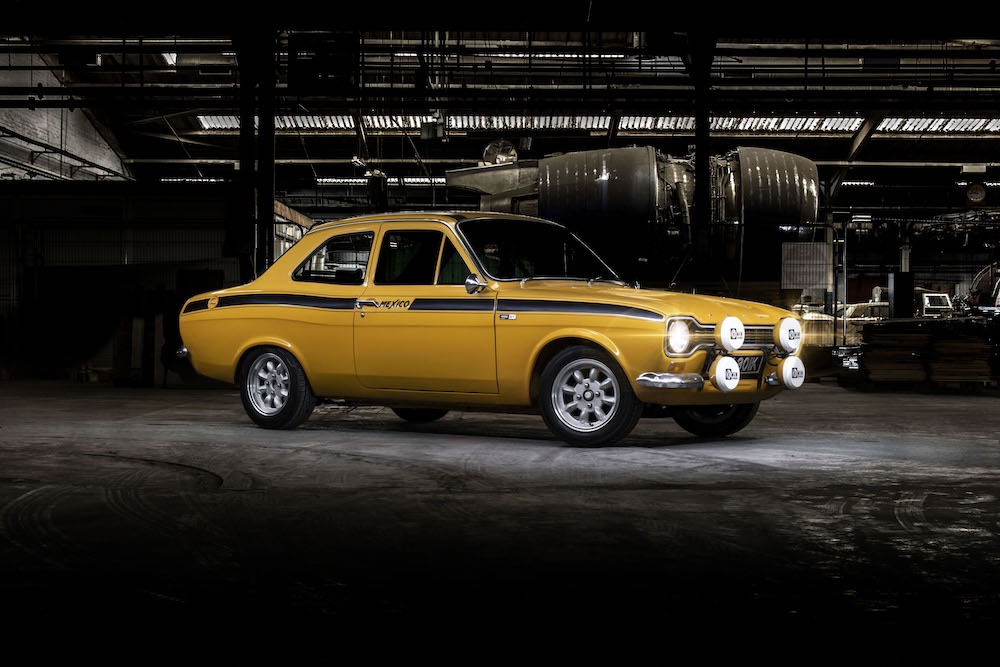 1971 Ford Escort Mexico. Der Escort Mexico wurde zur Feier seines Sieges bei der Rallye-Weltmeisterschaft London-Mexiko im Jahr 1970 vorgestellt und ist zu einem der begehrtesten Exemplare dieses Typs geworden. In Daytona-Gelb lackiert, mit vierfachen Cibie-Scheinwerfern an der Front und diamantgeschliffenen Minilite-Leichtmetallfelgen, ist dieser Escort ein echter Hingucker. Dieses Exemplar hat nur 103.000 Meilen auf dem Kilometerzähler.
Zum Los: https://auctions.synetiq.co.uk/auction/items/details/1971-ford-escort-mexico-1558cc-petrol-manual-2-door-saloon/152384
1989 Ford Sierra RS Cosworth. Lackiert in Diamantweiß, mit einem grauen Velours-Interieur, zeigt dieses Exemplar nur 38.000 Meilen auf dem Kilometerzähler. Da es für Käufer immer schwieriger wird, unverfälschte, originale Exemplare dieser turboaufgeladenen Super-Limousinen der 80er Jahre zu finden, hat dieser Sierra Sapphire bereits die Aufmerksamkeit Sammler der Marke gewonnen.
Zum Los: https://auctions.synetiq.co.uk/auction/items/details/1989-ford-sierra-rs-cosworth-1993cc-turbo-petrol-manual-5-speed-3-door-hatchback/152082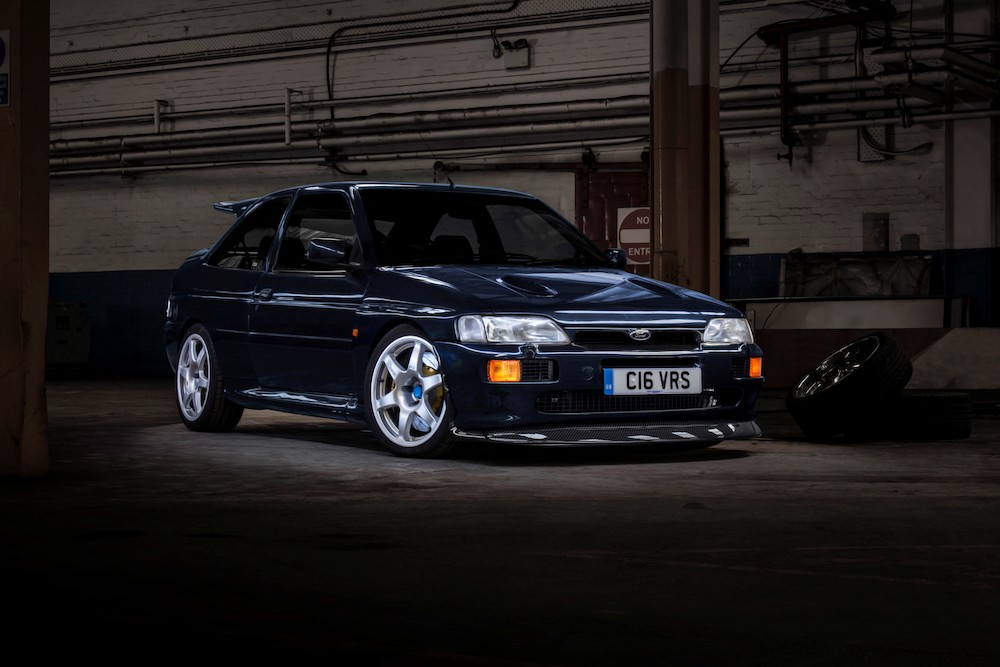 1992 Ford Escort RS Cosworth. Für Fans der turboaufgeladenen Straßenversionen der Gruppe-A-Rallyefahrzeuge. Mit einem 2-Liter-Turbomotor, permanentem Allradantrieb und reichlich Abtrieb dank des Walfisch-Heckspoilers war der Escort RS Cosworth für Geschwindigkeit gebaut. Dieses frühe Exemplar Ledersitzen, elektrischen Fensterhebern und manuellem Schiebedach ist in einem satten Mallard Green lackiert und hat von einigen subtilen Verbesserungen profitiert. Compomotive-Leichtmetallfelgen und ein Upgrade auf AP-Racing-Bremsen sind nicht nur zeitgemäß, sondern auch reversibel, falls der neue Besitzer ein Fahrzeug in Werksausführung wünscht.
Zum Los: https://www.synetiq-auctions.co.uk/auction/items/details/156665
Fotos: ©Synetiq
Die unbefugte Verwendung und / oder Vervielfältigung von redaktionellen oder fotografischen Inhalten von Classic-Car.TV ohne ausdrückliche und schriftliche Genehmigung des Herausgebers ist strengstens untersagt. Auszüge und Links dürfen verwendet werden, sofern Classic-Car.TV mit einem angemessenen und spezifischen Verweis zum ursprünglichen Inhalt, vollständig und eindeutig in Verbindung gebracht wird.

The unauthorized use and/or duplication of any editorial or photographic content from Classic-Car.TV without express and written permission from the publisher is strictly prohibited. Excerpts and links may be used, provided that full and clear credit is given to Classic-Car.TV with appropriate and specific direction to the original content.