Das Auto wurde von Cyan Racing entwickelt, dem Team, das hinter dem ersten Volvo-Weltmeister-Rennwagen (2017) und dem Volvo C30 Polestar Concept-Prototypen steht.
"Der erste Weltmeistertitel war ein Meilenstein für uns", sagt Christian Dahl, CEO und Gründer von Cyan Racing. "Wir hielten es für eine gute Zeit, um sowohl an die Vergangenheit als auch in die Zukunft der Volvo-Sportwagen zu denken. So wurde der Volvo P1800 Cyan zur Hommage an den Volvo-Motorsport. Das Auto trägt unsere blauen und gelben Rennfarben, um unser Erbe zu würdigen".
Zugeschnitten auf echten Fahrspaß
Bei der Entwicklung des Volvo P1800 Cyan entschied sich das Team dafür, das Design und die Technik der sechziger Jahre mit Sorgfalt zu verwenden: Es gibt keine Fahrerhilfen, die das Fahrerlebnis verzerren, also keine Stabilitätskontrolle, kein ABS oder Bremskraftverstärker.
Die Karosserie des Volvo P1800 wurde verändert, um eine breitere Spur und größere Räder aufzunehmen – und es gibt eine lange Liste von weiteren Neukonstruktionen.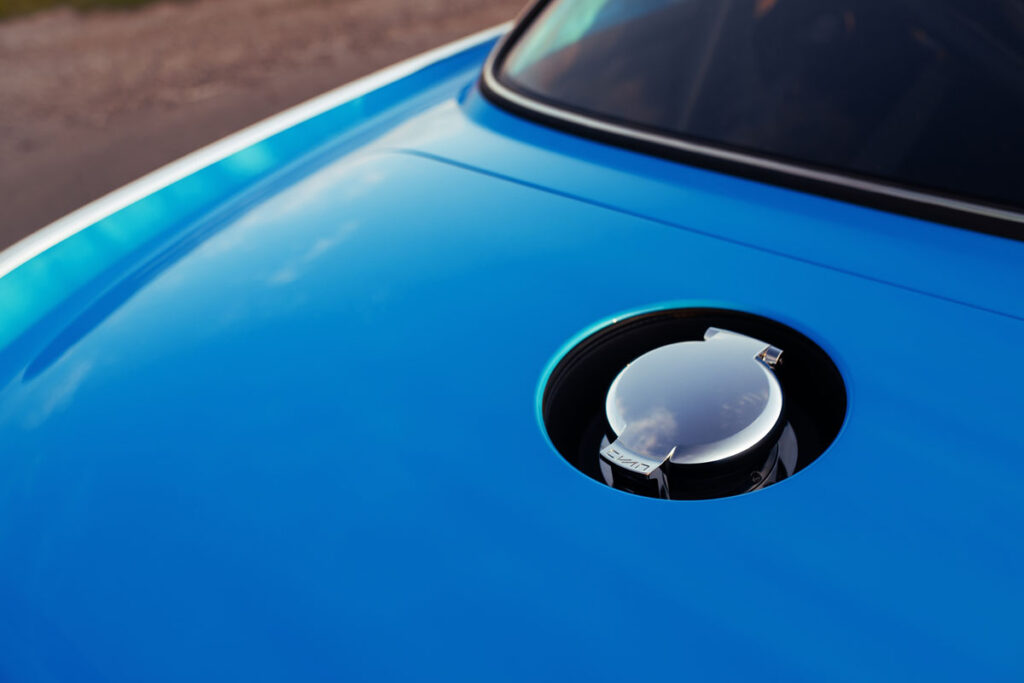 Motor- und Getriebekonstruktion
Der Zweiliter-Vierzylindermotor mit Turbolader basiert auf dem gleichen Motor, der auch im weltmeisterlichen Volvo S60 TC1 verwendet wird. Er leistet 420 PS und 455 Nm Drehmoment bei einer Drehzahl von 7700 U/min.
Ein maßgeschneidertes Holinger-Getriebe mit fünf Gängen wurde gewählt, um das mechanische Gefühl des ursprünglichen Volvo P1800 zu vermitteln, jedoch mit größerer Schaltpräzision und der Fähigkeit, das erhöhte Drehmoment zu bewältigen.
Die Original-Hinterachse des Volvo P1800 wird durch eine Einzelradaufhängung im Cyan-Design ersetzt.
Ein Schlüsselelement für den zuschaltbaren Hinterradantrieb ist das drehmomentbasierte Sperrdifferenzial. Das Differential ist in einem Holinger-Gehäuse mit einzigartigen Zahnrädern montiert, um die Leistungsfähigkeit auf der Rennstrecke mit einem zivilisierten Verhalten im Straßenverkehr zu kombinieren.
Ein rein fahrerorientiertes Fahrwerk
Der Volvo P1800 Cyan hat seinen Ursprung 1964 als Volvo P1800, der unter Verwendung von hochfestem Stahl und Kohlefaser verfeinert und verstärkt wurde.
Die voll einstellbare Vorder- und Hinterradaufhängung verfügt über maßgeschneiderte Leichtbaukomponenten, darunter Aluminium-Achsschenkel, Doppelquerlenker und zweifach verstellbare Dämpfer mit Cyan-Hydraulik.
Das kohlefaserverstärkte Fahrgestell ist mit 18-Zoll-Schmiedefelgen mit Pirelli P Zero 235/40-Reifen vorne und 265/35 hinten mit der Straße verbunden.
Das Auto wird von 4-Kolben-Bremssätteln mit 362×32-mm-Stahlscheiben mit echtem Gefühl gesteuert, da kein Bremskraftverstärker oder ABS stört.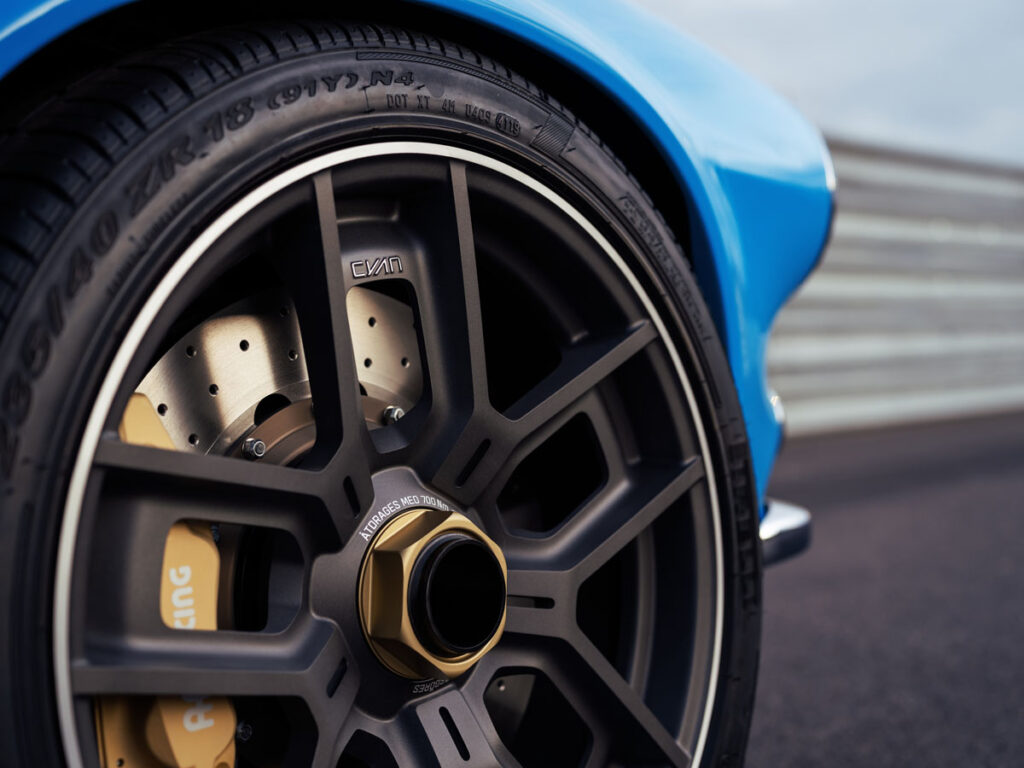 Technische Daten (Englisch)
Engine
Aspiration: Turbocharged
Size: 2000cc
Number of cylinders: 4
Cylinder alignment: Inline
Valves per cylinder: 4
Bore x stroke: 82×93.2 mm
Compression ratio: 10.2:1
Maximum HP/kW: 420 hp/308 kW @ 7000 rpm
Maximum torque: 455 Nm @ 6000 rpm
Maximum boost: 2.7 bar
Maximum RPM: 7700 rpm
Fuel system: Direct injection
Turbo: Borg Warner EFR, ceramic ball bearings, gamma-ti turbine wheel
Exhaust: Dual tube stainless steel, twin catalytic converters
Transmission
Drive wheels: RWD
Gearbox type: Manual synchromesh helical cut dog leg
Number of gears: 5
Clutch: 200 mm, organic disc
Flywheel: Single mass steel
Prop shaft: Carbon fibre
Final drive: LSD with customizable ratio
Dimensions
Wheelbase: 2446 mm
Length: 4203 mm
Width: 1748 mm
Height: 1220 mm
Track front: 1466 mm
Track rear: 1489 mm
Fuel tank capacity: 57 litres
Suspension and body
Front: Double wishbone, adjustable camber, caster, toe and bumpsteer
Rear: Double wishbone, adjustable camber and toe
Dampers: Adjustable compression and rebound front and rear
Anti-roll bars: Tubular anti-roll bars front and rear, adjustable rear stiffness
Steering rack: Rack and pinion with adjustable ratio
High-strength steel and carbon fibre body
Roll cage made in titanium
Brakes
Front: 4-piston caliper, 362×32 mm disc
Rear: 4-piston caliper, 330×25.4 mm disc
Wheels
Front tyre size: Pirelli P Zero 235/40-R18
Rear tyre size: Pirelli P Zero 265/35-R18
Front rim size: 8.5"x18"
Rear rim size: 9.5"x18"
Centerlock wheels
Weight
Curb weight: 990kgWeight distribution: F:R 47:53%
https://www.cyanracing.com/concept-cars/volvo-p1800-cyan
Fotos: ©Cyan Racing
Die unbefugte Verwendung und / oder Vervielfältigung von redaktionellen oder fotografischen Inhalten von Classic-Car.TV ohne ausdrückliche und schriftliche Genehmigung des Herausgebers ist strengstens untersagt. Auszüge und Links dürfen verwendet werden, sofern Classic-Car.TV mit einem angemessenen und spezifischen Verweis zum ursprünglichen Inhalt, vollständig und eindeutig in Verbindung gebracht wird.

The unauthorized use and/or duplication of any editorial or photographic content from Classic-Car.TV without express and written permission from the publisher is strictly prohibited. Excerpts and links may be used, provided that full and clear credit is given to Classic-Car.TV with appropriate and specific direction to the original content.