Im Laufe der Jahre hat Volkswagen einige Fahrzeuge mit hohem Wiedererkennungswert produziert, die sich ihren Platz in der Automobilindustrie redlich verdient haben. Der Volkswagen Basis-Transporter steht am anderen Ende des Spektrums und ist vielleicht eines der seltensten Volkswagen Modelle, die jemals produziert wurden.
In den 1970er Jahren schürten hohe Benzinpreise und eine unsichere Wirtschaftslage weltweit den Bedarf an einfachen Nutzfahrzeugen, die kostengünstig gebaut werden konnten. Der Volkswagen Basis-Transporter nutzte einen Käfer-Antriebsstrang, aber Motor und Getriebe befanden sich unter dem Fahrerhaus und trieben die Vorderräder an. Der zweitürige, kastenförmige Arbeitstransporter wurde von einem luftgekühlten 1,6-Liter-Motor angetrieben, leistete bis zu 50 PS und hatte ein 4-Gang-Schaltgetriebe. Das Fahrzeug war etwa so groß wie ein heutiger Volkswagen Jetta, erreichte eine Höchstgeschwindigkeit von 48 km/h und konnte auf der Ladefläche bis zu 2.205 Pfund transportieren, was es zu einem perfekten Nutzfahrzeug machte.
Volkswagen produzierte Bausätze in Deutschland und baute zwischen 1975 und 1979 komplette luftgekühlte Fahrzeuge in Mexiko. Nur 6.200 Basis-Transporter-Prototypen wurden produziert und in Entwicklungsländern wie Mexiko, der Türkei und Pakistan vertrieben. Da Volkswagen in diesen Ländern dank des beliebten Käfers bereits Fuß gefasst hatte, war die Nachfrage nach dem Basisfahrzeug besonders groß. Dazu trug auch bei, dass sie preiswert, leicht zu reparieren und robust waren.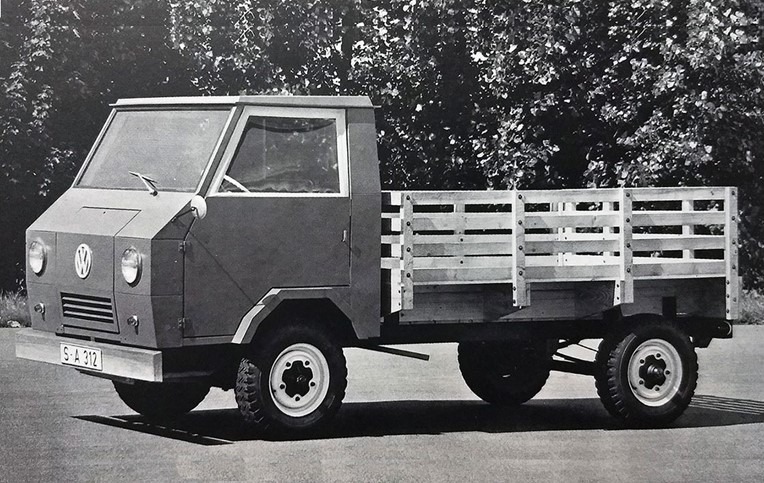 Als der Basis-Transporter-Prototyp in Umlauf gebracht wurde, erhielt er in den verschiedenen Regionen der Welt unterschiedliche Spitznamen. Auf den Philippinen war er als "Trakbayan" bekannt, was übersetzt "Land-LKW" bedeutet. In Indonesien wurde er als "Mitra" verkauft, was "Partner" bedeutet, und trug eine andere Motorhaubenform, die vom Volkswagen Bus übernommen wurde.
Aufgrund der begrenzten Auflage und der Verteilung auf ausgewählte Länder sind intakte Volkswagen Basis-Transporter weltweit selten. Wenn Sie einen auf der Straße sehen, haben Sie etwas Besonderes entdeckt.
Fotos: ©Volkswagen
Die unbefugte Verwendung und / oder Vervielfältigung von redaktionellen oder fotografischen Inhalten von Classic-Car.TV ohne ausdrückliche und schriftliche Genehmigung des Herausgebers ist strengstens untersagt. Auszüge und Links dürfen verwendet werden, sofern Classic-Car.TV mit einem angemessenen und spezifischen Verweis zum ursprünglichen Inhalt, vollständig und eindeutig in Verbindung gebracht wird.

The unauthorized use and/or duplication of any editorial or photographic content from Classic-Car.TV without express and written permission from the publisher is strictly prohibited. Excerpts and links may be used, provided that full and clear credit is given to Classic-Car.TV with appropriate and specific direction to the original content.