Fans von Dragstern und US-Autospektakeln dürfen sich freuen: Am 14. August steigt in Pontiac, Michigan, die Roadkill Nights Powered by Dodge. Highlight ist das Hellcat Grudge Race.
Eric Malone, Star der MotorTrend-Serie "Fastest Cars in the Dirty South", und vier Online-Auto-Influencer werden auf der Woodward Ave. gegeneinander antreten. Malone und jeder der Online-Tuner erhalten einen Challenger oder Charger SRT Hellcat Redeye und 10.000 Dollar in bar für Fahrzeugmodifikationen. Das Ziel: eine Drag-Racing-Maschine zu bauen, die in der Lage ist, Malone auf Woodward zu schlagen.
Die Herausforderer:
– Alex Taylor, Dragracerin, Mechanikerin und Autorin. Mit 16 nahm sie als jüngste Teilnehmerin aller Zeiten an der HOT ROD Drag Week teil.
– Tavarish macht Videos über lustige, schrullige und manchmal ruinös teure Projektautos. Er ist vor allem für seine Rebuilding-Videos bekannt, in denen er kaputte oder geschrottete Fahrzeuge kauft und sie in einen funktionsfähigen Zustand bringt.
– Westen Champlin ist ein selbsternannter "Redneck-Wissenschaftler", ein Auto-Guru aus Kansas. Sein beliebter YouTube-Kanal konzentriert sich auf das Umbauen und Reparieren von Pick-ups und anderen Fahrzeugen.
– Throtl ist eine kleine Gruppe von Gleichgesinnten, die Spaß daran haben, Autos ein neues Leben einzuhauchen. Sie konzentrieren sich darauf, Projektautos von Grund auf neu zu bauen und verschenken alle 90 Tage eines an Fans/Supporter. Zusammen hat das Team mehr als 200 Autos besessen.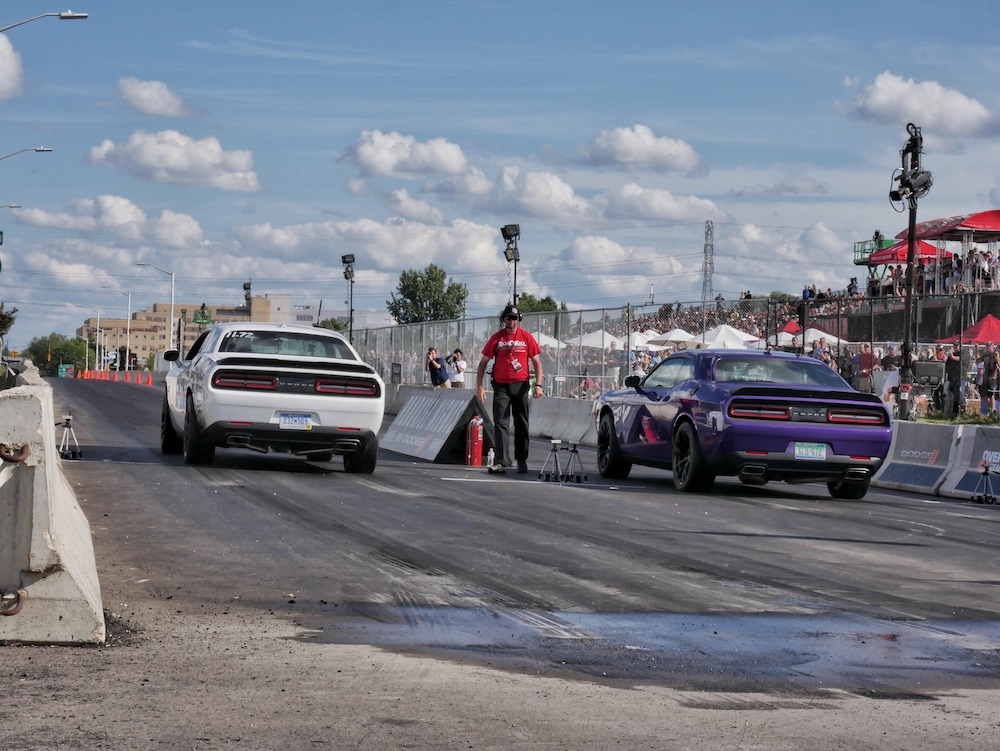 Fans können den Fortschritt der Hellcat Grudge Race Builds verfolgen und Videos und Bilder von Malone und den Online-Automobilbauern während ihres gesamten Prozesses, einschließlich Inhalten hinter den Kulissen und Kommentaren, auf http://www.dodgegarage.com/roadkill-nights ansehen.
Die Roadkill Nights Powered by Dodge kehren im sechsten Jahr als traditioneller Auftakt zur einwöchigen Feier klassischer Autos und der Autokultur in der Motor City zurück. Auf dem M1 Concourse in Pontiac, Michigan, finden legale Straßen-Drag-Rennen, klassische und moderne Muscle-Car-Shows statt. Die Fahrer der schnellsten straßenzugelassenen Dragster-Autos in Amerika haben die Möglichkeit, vor den Augen der Zuschauer auf der historischen Woodward Avenue Dragster-Rennen zu fahren, die von einer Straße in einen legalen 1/8-Meilen-Dragstrip verwandelt wird.
Die Tore der MotorTrend Presents Roadkill Nights Powered by Dodge sind am Samstag, den 14. August von 10 bis 21 Uhr geöffnet. Fans können das Spektakel via Livestream über die einschlägigen Social Media-Kanäle mitverfolgen.
Fotos: ©Dodge
Die unbefugte Verwendung und / oder Vervielfältigung von redaktionellen oder fotografischen Inhalten von Classic-Car.TV ohne ausdrückliche und schriftliche Genehmigung des Herausgebers ist strengstens untersagt. Auszüge und Links dürfen verwendet werden, sofern Classic-Car.TV mit einem angemessenen und spezifischen Verweis zum ursprünglichen Inhalt, vollständig und eindeutig in Verbindung gebracht wird.

The unauthorized use and/or duplication of any editorial or photographic content from Classic-Car.TV without express and written permission from the publisher is strictly prohibited. Excerpts and links may be used, provided that full and clear credit is given to Classic-Car.TV with appropriate and specific direction to the original content.