Eine Verkaufsrate von 90 % und ein Gesamterlös von 3,6 Millionen Dollar: Das Ergebnis der Gone Farmin' Fall Premier-Auktion von Mecum kann sich sehen lassen. Zwischen 19. und 21. November durchquerten in Davenport, Iowa, fast 900 Lose von Traktoren, Oldtimer-Lkw, Schildern und Bauernhofrelikten den Auktionsblock. Und das, obwohl die Veranstalter bei der Durchführung noch eine komplette Kehrtwende machen mussten: Die Auktion war zuvor zumindest zum Teil als Live-Event geplant, aber aufgrund strengerer Pandemie-Maßnahmen, die kurz vor Beginn der Auktion in Kraft traten, war das Gone Farmin'-Team gezwungen, innerhalb weniger Stunden den Verkauf in eine reine Online-Auktion umzuwandeln.
Zu den Top-Verkäufen der Auktion gehörten eine Vielzahl von Lastwagen und Traktoren. Die Liste wurde von einem 1958er Chevrolet Apache 32 NAPCO Pickup (Los K21) angeführt, der mit einem Endverkaufspreis von 68.200 Dollar den Spitzenplatz belegte. Ein Minneapolis 22-44 (Lot F43) wurde zum bestverkauften Traktor der Auktion mit einem Endverkaufspreis von $59.850. Darüber hinaus rollte ein 1972er Chevrolet K-10 (Los K23) mit einem Verkauft-Aufkleber für 52.800 $ vom Block, gefolgt von einem 1988er Mack DS 600 (Los K47), der für 47.300 $ verkauft wurde.
Die Auktion umfasste auch 13 private Sammlungen, die von den Bietern gut angenommen wurden, sowie eine große Auswahl an Road Art, wie Schilder und ähnliches. Die Road Art-Verkäufe wurden von einem doppelseitigen John Deere Farm Implements NOS-Porzellanschild (Lot M21) mit einer speziell angefertigten Halterung dominiert; das seltene Schild wurde für stolze 17.700 $ verkauft. Ein weiteres doppelseitiges John-Deere-Porzellanschild (Lot M20) mit der Aufschrift "Quality Farm Equipment" belegte den zweiten Spitzenplatz der Road Art-Verkäufe und brachte 14.160 Dollar ein.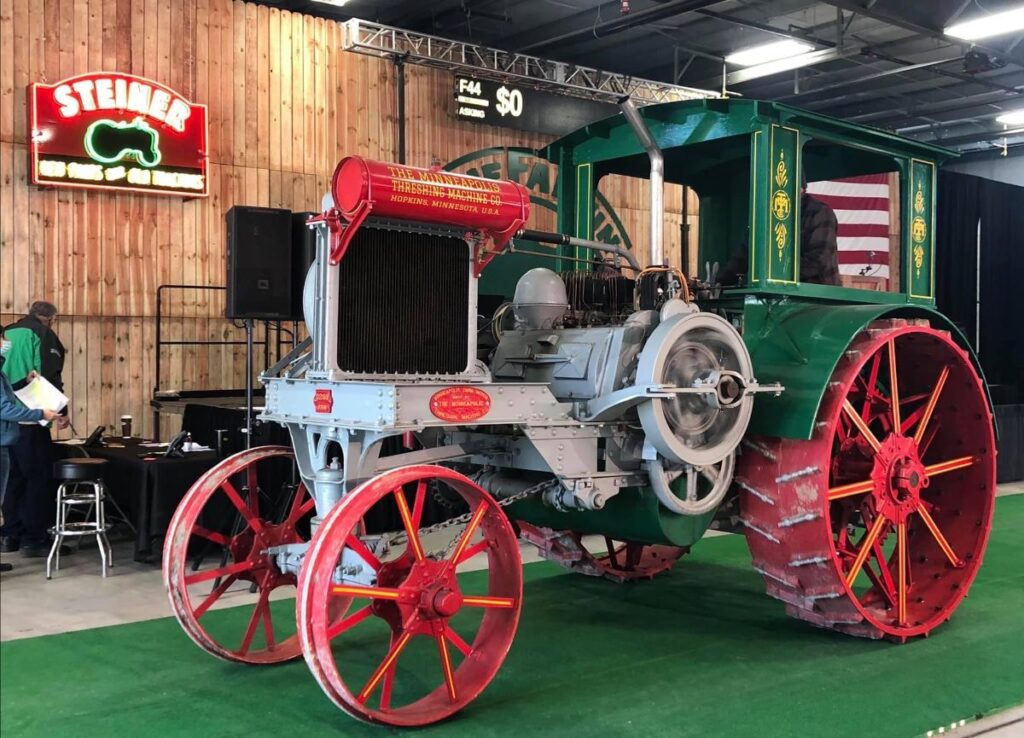 Die Top Ten der Gone Farmin' Fall Premier (Traktoren und Lkw-Oldtimer):
1958 Chevrolet Apache 32 NAPCO Pickup (Lot K21) at $68,200
Minneapolis 22-44 (Lot F43) at $59,850
1972 Chevrolet K-10 (Lot K23) at $52,800
1988 Mack DS 600 (Lot K47) at $47,300
1973 International 1066 4WD (Lot S80) at $43,050
1976 John Deere 4230 (Lot S41) at $43,050
1977 John Deere 4430 (Lot S44) at $40,950
1973 John Deere 4030 (Lot S42) at $39,900
1967 International 1206 FWD (Lot F63) at $38,850
1970 International 1026 Gold Demonstrator (Lot F70) at $37,800
Die Top Ten Road Art-Verkäufe
John Deere Farm Implements NOS DSP (Lot M21) at $17,700
John Deere Quality Farm Equipment DSP (Lot M20) at $14,160
John Deere Dealership DSPN (Lot M88) at $12,980
John Deere Farm Implements SSP (Lot M19) at $11,800
Case DSPN (Lot M27) at $10,620
Allis-Chalmers Tractors DSP Lighted Sign with Hood (Lot M26) at $8,850
Case DSPN (Lot M28) at $8,260
Lucky the Cow Mechanical Ride (Lot M85) at $7,080
John Deere Farm Implements SSP (Lot M22) at $6,490
Allis-Chalmers Lighted Sign (Lot M58) at $5,900
Fotos: ©Mecum Auctions
Die unbefugte Verwendung und / oder Vervielfältigung von redaktionellen oder fotografischen Inhalten von Classic-Car.TV ohne ausdrückliche und schriftliche Genehmigung des Herausgebers ist strengstens untersagt. Auszüge und Links dürfen verwendet werden, sofern Classic-Car.TV mit einem angemessenen und spezifischen Verweis zum ursprünglichen Inhalt, vollständig und eindeutig in Verbindung gebracht wird.

The unauthorized use and/or duplication of any editorial or photographic content from Classic-Car.TV without express and written permission from the publisher is strictly prohibited. Excerpts and links may be used, provided that full and clear credit is given to Classic-Car.TV with appropriate and specific direction to the original content.