Heute gedenkt Jaguar einem seiner beliebtesten und berühmtesten ehemaligen Mitarbeiter: Der Testfahrer und Entwicklungsingenieur Norman Dewis OBE, hätte am 3. August seinen hundertsten Geburtstag gefeiert.
Während seiner 33-jährigen Karriere bei Jaguar, die am 1. Januar 1952 begann, war Dewis für die Entwicklung einiger der berühmtesten Jaguars aller Zeiten verantwortlich: Limousinen von Mk1 bis XJ, Sport- und Rennwagen, darunter mehrere C- und D-Types, Gewinner der 24 Stunden von Le Mans, den E-Type und den Mittelmotor-Prototypen XJ13. Er spielte auch eine entscheidende Rolle bei der Entwicklung des revolutionären Scheibenbremssystems von Jaguar und Dunlop – einer Technologie, die die Automobilwelt veränderte und zahllosen Menschen auf der ganzen Welt das Leben rettete.
Dewis nahm für Jaguar an einer Reihe von hochkarätigen Motorsportveranstaltungen teil, darunter die Mille Miglia 1952 – als Navigator für Stirling Moss in einem scheibengebremsten C-Type.
1953 stellte Dewis in einem modifizierten Jaguar XK120 auf einem gesperrten Abschnitt der Jabbeke-Autobahn in Belgien einen Geschwindigkeitsrekord von 172,412 Meilen pro Stunde in einem Serienwagen auf, und 1955 fuhr er während der 24 Stunden von Le Mans mit einem D-Type ein Rennen mit bis zu 192 Meilen pro Stunde. Es wird geschätzt, dass er mehr als eine Million Testmeilen bei einer Durchschnittsgeschwindigkeit von über 100 km/h zurücklegte.
Und als Jaguar einen zusätzlichen E-Type benötigte, der über Nacht von Coventry aus gefahren werden musste, um die Markteinführung des Autos 1961 in Genf zu unterstützen, gab es nur einen Mann für diese Aufgabe.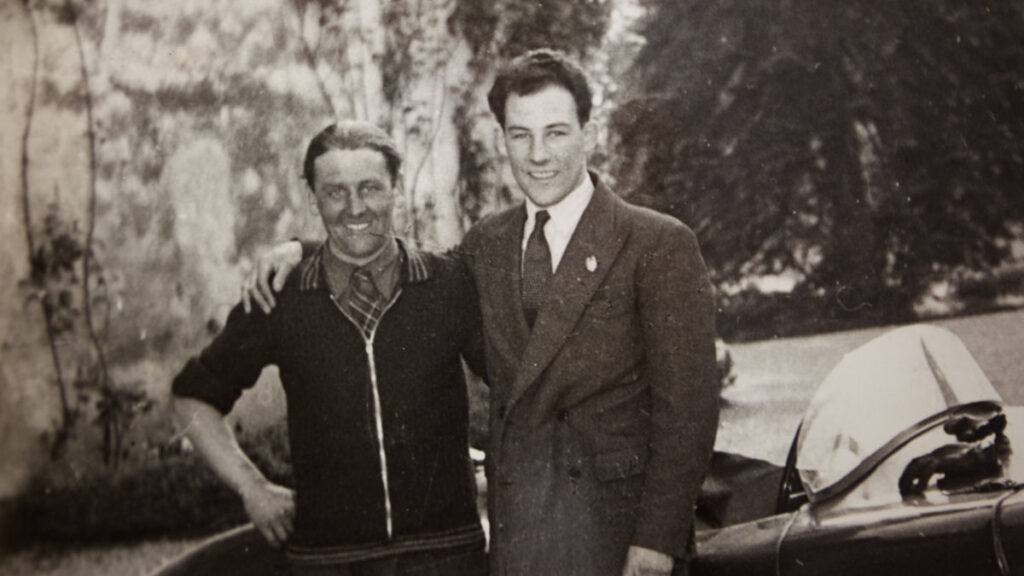 Nach seiner Pensionierung 1985 war Dewis weiterhin ein weltweiter Botschafter von Jaguar und ein großer Freund der Marke. Er beriet das Jaguar Classic-Team 2014 bei der Einführung der "Missing Six" weiteren leichten E-Types, einem Auto, an dessen Entwicklung er ursprünglich in den 1960er Jahren beteiligt war.
In Anerkennung seiner Verdienste für Jaguar und die britische Automobilindustrie erhielt Norman Dewis im Dezember 2014 den Order of the British Empire (OBE).
Norman wollte am 3. August 2020 seinen 100. Geburtstag feiern und dann noch einmal einen Jaguar mit 100 Meilen pro Stunde fahren, aber daraus wurde leider nichts. Am 8. Juni 2019 starb Norman Dewis im Alter von 98 Jahren.
Fotos: ©Jaguar UK Archiv
Die unbefugte Verwendung und / oder Vervielfältigung von redaktionellen oder fotografischen Inhalten von Classic-Car.TV ohne ausdrückliche und schriftliche Genehmigung des Herausgebers ist strengstens untersagt. Auszüge und Links dürfen verwendet werden, sofern Classic-Car.TV mit einem angemessenen und spezifischen Verweis zum ursprünglichen Inhalt, vollständig und eindeutig in Verbindung gebracht wird.

The unauthorized use and/or duplication of any editorial or photographic content from Classic-Car.TV without express and written permission from the publisher is strictly prohibited. Excerpts and links may be used, provided that full and clear credit is given to Classic-Car.TV with appropriate and specific direction to the original content.