Car & Classic Online-Auktionär für Spezial- und Oldtimerfahrzeuge, hat einen der 480 jemals gebauten MGB Roadster in limitierter Auflage angeboten, der mit nur 77 Meilen auf dem Kilometerzähler wirklich etwas Besonderes ist. Der 'B' wurde 1981 vom Besitzer eines Reifengeschäfts in Hereford, der Brecon Tyre Group, gekauft. Er wurde als eines von zwei Exemplaren bei The Automobile Palace in Llandrindod Wells bestellt.
Der bronze-metallicfarbene Roadster gehört zu einer Produktionsserie, mit der 50 Jahre MG in Abingdon zelebriert wurden, bevor das Werk 1980 geschlossen wurde, und wurde von jedem seiner Besitzer seit dem Erstkauf kontinuierlich und sorgfältig aufbewahrt.
In Anerkennung seiner historischen Bedeutung wurden alle Anstrengungen unternommen, um den Roadster als ultimatives Beispiel für das letzte Exemplar zu erhalten: Das Modell wurde 18 Jahre lang erfolgreich produziert, eine halbe Million MGBs wurden hergestellt.
Das Fehlen von Papieren ist in diesem Fall nicht auf Nachlässigkeit zurückzuführen, sondern – sehr ungewöhnlich – auf die extrem niedrige Kilometerzahl, die der Wagen gefahren wurde. Die wenigen Rechnungen und das Fehlen von Stempeln im Original-Serviceheft erklären sich dadurch, dass der Roadster (noch) keinen Service brauchte und nur gelegentlich ein Flüssigkeitswechsel durchgeführt wurde.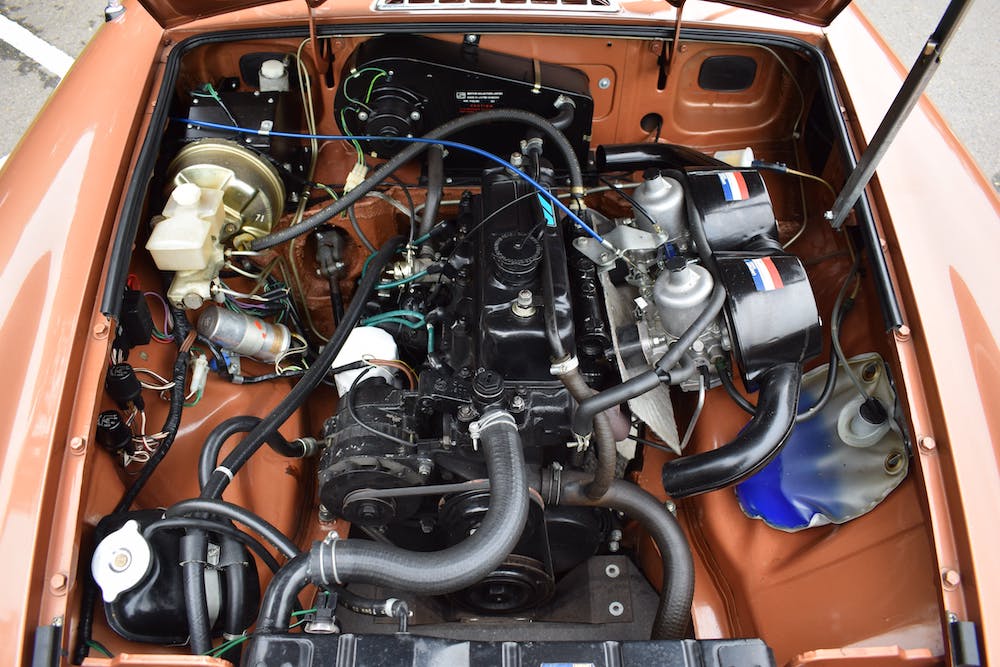 Die Dokumente, die dieses Stück unberührter Geschichte begleiten, sind fast so einzigartig wie das Auto selbst: das originale Owners' Pack, eine Supercover-Zulassungskarte und ein Handbuch, das Limited-Edition-Zertifikat, das Fahrgestell- und Motornummern auflistet, und zwei TÜV-Zertifikate (1999 und 2000) wurden zusammen mit den Ersatzschlüsseln und sogar einem ungeöffneten Umschlag mit dem Radioeinbausatz aufbewahrt. Zur Originalausstattung gehören ein passendes Reserverad, ein noch verpackter Wagenheber und Werkzeug sowie eine komplette Abdeckplane, die wahrscheinlich noch nie das Tageslicht gesehen hat.
Fotos: ©Car & Classic
Die unbefugte Verwendung und / oder Vervielfältigung von redaktionellen oder fotografischen Inhalten von Classic-Car.TV ohne ausdrückliche und schriftliche Genehmigung des Herausgebers ist strengstens untersagt. Auszüge und Links dürfen verwendet werden, sofern Classic-Car.TV mit einem angemessenen und spezifischen Verweis zum ursprünglichen Inhalt, vollständig und eindeutig in Verbindung gebracht wird.

The unauthorized use and/or duplication of any editorial or photographic content from Classic-Car.TV without express and written permission from the publisher is strictly prohibited. Excerpts and links may be used, provided that full and clear credit is given to Classic-Car.TV with appropriate and specific direction to the original content.