So viele Aston Martins wie nie zuvor an einem Ort sah man am letzten Juniwochenende bei der Feier zum 100. Geburtstag des "A3", dem ältesten noch existierenden Aston Martin. Ausgerichtet wurde die Veranstaltung vom Aston Martin Heritage Trust (AMHT).
Insgesamt 681 Exemplare der Sportwagen der Marke, darunter seltene und echte Einzelstücke, fanden den Weg zum Dallas Burston Polo Club in der Nähe von Southam, Warwickshire.
Die Feier des AMHT präsentierte Aston Martin Modelle in einer sorgfältig kuratierten Zeitleiste, die die Besucher auf eine geführte Tour durch faszinierende Epochen-Parkplätze führte.
Abgesehen vom "A3" selbst waren unter den Ausstellungsstücken wertvolle Exemplare aus fast jeder Periode der stolzen 108-jährigen Geschichte der Marke, von Aston Martin- und Lagonda-Modellen aus der Vorkriegszeit über zahlreiche Fahrzeuge aus der Ära von Sir David Brown bis hin zu den heutigen Sportwagen und dem DBX-SUV.
Eine V8-Ausstellung, die den Zeitraum von 1968 bis 2000 abdeckte, umfasste Saloon, Volante, Vantage, Lagonda und Virage, auch andere Raritäten wie Aston Martin Tickford Specials waren zu sehen.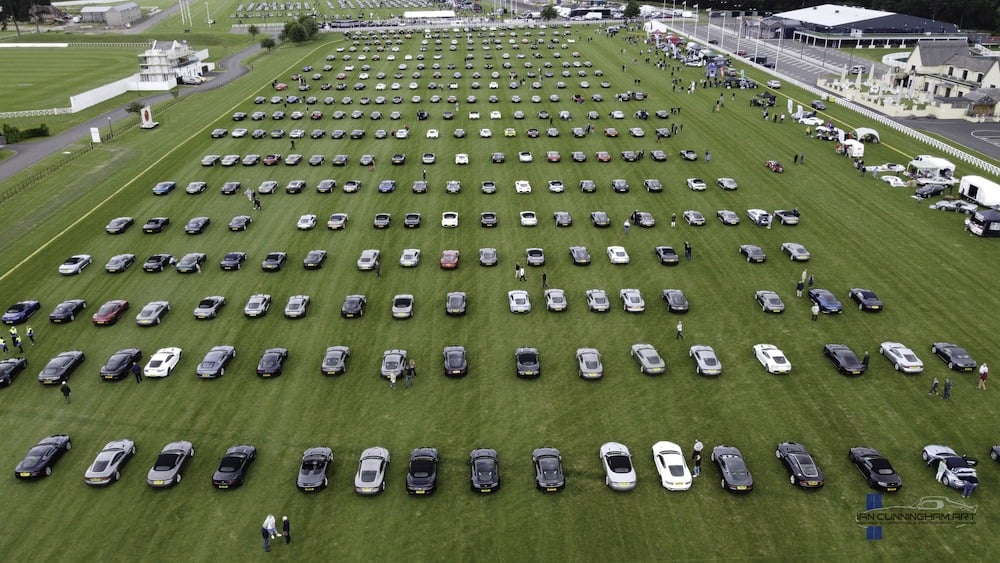 Aus der Neuzeit waren sowohl der Victor als auch der Vulcan zu sehen, ebenso wie das Hypercar der Marke – Valkyrie – und einmalige Spezialanfertigungen wie der Cygnet mit V8-Motor wurden ebenfalls gezeigt.
Natürlich war es der A3″, wegen dem viele der Besucher angereist waren. Aston Martin Chassis Nummer 3, bekannt als A3″, ist das Juwel in der AMHT-Sammlung und der älteste erhaltene Aston Martin.
Das Auto wurde 1921 gebaut und von Lionel Martin, dem Mitbegründer von Bamford & Martin Ltd, dem Hersteller der ersten Aston Martins, sowohl für private als auch für sportliche Zwecke genutzt. Der Wagen stellte 1921 in Brooklands mehrere Rekorde für Leichtautos auf, darunter eine Durchschnittsgeschwindigkeit von 86,2 mph auf einer Strecke von 100 Meilen. Heute ist der "A3" regelmäßig bei AMHT-Veranstaltungen zu sehen und tourte 2013 im Rahmen der Hundertjahrfeier von Aston Martin durch die Welt.
In den letzten zwei Jahren wurde der Antriebsstrang vom Expertenteam der Ecurie Bertelli in Buckinghamshire komplett neu aufgebaut, um dieses historische Auto fahrbereit zu halten.
Fotos: ©Aston Martin Heritage Trust/CunninghamArt/Max Earey
Die unbefugte Verwendung und / oder Vervielfältigung von redaktionellen oder fotografischen Inhalten von Classic-Car.TV ohne ausdrückliche und schriftliche Genehmigung des Herausgebers ist strengstens untersagt. Auszüge und Links dürfen verwendet werden, sofern Classic-Car.TV mit einem angemessenen und spezifischen Verweis zum ursprünglichen Inhalt, vollständig und eindeutig in Verbindung gebracht wird.

The unauthorized use and/or duplication of any editorial or photographic content from Classic-Car.TV without express and written permission from the publisher is strictly prohibited. Excerpts and links may be used, provided that full and clear credit is given to Classic-Car.TV with appropriate and specific direction to the original content.