Der Classic Sale in Silverstone findet am Wochenende vom Freitag, 30. Juli, bis Sonntag, 1. August statt. Hier schon die ersten Top-Angebote von Silverstone Auctions, bis zum 12. Juli können noch Oldtimer in den Katalog aufgenommen werden.
Bereits bestätigt ist ein 1927 Rolls-Royce Phantom 1 Open Tourer. Der Wagen wurde in den achtziger Jahren mit einer flachen Karosserie mit Edwardianischer Shooting-Brake ausgestattet Der "New Phantom" von Rolls-Royce wurde in Großbritannien bis 1929 produziert. Zu diesem Zeitpunkt wurden etwa 2.269 Chassis ausgeliefert. Dieses Auto wird von einem Dutzend Fotokopien von Originaldokumenten begleitet, die Baupläne, Federtests, Komponentenauswahl, Gewichtsberichte, Inspektionen und auch die Serviceaufzeichnungen des Autos (im Werk) bis Anfang 1938 enthalten.
Im Jahr 2004 wurde der Wagen von Raymond Lippiatt gekauft, dem aktuellen Besitzer. Raymond ist ein langjähriger Rolls-Royce- und Bentley-Enthusiast, der in den einschlägigen Owner's und Driver's Clubs gut bekannt ist. Das Ungewöhnlichste an dem Rolls ist seine markante "Shooting Brake"-Heckkarosserie, die 1987 vom Schrottplatz gerettet worden war.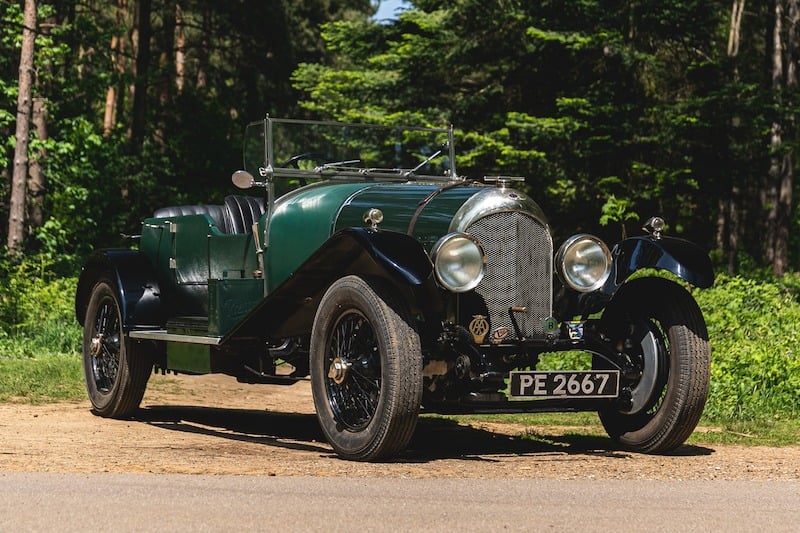 Das zweite reizvolle Exemplar, das zu The Classic kommt, ist ein Bentley 3,0-Liter Tourer im Vanden Plas-Stil von 1925. Ein. echter 3-Liter aus der Mitte der zwanziger Jahre, der eine faszinierende Geschichte hat. Er wurde zu Beginn von HJ Mulliner mit deren "Allwetter"-Karosserie eingekleidet und in Grau und Schwarz lackiert, was für die damalige Zeit normal war, da Grün zu dieser Zeit nur sehr selten verwendet wurde.
PE 2667 wird ebenfalls von Raymond Lippiatt angeboten. Das Fahrzeug ist in BRG (Napier Green) und Brooklands Green lackiert, mit schwarzen Kotflügeln, Trittbrettern und Drahträdern. Das schwarze Lederinterieur des Wagens ist patiniert und sieht genau so aus, wie ein gut genutzter und geliebter Vintage (vor 1931) Bentley aussehen sollte. Das zeitgemäße Erscheinungsbild des Wagens wird durch die originale Werkzeugkiste, die Ersatzteilkiste, den Pratts Benzinkanister und den hessisch bezogenen Koffer ergänzt.
Der Verkauf von Oldtimern und Wettbewerbsfahrzeugen durch Silverstone Auctions findet am Samstag, den 31. Juli und Sonntag, den 1. August statt, während der Verkauf von Motorrädern am Freitag, den 30. Juli im The Classic stattfindet.
Fotos: ©Silverstone Auctions
Die unbefugte Verwendung und / oder Vervielfältigung von redaktionellen oder fotografischen Inhalten von Classic-Car.TV ohne ausdrückliche und schriftliche Genehmigung des Herausgebers ist strengstens untersagt. Auszüge und Links dürfen verwendet werden, sofern Classic-Car.TV mit einem angemessenen und spezifischen Verweis zum ursprünglichen Inhalt, vollständig und eindeutig in Verbindung gebracht wird.

The unauthorized use and/or duplication of any editorial or photographic content from Classic-Car.TV without express and written permission from the publisher is strictly prohibited. Excerpts and links may be used, provided that full and clear credit is given to Classic-Car.TV with appropriate and specific direction to the original content.