Am 8. März 1950 rollte der erste Serien-Transporter von Volkswagen von den Bändern in Wolfsburg. Damit begann seine bis heute währende Erfolgsgeschichte. Doch auch andere deutsche Automobilhersteller wussten um die Notwendigkeit eines Lastenesels in der frühen Nachkriegszeit. Darum zeigt die neue Sonderausstellung "Alleskönner. 70 Jahre Bulli-Republik Deutschland." (bis 31. August 2020) auch einige Mitbewerber der Anfangsjahre wie DKW, Goliath oder Lloyd. Gleichzeitig demonstriert sie den stetig gewachsenen Variantenreichtum des Transporters bei Volkswagen, der viel Individualität ermöglichte.
Allein schon für den Wiederaufbau des zerstörten Deutschlands waren Nutzfahrzeuge unverzichtbar und die Nachfrage entsprechend groß. So war es nicht nur das Volkswagenwerk, dass die Marktlücke bei leichten Kleintransportern erkannte, sondern zahlreiche weitere Automobilhersteller ebenso: Goliath, Lloyd, Ford, DKW und Tempo im Westen und Framo im Osten, um nur einige zu nennen. Die Ausstellung zeigt exemplarisch an Modellen dieser Wettbewerber, welche Stärken und Schwächen die jeweils hauseigenen Entwicklungen aufwiesen wie z. B. eine selbsttragende Ganzstahlkarosserie gegenüber einer Rahmenbodenanlage mit Aufbau.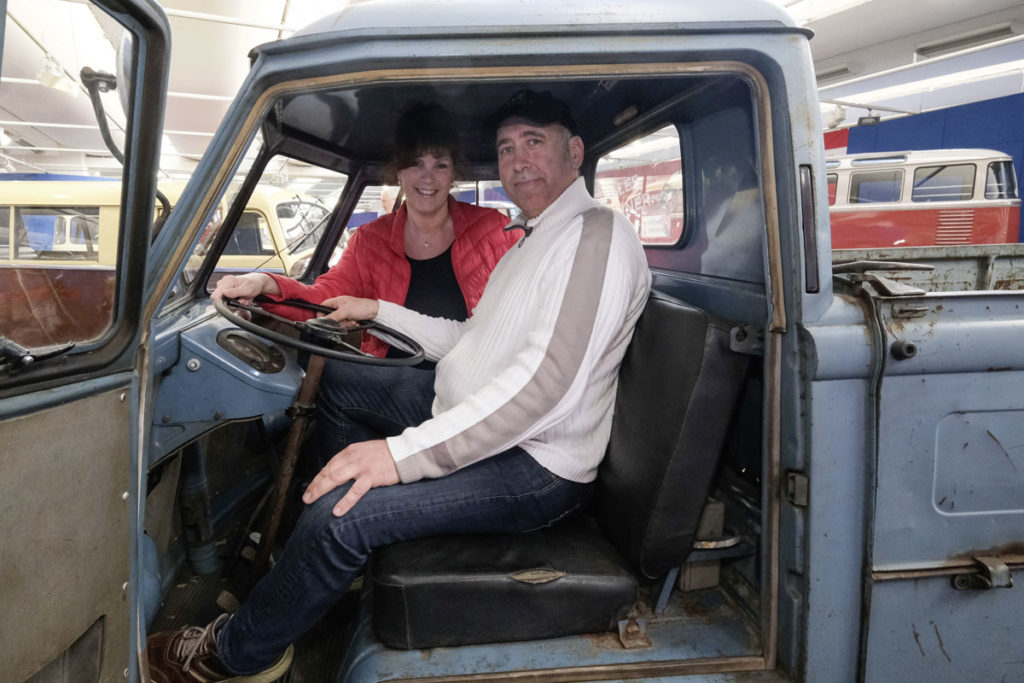 Schnell setzte sich die Erkenntnis durch, dass Variabilität dem Wunsch des Kunden nach mehr individuellem Nutzen des Transporters entsprach – und damit die Verkaufszahlen förderte. Den Variantenreichtum zeigt die Schau anhand ausgewählter VW-Bulli Exponate der ersten Generation. Dazu zählen für das Handwerk die Pritsche und die heute sehr rare Doppel-kabine, aber auch Behörden-Fahrzeuge wie ein Strahlenmesswagen.
Für die Personenbeförderung standen die Bus-Ausführung ebenso wie der Kombi zur Verfügung. Letzterer bildete auch die Basis für Camping-einbauten, welche die in Rheda-Wiedenbrück ansässige Firma Westfalia vornahm. Absoluten Kultstatus bis heute hat der Sambabus, der bei Volkswagen offiziell schlicht Sondermodell 241 hieß. Und zu guter Letzt fand der Bulli Gefallen bei der Hippie- und Flowerpower Generation Ende der 1960er Jahre. Die buntbemalten Vehikel stehen bis heute für ihr Aufbegehren und einen Wandel der Gesellschaft hin zu mehr individueller Freiheit und Frieden.
Von der ersten Generation mit insgesamt rund 1,9 Millionen Einheiten bis heute sind über 12 Millionen Volkswagen Transporter in alle Welt verkauft worden. Damit ist und bleibt der Bulli erfolgreichster seiner Klasse.
Fotos: ©Automuseum Volkswagen
Die unbefugte Verwendung und / oder Vervielfältigung von redaktionellen oder fotografischen Inhalten von Classic-Car.TV ohne ausdrückliche und schriftliche Genehmigung des Herausgebers ist strengstens untersagt. Auszüge und Links dürfen verwendet werden, sofern Classic-Car.TV mit einem angemessenen und spezifischen Verweis zum ursprünglichen Inhalt, vollständig und eindeutig in Verbindung gebracht wird.

The unauthorized use and/or duplication of any editorial or photographic content from Classic-Car.TV without express and written permission from the publisher is strictly prohibited. Excerpts and links may be used, provided that full and clear credit is given to Classic-Car.TV with appropriate and specific direction to the original content.