Die historische italienische Veranstaltung US Cars Autos nahm 1995 ihren Anfang und kehrte mit ihrer 26. Ausgabe nach Lignano zurück: die U.S. Car Reunion bestätigte ihren Erfolg mit mehr als 200 Fahrzeugen trotz des schlechten Wetters.
Die 26. Ausgabe des Treffens fand vom 18. bis 19. September in Lignano Sabbiadoro im Nordosten Italiens statt, einem Badeort an der Adria, der seinen Namen von der besonderen Farbe (Gold) des Sandes an seinen Stränden hat. Die U.S. Car Reunion wurde von Anfang an durch einen völlig freien Eintritt in alle Bereiche gefördert und bietet den Teilnehmern eine reichhaltige Welcome Bag und ermäßigte Übernachtungskosten für jeden Geschmack und jedes Budget.
Das komplette Programm der U.S. Car Reunion wurde in das Biker Fest integriert, das bereits am Samstag auf dem Parkplatz der Veranstaltung mehr als 80 starke V8 und verschiedene Clubs begrüßte.
Die Crews aus Österreich, Deutschland, der Schweiz, Slowenien, Ungarn und Kroatien sowie aus Norditalien gaben den Besuchern einen Hauch des amerikanischen Traums, indem sie mit mehr als 200 Schmuckstücken made in U.S.A. durch die Straßen von Lignano fuhren, zusätzlich zu 60 Jeeps auf den Off-Road-Strecken, die laut den Fahrern sehr technisch und lustig waren. Neu in diesem Jahr, auch die Anwesenheit von hundert Teslas, die auf dem Display im futuristischen Bereich der e-Mobility Village für das Treffen in Zusammenarbeit mit dem Tesla Club Italien organisiert wurden, so dass in der Parade am Sonntag auch Elektroautos dabei waren.
Nach der Koordination aller Teilnehmer begann am Sonntagmorgen die traditionelle Parade, die der riesige schwarze amerikanische Truck des Gemelli Racing Teams anführte. Er fuhr, die Promenade und die Hauptstraßen von Lignano Sabbiadoro und Pineta entlang, währenddessen Fahrer und Clubs ihre glänzenden Karosserien präsentierten und die Küstenstadt mit dem Dröhnen der unverwechselbaren V8-Motoren zum Klingen brachten. An Bord der Paradeautos waren Pin Ups nach deren Motto gekleidet und das Publikum winkte auf den Straßen.
Die verführerischen Girls des Pin Up Contest und die musikalische Unterhaltung mit 12 Rockkonzerten, Ständen und Shows für Jung und Alt waren der Garant für eine gelungene Veranstaltung und eine perfekte Kombination, um die Atmosphäre eines amerikanischen Filmsets der 50er bis 70er Jahre zu schaffen!
Das schöne Stars-and-Stripes-Motorsport-Event wird im nächsten Jahr noch größer und mit noch mehr Spannung erwartet.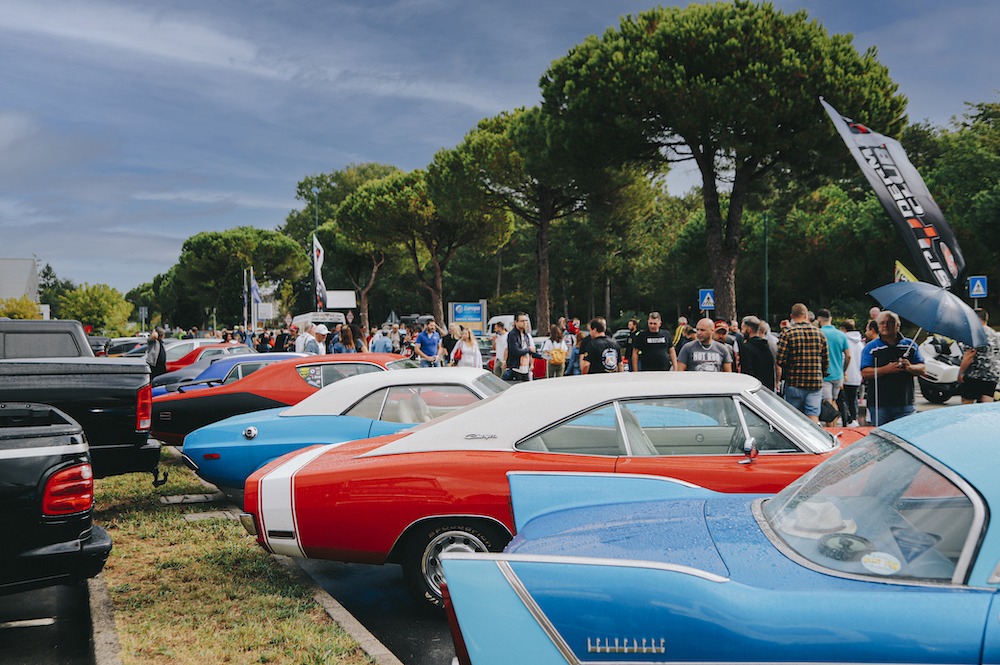 Top 30 Gewinner der 26° U.S. Car Reunion
9 Andrea Bortolin
37 Leonardo Lucconi
28 Michele Dal Farra
14 Kevin Sartor
20 Vania Mazzocca
13 Kevin Mazzocca
6 Bel Vedere
118 Frank Wilkelman (D) n. 23 Andrea Firro
54 Cristian Mirklo
1 Stefano Rossi
185 Fritz Ingen (A)
68 Andrea Martin
45 Barbier Paolo
42 Succi Giorgio
63 Marco Santinon
74 Antonio Speranzi
Nr. 73 Martin Marco
33 Walter Sbaiz
87 Mose Odorico
95 Achille Vianello
177 Elso Testa
Gewinner des American Car Club
CNO American Motors Italien ● Romagna Boys
Angry Eagles
Ram Division
Rusty House Garage
Amerikanische Brüder
Die Cruiser
Gemelli Racing Team
Crazy Gang
Die Bösen Brüder
Pick Up Gewinner
18 Matiu
27 Aramis, Dodge RAM Militem n. 12 Raptor, Ford F150
69 Cristenel, Dodge RAM
31 Fabio
77 Maggiorin, Dodge RAM
BESTE OLDTIMER
16 Lino Mazzocca, Cadillac 1959
2 Simone Tomaselli, Ponti Trans AM 1979 n. 73 Enrico Tolusso, Cadillac Fleetwood 52
Fotos: ©US Car Reunion
Die unbefugte Verwendung und / oder Vervielfältigung von redaktionellen oder fotografischen Inhalten von Classic-Car.TV ohne ausdrückliche und schriftliche Genehmigung des Herausgebers ist strengstens untersagt. Auszüge und Links dürfen verwendet werden, sofern Classic-Car.TV mit einem angemessenen und spezifischen Verweis zum ursprünglichen Inhalt, vollständig und eindeutig in Verbindung gebracht wird.

The unauthorized use and/or duplication of any editorial or photographic content from Classic-Car.TV without express and written permission from the publisher is strictly prohibited. Excerpts and links may be used, provided that full and clear credit is given to Classic-Car.TV with appropriate and specific direction to the original content.