In Großbritannien freuen sich die Autofans schon jetzt auf den London Concours, der in diesem Jahr vom 8. bis 10. Juni stattfindet. Der dritte und letzte Tag der diesjährigen Veranstaltung ist der "Supercar Day", in Zusammenarbeit mit der Drivers Union. Der exklusive Club der Supercar-Besitzer wird 60 der schönsten Autos seiner Mitglieder auf den Rasen des Honourable Artillery Club bringen.
Unter den 60 Supercars befindet sich ein limitierter Aston Martin V12 Vantage S Spitfire Edition, eine Hommage von Aston Martin Cambridge an die Supermarine Spitfire, die in diesem Jahr ihren 80. Geburtstag feiert. Das Auto teilt verschiedene Attribute mit dem Flugzeug, einschließlich eines großvolumigen V12-Motors, der in einen leichten Aluminiumrahmen eingebaut ist. Der Wagen ist in Duxford Green Pearlescent lackiert, mit den für die Spitfire typischen gelben Streifen an Seitenwänden und Kofferraumdeckel.
Auf dem Rasen stehen natürlich auch viele Ferraris. Darunter ein Ferrari 575 von Pininfarina aus dem Jahr 2002. Das Auto war im Wesentlichen eine optimierte Version des 550 Maranello – zu den Aktualisierungen gehörten ein neu gestalteter Innenraum und erhebliche mechanische Verbesserungen, darunter größere Bremsscheiben, ein größerer und leistungsstärkerer Motor, eine verbesserte Gewichtsverteilung, eine verfeinerte Aerodynamik und Fluiddynamik zusammen mit einer adaptiven Aufhängungseinstellung.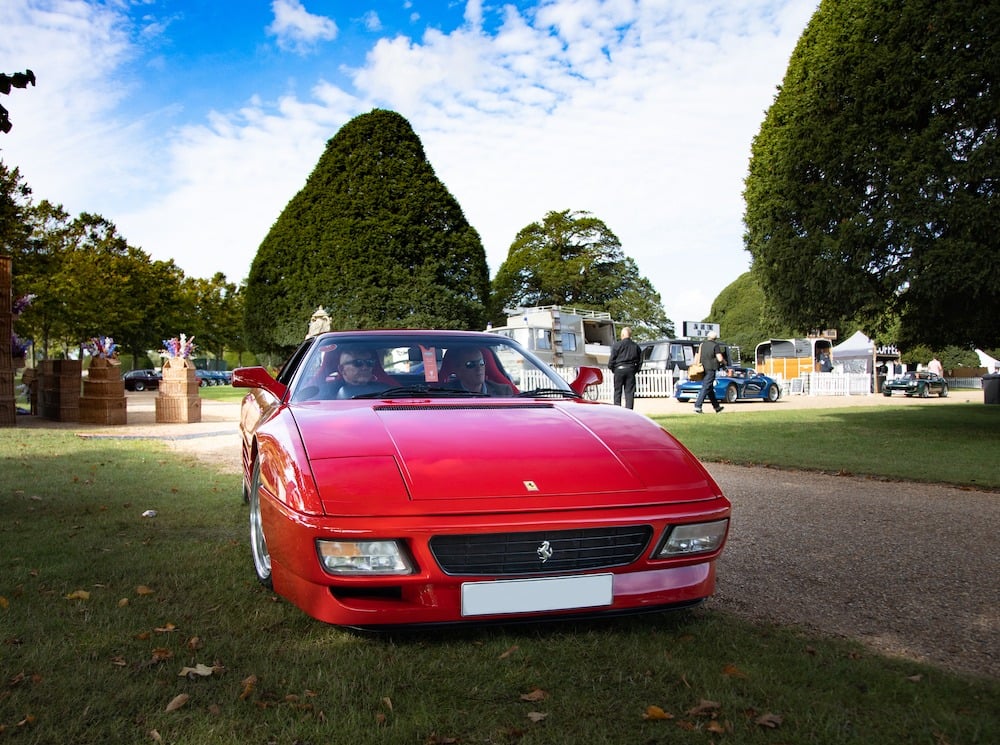 Neben dem 575 kommt ein 348 GT Competizione zum London Concours. Dieser Wagen wurde speziell für die GT-Meisterschaft auf der Plattform des 348 GTB entwickelt. Durch den Verzicht auf jegliche komfortorientierte Ausstattung, einschließlich Klimaanlage und Fußmatten, wurde das Trockengewicht des Wagens auf nur 1180 kg reduziert. In Verbindung mit dem 3,4-Liter-V8-Motor mit 320 PS und einem freifließenden Auspuff ist der 348 GT Competizione ein wahrhaft potenter Wagen.
Die Sammlung der ausgestellten Supersportwagen wird durch einige skurrile Fahrzeuge ergänzt, darunter ein BMW Z8, der vor allem durch seine Rolle im James-Bond-Film "Die Welt ist nicht genug" berühmt wurde, als er von Schauspieler Pierce Brosnan gesteuert wurde, der ultimative 80er-Jahre-Pinup, der Porsche 911 930 Turbo, und der definitive Höllenkracher aus Blackpool, der TVR Sagaris, komplett mit seitlichen Auspuffrohren.
Der London Concours 2021 besteht aus einem VIP Preview Day, einer Style Edition und einem Supercar Day. Das Herzstück eines jeden Tages bleibt die Sammlung von 100 seltenen Luxusautos aller Altersklassen bleiben.
Mehr Infos: http://www.londonconcours.co.uk
Fotos: ©London Concours
Die unbefugte Verwendung und / oder Vervielfältigung von redaktionellen oder fotografischen Inhalten von Classic-Car.TV ohne ausdrückliche und schriftliche Genehmigung des Herausgebers ist strengstens untersagt. Auszüge und Links dürfen verwendet werden, sofern Classic-Car.TV mit einem angemessenen und spezifischen Verweis zum ursprünglichen Inhalt, vollständig und eindeutig in Verbindung gebracht wird.

The unauthorized use and/or duplication of any editorial or photographic content from Classic-Car.TV without express and written permission from the publisher is strictly prohibited. Excerpts and links may be used, provided that full and clear credit is given to Classic-Car.TV with appropriate and specific direction to the original content.