"Auch wenn wir jetzt wieder aufgrund des Lockdowns das Museum schließen müssen, es wartet eine großartige Motorsportaufstellung auf Euch", so Museumspräsident Hermann Layher. "Mein Dank geht an das Team von Red Bull für die Ausstellungsstücke, an die verschiedenen Rennfahrer und an unser Planungsteam unter Art Director Vanessa Layher und allen Beteiligten. Die Fans können wir leider nur online füttern. Wir sehen uns bei der Neueröffnung des Museums live vor Ort", so der Museumspräsident.
Ein Video, das in den letzten Tagen gedreht wurde, gibt einen sehr guten Vorgeschmack auf die Ausstellungsstücke der "Red Bull World of Racing". Fans des Motorsports werden sich das live vor Ort – sobald wieder möglich – nicht entgehen lassen. Durch den Clip führt Red Bull Athlet und unser Dauermitglied Adrian Guggemos. In "Ride at the Museum" erkundete Adrian bereits im Sommer 2020 das Technikmuseum auf seine ganze eigene Art & Weise. Dabei zeigte er unter anderem einen spektakulären Backflip auf der Tupolev Tu-144 – das Video dazu findet Ihr hier:
Es ist uns eine große Freude, dass Red Bull auf einer Fläche von 3.000 m2 in Halle 3 ab sofort eine temporäre Heimat gefunden hat. "Die Ausstellung ist toll geworden", sagte Franky Zorn, Welt- und Vizeweltmeister im Ice-Speedway, als er seine Maschine in die Ausstellung vorbeibrachte.
Die spektakuläre Edge 540 V2 aus der bekannten Red Bull Air Race Serie wurde von Chefmechaniker Gerhard Moik für die Ausstellung zusammengebaut. Aufgrund der Einschränkungen kam Gerhard Moik mit dem Wasserflugzeug aus Salzburg angeflogen. Er war von der Ausstellung begeistert. Die Flying Bulls würden furchtbar gerne zum Brazzeltag ins T echnik Museum Speyer kommen. Daniel Bodin landete als erster überhaupt einen Doublebackflip mit einem Snowmobile. Grund genug eins seiner Snowmobiles in Schweden abzuholen und in der Ausstellung zu zeigen.
Ganz besonders stolz sind die Museumsmacher auf das MotoGP Bike des Red Bull KTM Factory Racing Piloten Fabio Quartararo. Der Zweiradstar gewann mit diesem Motorrad in 2020 den Grand Prix in Österreich – es ist praktisch noch ganz warm. Die Formel-1-Geschichte von Red Bull und vieles mehr erlebt Ihr in der Ausstellung. "In den nächsten Wochen werdet Ihr online immer wieder Beiträge und Videos aus der "Red Bull World of Racing" finden. Wir wünschen Euch damit schon jetzt viel Vergnügen. Wir freuen uns riesig, Euch bei Wiedereröffnung der Museen in Sinsheim und Speyer begrüßen zu dürfen – bleibt gesund," so der Museumspräsident.
Fotos: ©Technik Museum Sinsheim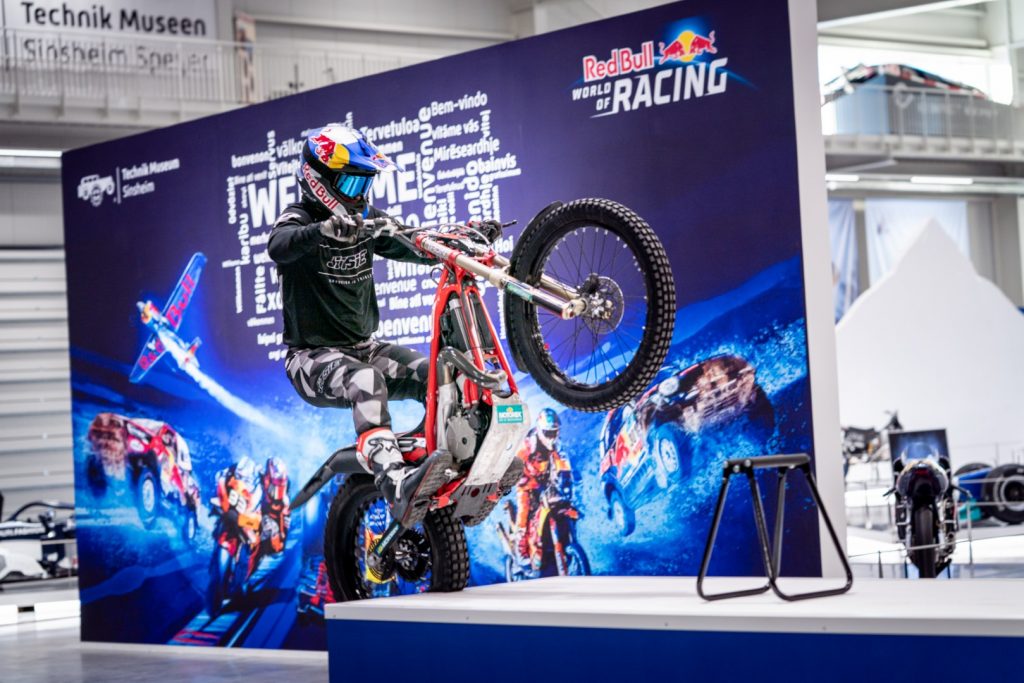 Die unbefugte Verwendung und / oder Vervielfältigung von redaktionellen oder fotografischen Inhalten von Classic-Car.TV ohne ausdrückliche und schriftliche Genehmigung des Herausgebers ist strengstens untersagt. Auszüge und Links dürfen verwendet werden, sofern Classic-Car.TV mit einem angemessenen und spezifischen Verweis zum ursprünglichen Inhalt, vollständig und eindeutig in Verbindung gebracht wird.

The unauthorized use and/or duplication of any editorial or photographic content from Classic-Car.TV without express and written permission from the publisher is strictly prohibited. Excerpts and links may be used, provided that full and clear credit is given to Classic-Car.TV with appropriate and specific direction to the original content.