Die Lancaster Insurance Classic Motor Show steht in diesem Jahr ganz im Zeichen von Elektro-Klassikern. Zweimal täglich wird eine Reihe von E-Klassikern auf einem eigens errichteten Oval in Halle 5 neben der Discovery Live-Bühne fahren.
Unter den Fahrzeugen befindet sich auch ein Baker Electric aus dem Jahr 1912. Das erste Baker-Fahrzeug, das von 1899 bis 1914 in Ohio hergestellt wurde, war ein Zweisitzer mit einem Verkaufspreis von 850 Dollar und zählte Thomas Edison zu seinen ersten Käufern. Edison entwickelte auch die Nickeleisenbatterien, die in einigen Baker Electrics verwendet wurden.
Im Gegensatz zu anderen frühen Autos brauchte der Baker Electric nicht angekurbelt zu werden, roch nicht nach Benzin und war praktisch wartungsfrei. Es überrascht nicht, dass er für Frauen vermarktet wurde. Ende 1910 war der Baker Electric recht luxuriös und kostete 2.800 Dollar. Er bot Platz für vier Passagiere.
In der DVLA-Datenbank des Vereinigten Königreichs sind nur drei Baker Electrics verzeichnet, darunter dieses Exemplar unter den 85 historischen Fahrzeugen, die mit Strom betrieben werden.
Zu den anderen Elektroautos gehören ein vom Porsche 356 inspirierte elektrische Chesil E, ein Westfield Eleven, ein elektrischer Nachbau des kultigen Lotus Eleven, der in den 1950er Jahren für Rennen in Le Mans gebaut wurde, und ein Westfield Sports.
Ein RBW Electric Roadster 'restomod' wird ebenfalls zu sehen sein. Der Roadster ist ein brandneues Elektroauto mit einer MGB-Karosserie, die leicht modifiziert wurde. Das Auto hat das Styling eines Klassikers, fährt sich aber wie ein moderner Sportwagen.
Dazu gesellen sich umgebaute Oldtimer von Electric Classic Cars, dem Thema der Discovery Channel-Sendung Vintage Voltage. Der Gründer Richard Morgan hat eine ganze Reihe von Autos umgebaut, von einem Mini und einem Land Rover bis hin zu einem Ferrari und einem BMW 2002.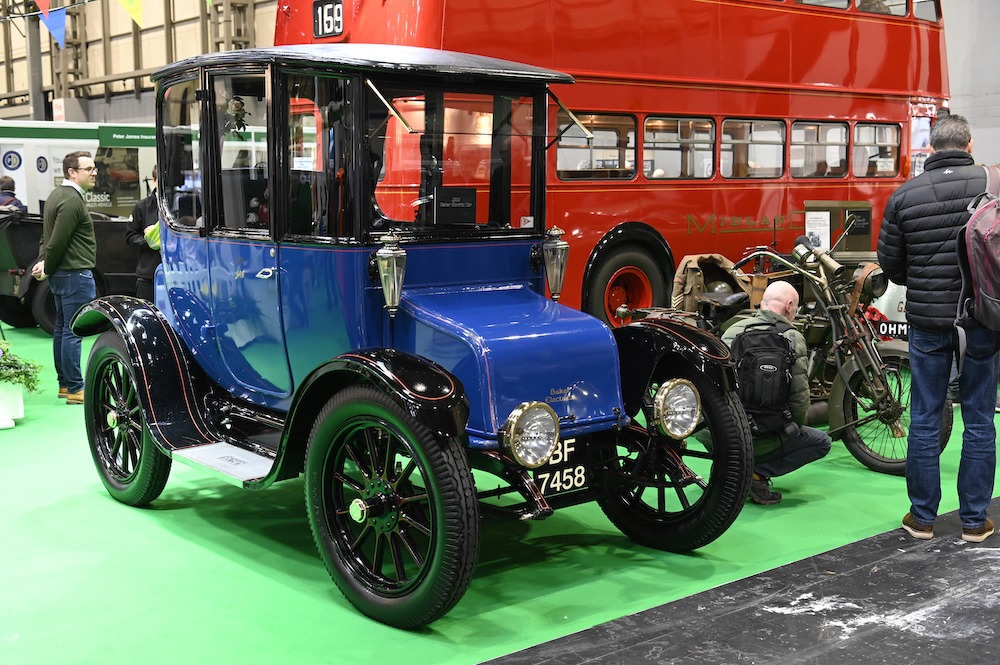 Die Lancaster Insurance Classic Motor Show mit Discovery findet von Freitag, 12. bis Sonntag, 14. November 2021 im NEC in Birmingham statt.
Mehr Infos: http://www.necclassicmotorshow.com
Fotos: ©Lancaster Insurance Classic Motor Show
Die unbefugte Verwendung und / oder Vervielfältigung von redaktionellen oder fotografischen Inhalten von Classic-Car.TV ohne ausdrückliche und schriftliche Genehmigung des Herausgebers ist strengstens untersagt. Auszüge und Links dürfen verwendet werden, sofern Classic-Car.TV mit einem angemessenen und spezifischen Verweis zum ursprünglichen Inhalt, vollständig und eindeutig in Verbindung gebracht wird.

The unauthorized use and/or duplication of any editorial or photographic content from Classic-Car.TV without express and written permission from the publisher is strictly prohibited. Excerpts and links may be used, provided that full and clear credit is given to Classic-Car.TV with appropriate and specific direction to the original content.