Der Heveningham Concours hat angekündigt, dass die nächste Motorsport- und Luftfahrtveranstaltung aufgrund der Covid-19-Pandemie erst im Sommer 2022 stattfinden wird.
Die Veranstaltung, die im vergangenen Jahr ebenfalls wegen der Pandemie abgesagt werden musste, zeigt mehr als 50 der schönsten Autos der Welt, während der Concours der Luftfahrt rund ein Dutzend ebenso seltener Propellerflugzeuge in Heveningham Hall in Suffolk präsentiert.
Max Hunt, Vorsitzender der Motorsport-Jury: "Mit großem Bedauern und angesichts der anhaltenden Unsicherheit haben wir die Entscheidung getroffen, den diesjährigen Concours und die Country Fair, die im Juni stattfinden sollten, abzusagen. Wir sind entschlossen, auf das Jahr 2022 vorauszuschauen und werden uns darauf konzentrieren, eine ganz besondere Veranstaltung zu veranstalten – selbst für unsere Verhältnisse! Vielen Dank für Ihre anhaltende Unterstützung und lassen Sie uns auf bessere Zeiten in der Zukunft blicken."
Die Preisrichter vergeben (normalerweise) jedes Jahr die von Laurence Edwards entworfenen Bronzetrophäen in den folgenden Klassen: Nachkriegs-, Vorkriegs- und Supersportwagen, sowie die Hanna Aviation Trophy für das beste Flugzeug.
Es gibt auch einen separaten Preis für den Gewinner des Horsepower Hill, einem Zeitsprint entlang der Hauptauffahrt des Anwesens, der an beiden Tagen stattfindet und ein eigenes Supercar-Paddock und einen Driftbereich umfasst. Die Zuschauer stehen im Mittelpunkt des Geschehens und haben von den Tribünen aus einen herrlichen Blick auf das Spektakel.
Der gesamte Erlös geht an wohltätige Zwecke. Darüber hinaus stellt der Concours ein Vollstipendium für einen Studenten zur Verfügung, der am Royal College of Art einen postgradualen MA-Studiengang in Intelligent Mobility absolvieren kann.
Der Heveningham Concours findet zur gleichen Zeit wie die traditionsreiche Country Fair statt, die jährlich rund 20.000 Besucher anlockt.
Weitere Informationen über den Concours finden Sie unter: www.heveninghamconcours.com
Fotos: ©Tim Scott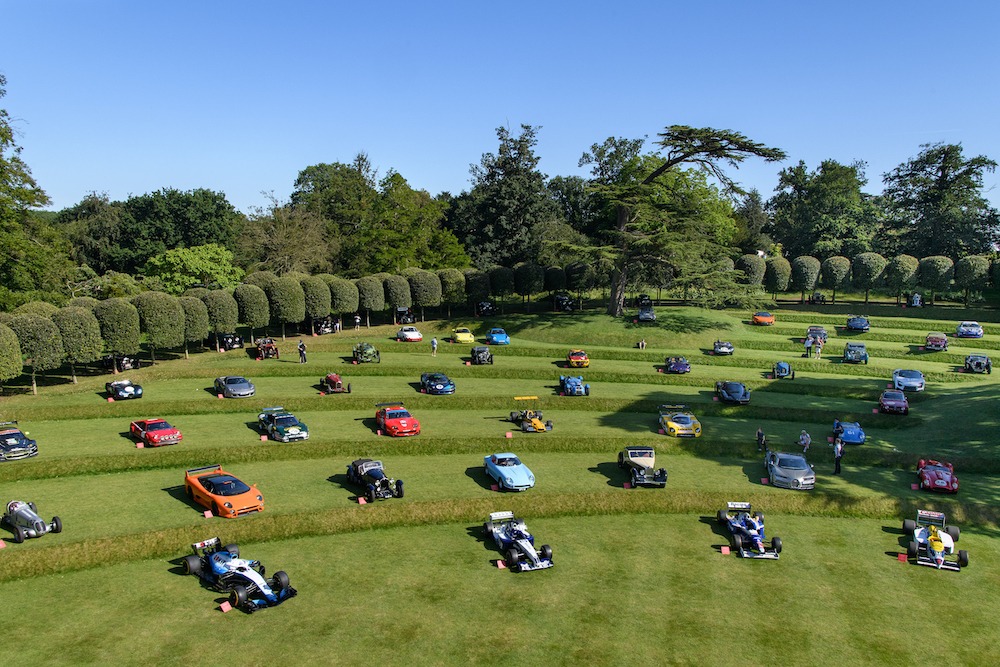 Die unbefugte Verwendung und / oder Vervielfältigung von redaktionellen oder fotografischen Inhalten von Classic-Car.TV ohne ausdrückliche und schriftliche Genehmigung des Herausgebers ist strengstens untersagt. Auszüge und Links dürfen verwendet werden, sofern Classic-Car.TV mit einem angemessenen und spezifischen Verweis zum ursprünglichen Inhalt, vollständig und eindeutig in Verbindung gebracht wird.

The unauthorized use and/or duplication of any editorial or photographic content from Classic-Car.TV without express and written permission from the publisher is strictly prohibited. Excerpts and links may be used, provided that full and clear credit is given to Classic-Car.TV with appropriate and specific direction to the original content.