Vom 31. Juli bis 1. August kommt bei Silverstone Auctions die Warwickshire Collection unter den Hammer: Sie besteht aus 21 Fahrzeugen  von Klassik bis Moderne.
Zur Sammlung gehören fünf außergewöhnliche Citroën, darunter ein 1970er Citroën DS21 Decapotable Coachwork von Henri Chapron. Ein seltenes Cabriolet, das neu nach Deutschland verkauft wurde und zwei Besitzer hatte, bevor es nach Großbritannien kamt. Danach ging es für kurze Zeit nach Ungarn, bevor es Ende 2009 nach Großbritannien zurückkam. Bis heute befindet es sich in dieser bedeutenden Sammlung, in der es für geschätzte £90.000 bis £105.000 versteigert werden soll.
Der nächste Wagen ist ein 1949er Buick Roadmaster Kombiwagen oder Woodie, wie er wegen der Holzgestaltung des Hecks genannt wird. Ein seltenes Angebot, da in 1949 nur 653 Exemplare hergestellt und nur 21 exportiert wurden. Der Buick war der luxuriöseste Wagen der damaligen Zeit in Amerika. Es wird angenommen, dass heute nur noch 20 Exemplare existieren. Der außergewöhnliche Wagen befand sich in den ersten 28 Jahren im Besitz von nur einer Person befand. Das Auto befindet sich in in wunderbarem Zustand und wird auf £58.000 bis £68.000 geschätzt.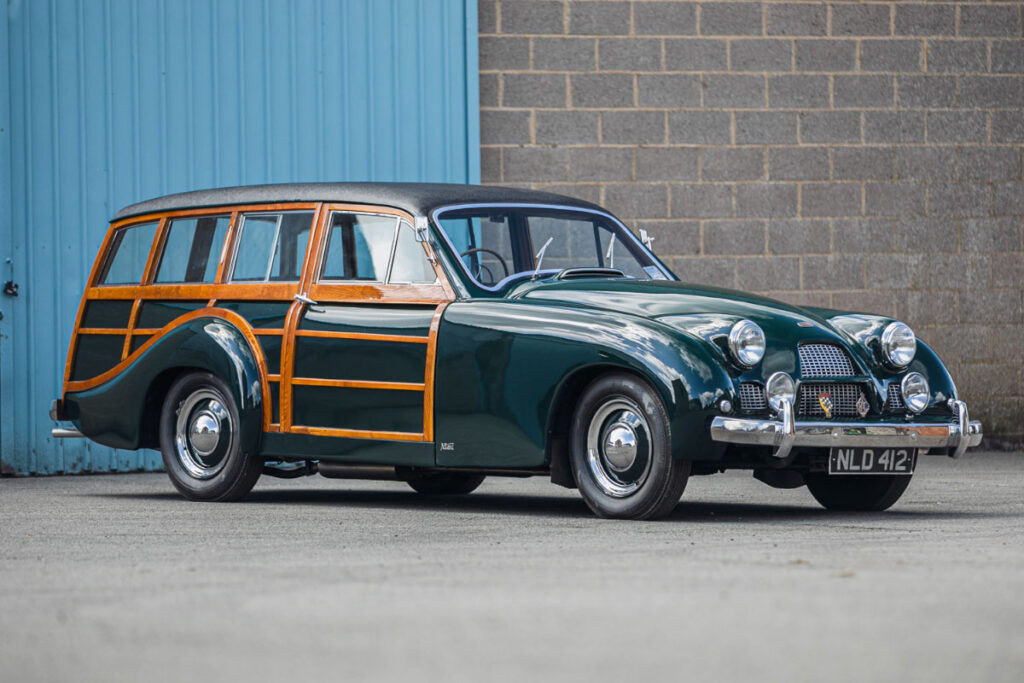 Ebenfalls ein Woodie ist der 1953er Allard P2 Safari Estate. Dieser ist sogar noch seltener als der Buick mit nur zehn produzierten Exemplaren und es wird angenommen, dass es vielleicht nur noch vier davon gibt. Über die Jahre hatte dieser Safari eine Reihe von langjährigen Besitzern und in den 1980er Jahren wurden einige Restaurierungsarbeiten durchgeführt. Als das Auto vollständig restauriert wurde, wurde es in Bronze lackiert, das anschließend in eine passendere Farbe, British Racing Green, geändert wurde. Obwohl der Wagen wenig genutzt wurde, befindet er sich immer noch in ausgezeichnetem Zustand mit dem schwarzen Everflex-Dach. Mit geschätzten 45.000 bis 55.000 Pfund ist dies ein schönes Stück britischer Automobilgeschichte, das bei klassischen Veranstaltungen sehr willkommen wäre.
Nun ein Zeitsprung ins Jahr 2008 und dem ultimativen britischen Luxus: der Rolls-Royce Phantom VII Coupé. Ein für Großbritannien gefertigter Wagen mit Rechtslenkung in Diamond Black mit bordeauxrotem Lederinterieur und einem 6,75-Liter-V12-Motor. Wie die anderen Autos dieser Sammlung wurde dieser Rolls-Royce mit 23.698 Meilen auf der Uhr wenig bis gar nicht gefahren. Mit einem geschätzten Wert von 135.000 bis 155.000 Pfund ist dies ein hervorragend präsentiertes Auto.
Eine vollständige Liste der Autos aus der Warwickshire Collection finden Sie unten mit der jeweiligen Losnummer. Meht Infos: http://www.silverstoneauctions.com
311      1938 Austin Light 12/4 Pickup
312      1972 Citroën DS21 EFI Pallas
313      1965 Citroën DS19M Décapotable Coachwork by Henri Chapron
314      1971 Morris Mini Cooper S
315      1971 Citroën SM 2.7 V6
316      1953 Allard P2 Safari Estate
317      1970 Citroën DS21 Décapotable Coachwork by Henri Chapron
318      1965 Alvis TE21 3-Litre
319      1927 Benjamin/Benova B3 Sports
320      1949 Buick Roadmaster Estate Wagon (Woodie)
321      1973 Citroën DS23 Safari (Break)
322      1949 Alfa Romeo 6C 2500 Super Sport Cabriolet
323      1997 Bentley Continental T
324      1997 Bentley Azure
325      1966 Bentley S3 Continental Flying Spur
326      2008 Rolls-Royce Phantom VII Coupe
327      1966 Triumph TR4A IRS
328      1948 Alvis Duncan 2-Door Coupe
329      2001 Ferrari 456M GTA
330      2007 Rolls-Royce Phantom VII Saloon
331      1968 Bentley T MPW Two-Door Saloon
332      1953 Alvis TB21 Tourer
Fotos: ©Silverstone Auctions
Die unbefugte Verwendung und / oder Vervielfältigung von redaktionellen oder fotografischen Inhalten von Classic-Car.TV ohne ausdrückliche und schriftliche Genehmigung des Herausgebers ist strengstens untersagt. Auszüge und Links dürfen verwendet werden, sofern Classic-Car.TV mit einem angemessenen und spezifischen Verweis zum ursprünglichen Inhalt, vollständig und eindeutig in Verbindung gebracht wird.

The unauthorized use and/or duplication of any editorial or photographic content from Classic-Car.TV without express and written permission from the publisher is strictly prohibited. Excerpts and links may be used, provided that full and clear credit is given to Classic-Car.TV with appropriate and specific direction to the original content.