Am Wochenende vom 11. bis 13. November ging im US-Bundesstaat Illinois die Gone Farmin' Fall-Auktion über die Bühne. Dabei erzielte der Veranstalter Mecum Auctions einen Gesamtumsatz von mehr als 8,3 Millionen Dollar. Bei der Auktion wurden mehr als 1.000 Traktoren, Oldtimer-Trucks, Schilder und landwirtschaftliche Relikte angeboten und eine hohe Verkaufsrate von 95 % erzielt.
Zu den Top-Verkäufen dieser Herbst-Auktion gehörte ein großes Angebot an Traktoren und Oldtimern. Der Aultman & Taylor 30-60 (Los F30) erzielte mit 189.000 $ den höchsten Preis aller Verkäufe, während ein seltener 1956er Peterbilt 350 COE (Los K18) mit seiner markanten Bullnose-Haube und vorderen Kotflügeln im Fahrradstil aus der Keane Thummel Collection für 126.500 $ verkauft wurde. Ein Keck-Gonnerman 30-60 N von 1932 (Los F49) landete auf dem dritten Platz der Spitzenverkäufe und erzielte 115.500 $. Ein Waterloo Boy N von 1922 (Los F37) und ein John Deere 62 von 1937 (Los F36) aus der Sammlung von John und Brenda Hoffman schafften es mit 101.850 $ bzw. 84.000 $ ebenfalls unter die Top 10 der Verkaufsliste.
Bei der Gone Farmin' Fall wurde auch eine umfangreiche Auswahl an Straßenkunst angeboten. Insgesamt erreichten 726 Lose der Road Art eine beeindruckende Verkaufsrate von 97 %. Zu den Highlights der Auktion gehörte eine Reihe von Spielzeug-Trucks aus der Sammlung Reenders, die von den Bietern gut angenommen wurde. An der Spitze der Road Art-Verkäufe standen ein John Deere-Smalt-Schild (Los M97), das für insgesamt 94.400 $ verkauft wurde, und eine geprägte 7UP-Kühlbox aus den 1950er Jahren (Los M162), die für insgesamt 12.980 $ verkauft wurde.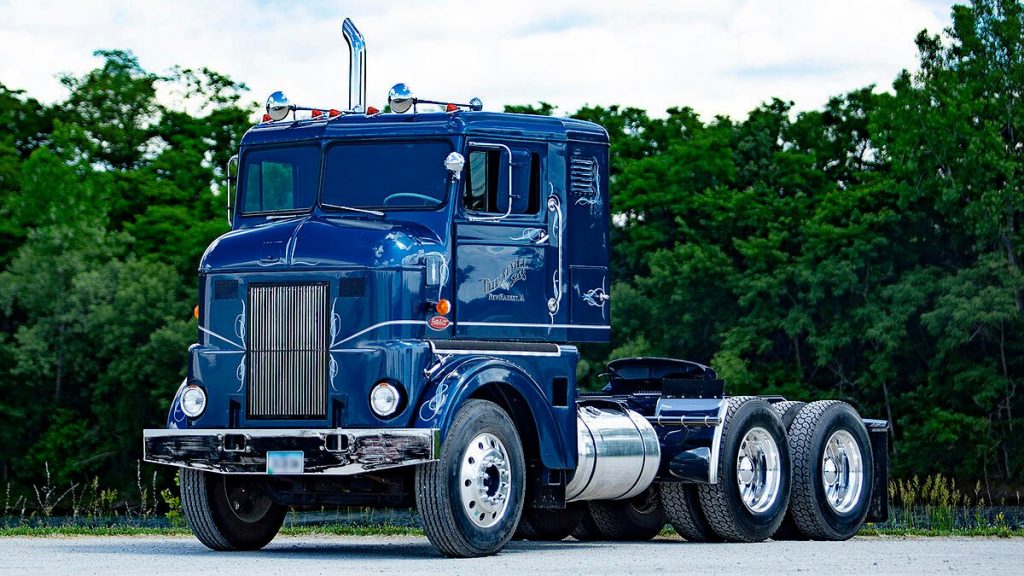 Die Top 10 der Traktor- und Oldtimer-LKW-Verkäufe:
1. Aultman & Taylor 30-60 (Los F30) für $189.000
2. 1956 Peterbilt 350 COE (Los K18) für 126.500 Dollar
3. 1932 Keck-Gonnerman 30-60 N (Los F49) für 115.500 $
4. 1922 Waterloo Boy N (Los F37) für $101.850
5. 1937 John Deere 62 (Los F36) für $84.000
6. 1956 Kenworth COE Bubblenose (Los K20) für $77.000
7. 1918 Case 20-40 (Los F31) für $73.500
8. 1918 Case 20-40 (Los F61) für $73.500
9. 1931 Ford AA American Fire Truck (Los K83) für $71.500
10. 1953 Peterbilt 280 Conventional (Los K21) für $71.500
Die Top 10 der Road Art-Verkäufe:
1. John Deere Single-Sided Smalt Sign (Los M97) für $94.400
2. 1950s 7UP Embossed Cooler (Lot M162) für $12,980
3. Ford einseitiges Porzellan-Neonschild (Los M120) für $12.390
4. 1957 Buick 3-teiliges Standset (Los M165) für $11.210
5. Diamond T Trucks einseitiges Porzellan-Neonschild (Los M25) für $10.620
6. Approved Used Tractors Porzellan-Neonschild (Los M50) für $10.030
7. John Deere Quality Farm Equipment Einseitiges Porzellanschild (Los M111) für $9.440
8. GMC einseitiges Porzellan-Neonschild (Los M36) für $8.850
9. John Deere Farm Implements Doppelseitiges Porzellanschild (Los M115) für $8.260
10. John Deere einseitiges beleuchtetes Kunststoffschild (Los M112) für $7.080
Fotos: ©Mecum Auctions
Die unbefugte Verwendung und / oder Vervielfältigung von redaktionellen oder fotografischen Inhalten von Classic-Car.TV ohne ausdrückliche und schriftliche Genehmigung des Herausgebers ist strengstens untersagt. Auszüge und Links dürfen verwendet werden, sofern Classic-Car.TV mit einem angemessenen und spezifischen Verweis zum ursprünglichen Inhalt, vollständig und eindeutig in Verbindung gebracht wird.

The unauthorized use and/or duplication of any editorial or photographic content from Classic-Car.TV without express and written permission from the publisher is strictly prohibited. Excerpts and links may be used, provided that full and clear credit is given to Classic-Car.TV with appropriate and specific direction to the original content.