Attenzione DucatiFans! Ab sofort lohnt sich ein Besuch der Autostadt in Wolfsburg für Biker besonders: Die italienische Traditionsmarke zeigt in den Glasboxen vor dem ZeitHaus drei aktuelle Modelle. Und wer selbst fahren möchte, hat im Rahmen des Wiederaufsteigertrainings Gelegenheit dazu. Sogar eine kleine Ducati für zu Hause gibt es – im ZeitReise Shop der Autostadt ist die Ducati Panigale V4 R als LEGO® Bausatz erhältlich.
Wer die eigenen Fahrfähigkeiten auffrischen möchte, sollte sich das in der Saison 2020 erstmals angebotene Wiederaufsteigergstraining auf dem Motorradparcours der Autostadt nicht entgehen lassen. Verschiedene Ducati- und Scambler-Modelle werden hierfür von Ducati Deutschland zur Verfügung gestellt. Lediglich eine Fahrerlaubnis der Klasse A und eigene Motorradschutzkleidung werden benötigt. Das Angebot für Wiederaufsteiger und alle weiteren Trainings – darunter auch eines für Motorradfahrerinnen – kann über die Telefonnummer 0800 288 678 238 und über den Online-Shop unter www.autostadt.de gebucht werden.
Fotos: ©Autostadt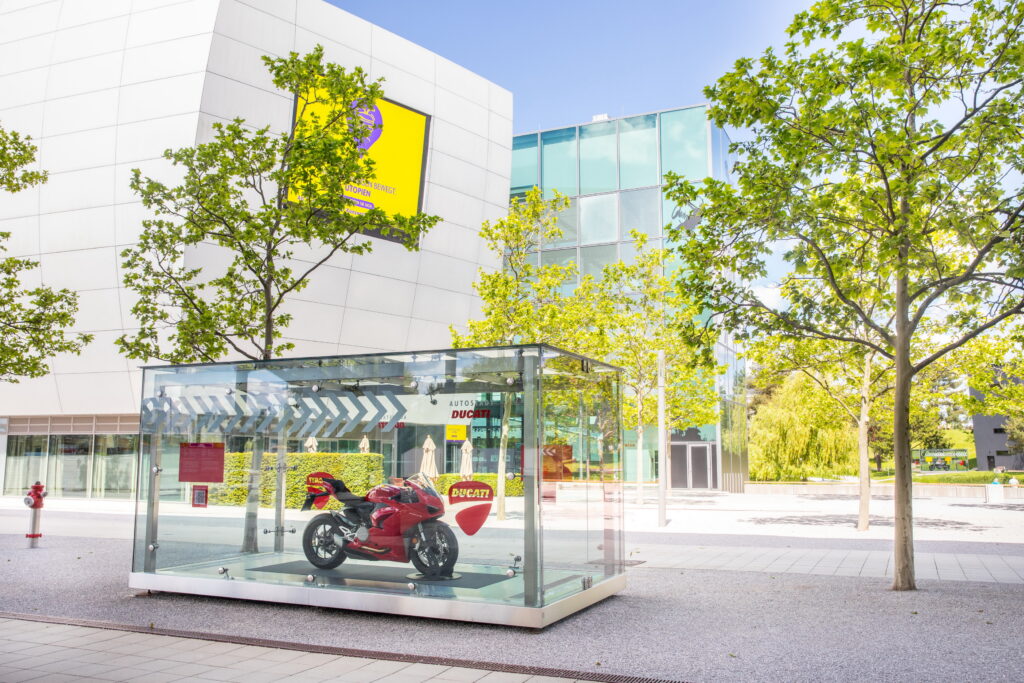 Mit der Panigale V2, der Streetfighter V4 S und der SCR 1100 PRO werden Motorräder des Modelljahres 2020 in den Glasboxen vor dem ZeitHaus präsentiert. Mit der ausgestellten Panigale V2 ist eine echte Überraschung dabei, denn als Weiterentwicklung der 959 erhielt sie einen neuen Namen, ein neues Design und einen neuen Motor: Stolze 155 PS bringt das Superbike nun auf die Rennstrecke. Ein Naked Bike mit dem Motor eines Superbikes? Gibt es! Die Streetfighter V4 S: Ihr Motor basiert auf dem der Panigale V4, weshalb sie mit ihren 208 PS als das derzeit stärkste Naked Bike gilt. Das Trio wird durch die legendäre Scrambler komplettiert: Die Scrambler 1100 PRO punktet mit ihrem sportlichen Design.
Zum Mitnehmen gibt es ein ganz besonderes Sammlerstück: Der Bausatz einer Ducati Panigale V4 R von LEGO® Technic ist ab sofort im ZeitReise Shop der Autostadt erhältlich. Es ist der erste Nachbau eines DucatiMotorrads aus LEGO® Teilen. Infos: www.autostadt.de
Die unbefugte Verwendung und / oder Vervielfältigung von redaktionellen oder fotografischen Inhalten von Classic-Car.TV ohne ausdrückliche und schriftliche Genehmigung des Herausgebers ist strengstens untersagt. Auszüge und Links dürfen verwendet werden, sofern Classic-Car.TV mit einem angemessenen und spezifischen Verweis zum ursprünglichen Inhalt, vollständig und eindeutig in Verbindung gebracht wird.

The unauthorized use and/or duplication of any editorial or photographic content from Classic-Car.TV without express and written permission from the publisher is strictly prohibited. Excerpts and links may be used, provided that full and clear credit is given to Classic-Car.TV with appropriate and specific direction to the original content.