2021 feiert der Jaguar E-Type seinen 60. Geburtstag. Dazu plant der Jaguar E-Type Club in Großbritannien ein krachendes Geburtstagswochenende und lädt Besitzer, Enthusiasten und Fans aus aller Welt nach Worcestershire. Denn gefeiert werden soll Wochenende des Shelsley Walsh Hillclimb (12. bis 13. Juni 2021) mit Rennstrecken-Action und ein Wochenende mit Swinging Sixties-Autos, Musik, Tanz, Film, Kunst und Mode.
Der E-Type
Für viele Menschen ist der E-Type heute noch immer so schön wie bei seiner Markteinführung 1961. Damals war er natürlich eine Sensation. Er war sinnlich, schockierend und schnell – und ein Symbol der "Swinging Sixties" wie die Beatles oder der Minirock. Aber eder E-Type war keine vorübergehende Modeerscheinung. Im Laufe der Jahre hielt die Liebesbeziehung zwischen diesem schönen Sportwagen und seinen Fans.
Wertschätzung wird oft durch Seltenheit entfacht. Relativ gesehen ist der E-Type nicht selten, aber dennoch wird er hoch verehrt. Es gibt heute tatsächlich schnellere Autos, und es gibt besser gebaute, anspruchsvollere Autos. Aber es ist umstritten, ob es schönere Autos gibt.
In der realen Welt ist nichts perfekt, auch der E-Type war nicht perfekt. Er war jedoch ein gewaltiger Schritt nach vorn. So wie der XK 120 dem Enthusiasten auf der Straße die Leistung eines Rennwagens gebracht hatte, so tat es 13 Jahre später der E-Type. Und so wie der XK 120 Jaguar seinen Konkurrenten in Sachen Leistung einen deutlichen Vorsprung verschaffte, so tat der E-Typ dasselbe. Beide steigerten das britische Prestige und die Technik weltweit.
Der E-Type 60
E-Types sind nicht zum Posen, sondern zum Fahren gedacht. Deswegen werden E-Types 60 zwei Tage lang auf dem historischen Shelsley Walsh Hillclimb, der ältesten noch genutzten Rennstrecke der Welt, für viel Action sorgen.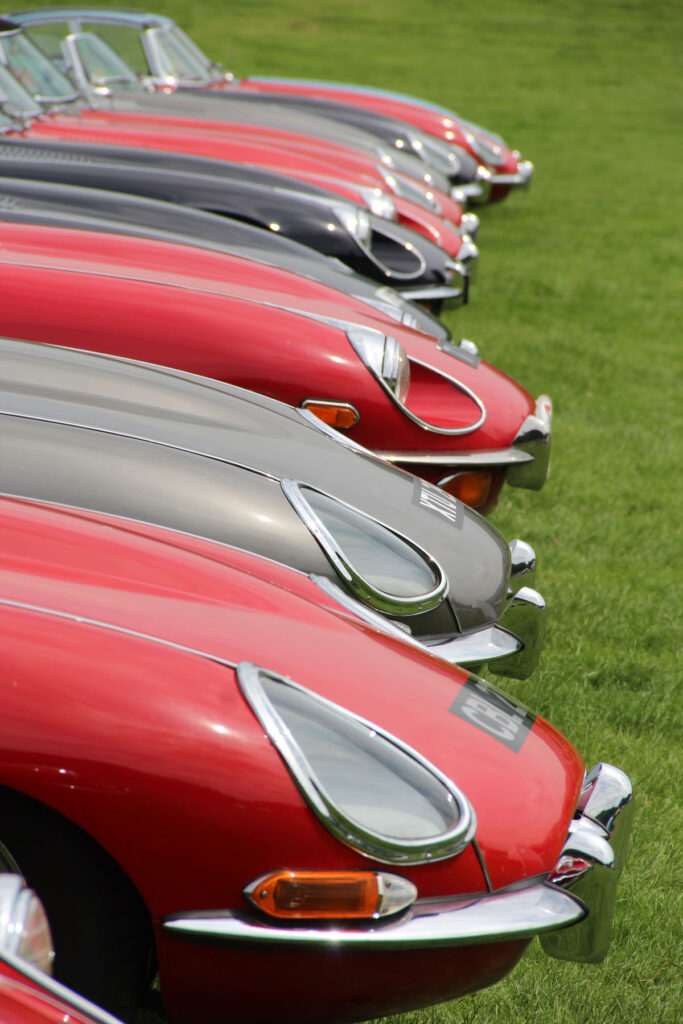 Die Star-Autos werden insgesamt 9600 PS haben: der Prototyp zur Markteinführung, der älteste existierende Jaguar E-Type, der original E-Type mit 150 Meilen pro Stunde und Hauptfigur des Buches "Das berühmteste Auto der Welt". Dazu der rote E-Type aus dem Film "The Italian Job".
Zu den weiteren Akteuren des Wochenendes gehören Horden von Minis (die andere große britische Automobil-Ikone, deren 60. Geburtstag ebenfalls gefeiert wird), renommierte E-Type- und Oldtimer-Händler, Kunst der 60er Jahre, Mode-, Oldtimer- und Lifestyle-Stände der 60er Jahre, Champagner-Haus, Cocktails und Canapés, Gin-Brenner…
Partner der Wohltätigkeitsveranstaltung ist Hope for Tomorrow – mit dem Ehrengast Richard Attwood.
Fotos: © Ben Hub/Jaguar International
Die unbefugte Verwendung und / oder Vervielfältigung von redaktionellen oder fotografischen Inhalten von Classic-Car.TV ohne ausdrückliche und schriftliche Genehmigung des Herausgebers ist strengstens untersagt. Auszüge und Links dürfen verwendet werden, sofern Classic-Car.TV mit einem angemessenen und spezifischen Verweis zum ursprünglichen Inhalt, vollständig und eindeutig in Verbindung gebracht wird.

The unauthorized use and/or duplication of any editorial or photographic content from Classic-Car.TV without express and written permission from the publisher is strictly prohibited. Excerpts and links may be used, provided that full and clear credit is given to Classic-Car.TV with appropriate and specific direction to the original content.