Was haben Tourmusiker, Alpenforscher und Strandschläfer gemeinsam? Man könnte sie hinter dem Steuer des schwer fassbaren und begehrten Hippie-Klassikers erwischen – dem 23-Window-Bus von Volkswagen.
Den US-Käufern als "Deluxe Microbus mit Samba-Paket" bekannt, war der 23-Window-Bus ursprünglich als Fahrzeug für Touren in den Schweizer Alpen konzipiert und bot bis zu neun Passagieren maximale Sicht, wurde aber schnell von Familien, Campern und Angehörigen der alternativen Kultur angenommen. Der Van verfügt über eine Sammlung einzigartiger Fenster, darunter acht Oberlichter, zwei gebogene Heckfenster, ein einziehbares Oberlicht und die begehrte geteilte Windschutzscheibe.
Der zwischen 1951 und 1967 hergestellte Microbus der ersten Generation war budgetfreundlich und für Sightseeing-Abenteuer gebaut. Der Vierzylinder-Motor war im Fond untergebracht, sodass der Fahrer direkt auf der Windschutzscheibe sitzen und eine unvergleichliche Aussicht auf die Straße genießen konnte.
Mit der Zeit konnte man die klassische Silhouette des Bullis an Stränden, auf Campingplätzen und bei Musikfestivals entdecken. Der Bus wurde schnell zum Synonym für die alternative Kultur – er war das völlige Gegenteil der aufgemotzten Muscle Cars, die in den 1950er und 1960er Jahren aus Detroit herausgepumpt wurden.
Der Bus war relativ einfach zu warten und konnte viele Fahrgäste befördern – Faktoren, die für die nomadisierenden Hippies der 1960er und 1970er Jahre sehr attraktiv waren. Der Microbus rüttelte die Automobilindustrie auf – so, wie Amerika am Rande einer sozialen Revolution stand.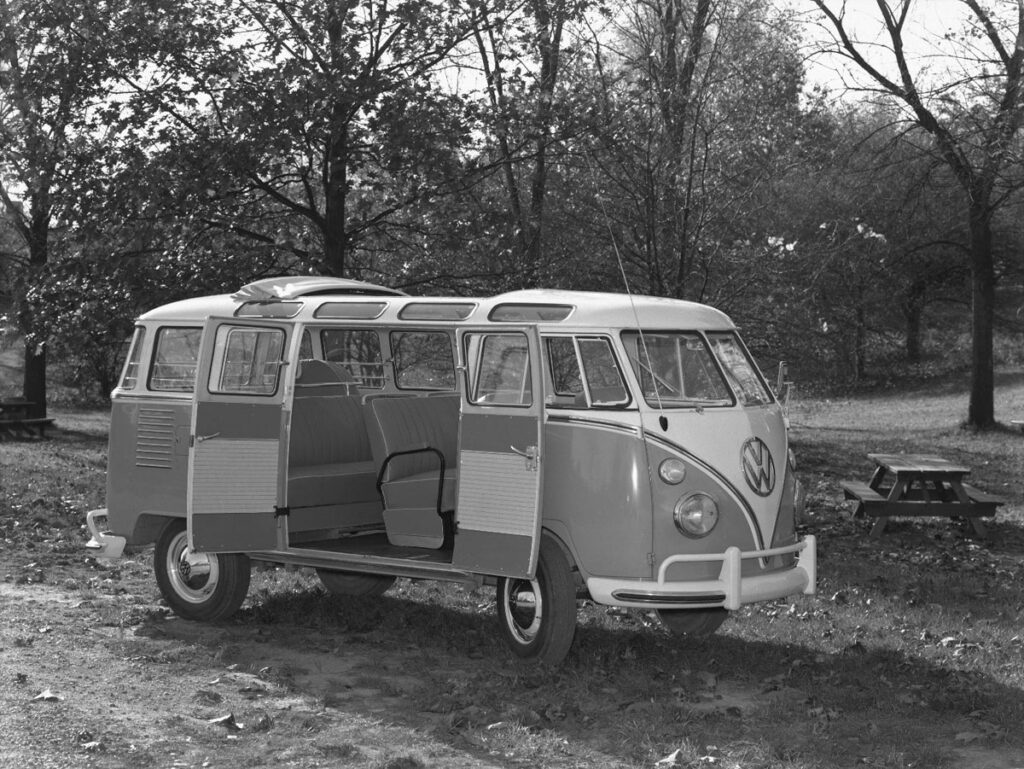 Während es den original Bus mit 23 Fenstern nur in zwei Farben gab (Mausgrau mit einem perlweißen Verdeck oder Siegelwachsrot mit einem kastanienbraunen Verdeck), passten Surfer und Hippies ihre Lackierung schnell an, mit individueller Kunst, dem Peace-Emblem und Texten ihrer Lieblingsbands.
Der Microbus ist in der gesamten Popkultur zu finden, von Albumcovern bis hin zu Zeichentrickfilmen. Bis zum heutigen Tag ruft der Bus immer noch Gefühle der Nostalgie und von Freigeist hervor.
Einen originalen Bus auf der Straße zu sehen, ist ein seltener Anblick – nur zwischen 5 und 10 Prozent aller hergestellten VW-Bus-Modelle hatten diese Kombination
– und wenn sie in erstklassigem Zustand auf den Markt kommen, können sie eine sechsstellige Summe einbringen. Rekord: Im Jahr 2017 wurde ein 1961er Volkswagen 23-Fenster Deluxe Microbus Samba mit 23 Fenstern für 291.500 Dollar verkauft und stellte damit einen neuen Rekord für dieses Modell auf.
Fotos: ©Volkswagen Archiv
Die unbefugte Verwendung und / oder Vervielfältigung von redaktionellen oder fotografischen Inhalten von Classic-Car.TV ohne ausdrückliche und schriftliche Genehmigung des Herausgebers ist strengstens untersagt. Auszüge und Links dürfen verwendet werden, sofern Classic-Car.TV mit einem angemessenen und spezifischen Verweis zum ursprünglichen Inhalt, vollständig und eindeutig in Verbindung gebracht wird.

The unauthorized use and/or duplication of any editorial or photographic content from Classic-Car.TV without express and written permission from the publisher is strictly prohibited. Excerpts and links may be used, provided that full and clear credit is given to Classic-Car.TV with appropriate and specific direction to the original content.