Auf Hochglanz polierte Chromveteranen, kompromisslose Muscle Cars und der unverkennbare V8-Motorensound kündigen nur eines an: das legendäre US-Car Treffen im Technik Museum Sinsheim. Am 7. und 8. August 2021 rollen die prachtvollen Straßenkreuzer, leistungsstarke Custom Cars und noch viele mehr auf das Museumsgelände zum bereits zehnten US-Car Treffen.
Immer am ersten Augustwochenende verwandelt sich der Museumsplatz in ein Eldorado für die Halter und Fans historischer als auch aktueller US-Automobile. Die Organisatoren erwarten hunderte bunte Straßenkreuzer, faszinierende Restaurierungen sowie die vor Kraft strotzenden Boliden der Neuzeit. Der Innenhof des Museums ist für die klassischen Heckflossen-Riesen bis Baujahr 1991, US-Rats, Customs und Hot Rods reserviert. Die Außenfläche P2 ist für alle US- Schönheiten bis Baujahr 2001, inklusive US-Rats, Customs und Hot Rods; der Parkplatz P3 ist für alle New- und Muscle-Cars angedacht. Vor einzigartiger Kulisse haben die Teilnehmer die Möglichkeit, ihre Fahrzeuge den interessierten Museumsbesuchern zu präsentieren und sich mit Gleichgesinnten austauschen.
Und 2021 steht so einiges auf dem Programm: Wem das Anschauen von Fahrzeugen zu wenig ist, kann den Tag auch zum Beauty-Programm nutzen: Ein Barber Shop sowie ein Tattoo Studio stehen Interessierten mit Rat und Tat zur Seite. Neben einer bunten Händlermeile sorgen coole Live-Bands für Stimmung auf dem Gelände. Für das leibliche Wohl wird ebenfalls gesorgt sein. Am Samstag sogar bis in den Abend hinein. Beim leckeren BBQ und kühlen Getränken können sowohl die Besucher als auch die Teilnehmer den Abend ausklingen lassen.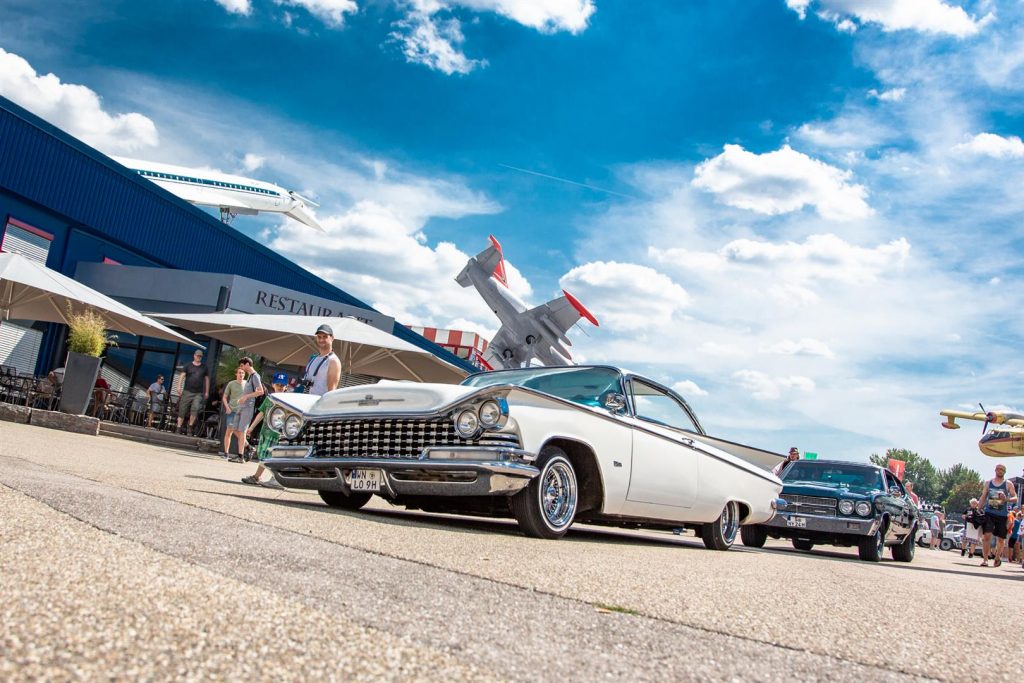 Wer das Treffen besucht, sollte auch einen Blick in den US-Car-Ausstellungsbereich des Technik Museum Sinsheim werfen: Bereits vor drei Jahren wurde die beliebte Sammlung amerikanischer Traumwagen, die American Dream Cars Collection, neu eröffnet: Lebendige Szenarien, seltene Fahrzeuge und ein komplett neues Erscheinungsbild geben auf über 1.500 m2 die letzten 100 Jahre amerikanischer Automobilgeschichte wieder: Von den 20er Jahren bis in die Neuzeit, vom Dirt Track Race bis zum Glamour der 50er Jahre und noch vieles mehr. Die ständig wechselnden Exponate halten diese einzigartige Ausstellung lebendig.
Das US-Car Treffen findet am 7. und 8. August 2021 auf dem Freigelände des Technik Museum Sinsheim statt: Samstag von 9 bis 18 Uhr und gemütlichem Ausklang, Sonntag von 9 bis 18 Uhr. Der Eintritt auf das Freigelände ist sowohl für die Besucher als auch die Teilnehmer kostenlos. Angemeldete Teilnehmer erhalten an diesem Tag ermäßigten Eintritt in das Museum. Weitere Informationen sind auf www.technik-museum.de/us-car zu finden.
Fotos: ©Technik Museum Sinsheim
Die unbefugte Verwendung und / oder Vervielfältigung von redaktionellen oder fotografischen Inhalten von Classic-Car.TV ohne ausdrückliche und schriftliche Genehmigung des Herausgebers ist strengstens untersagt. Auszüge und Links dürfen verwendet werden, sofern Classic-Car.TV mit einem angemessenen und spezifischen Verweis zum ursprünglichen Inhalt, vollständig und eindeutig in Verbindung gebracht wird.

The unauthorized use and/or duplication of any editorial or photographic content from Classic-Car.TV without express and written permission from the publisher is strictly prohibited. Excerpts and links may be used, provided that full and clear credit is given to Classic-Car.TV with appropriate and specific direction to the original content.