Saic Design hat ein neues MG-Konzept vorgestellt, um das dreijährige Bestehen des Unternehmens zu feiern und eine Vision der zukünftigen urbanen Mobilität vorzustellen. Außerdem hat Saic Design mit R Ryzr eine weitere Vision der zukünftigen Mobilität vorgestellt.
Der MG Maze richtet sich an die nächste Generation von Autonutzern und erforscht die Zukunft des Stadtverkehrs, indem er den Spaß und den Pioniergeist, der MG schon immer ausgemacht hat, im 21. Jahrhundert verankert. Unter dem Motto "Get Out & Play" verbindet das Konzept Mobilität und Spiel, angetrieben von der Lust der Verbraucher auf etwas Neues, Kühnes, Mutiges und Aufregendes.
Der Gaming-Aspekt des Fahrzeugs spiegelt den Wunsch wider, neue Errungenschaften zu entdecken und zu erreichen, und zwar über ein punktebasiertes Belohnungssystem. Unser Auto hilft den Nutzern, ihre Stadt und ihre Welt neu zu entdecken, indem sie nach aufregender digitaler Straßenkunst suchen, die mit Strukturen, Gebäuden und Wahrzeichen interagiert.
Der MG Maze ist ein kompakter urbaner Zweisitzer, der ein Höchstmaß an Agilität und Funktionalität in belebten städtischen Umgebungen bietet. Seine Kernpunkte sind Hightech und emotionales Design.
Das Äußere besteht aus einer transparenten Hülle, die an High-End-Gaming-PCs mit freiliegenden Komponenten erinnert. Die äußere Oberfläche ist fließend und dynamisch und legt Aspekte des Chassis und des Innendesigns frei, die sonst nicht sichtbar sind.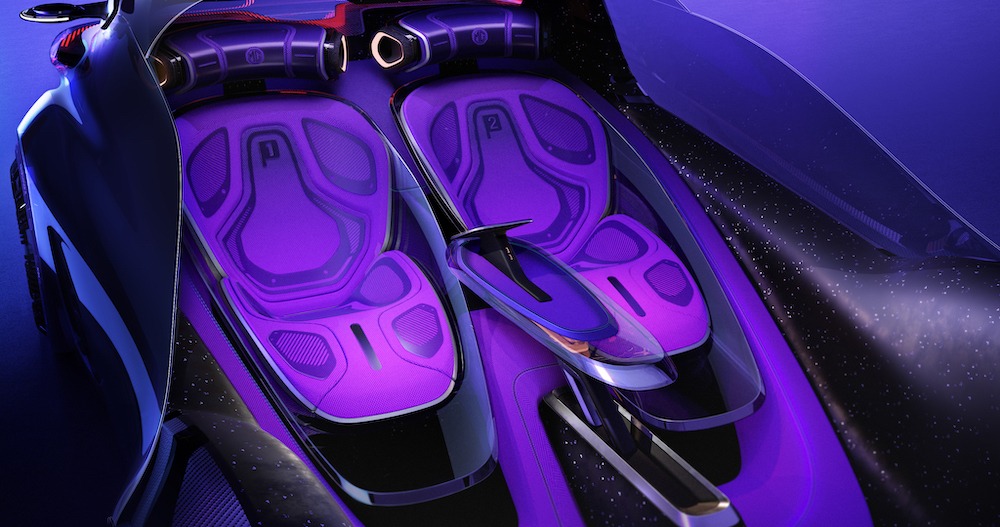 Im Inneren wurden schwebende Sitze und UX/UI-Technologie entwickelt, die den Gaming-Aspekt durch ein unterhaltsames und angenehmes Fahrerlebnis verstärken, wobei die Lenkung nicht über ein Lenkrad, sondern über das Smartphone des Fahrers gesteuert wird.
Der R Ryzr, eine Fusion aus Auto und Motorrad, wurde für Saics EV-Marke "R" entwickelt und besteht aus einer Jacke und einem Fahrzeug, die ineinandergreifen, um es zu starten, ohne dass man einen Schlüssel braucht.
Es wurde entwickelt, um der Abkehr von überfüllten öffentlichen Verkehrsmitteln und dem Bedürfnis nach instinktiven Erlebnissen Rechnung zu tragen, und bietet durch die Kombination von hochmoderner technischer Bekleidung und erweiterter Realität eine Flucht aus überfüllten Räumen.
Das Konzept ist auf ultimative Benutzerfreundlichkeit ausgelegt – Motorrad-Agilität mit autoähnlicher Stabilität, während das Ryzr-Bekleidungskonzept bedeutet, dass weder eine App noch ein Schlüssel benötigt werden – das Fahrzeug erkennt stattdessen einfach die Jacke des Besitzers.
Fotos: ©Saic Design
Die unbefugte Verwendung und / oder Vervielfältigung von redaktionellen oder fotografischen Inhalten von Classic-Car.TV ohne ausdrückliche und schriftliche Genehmigung des Herausgebers ist strengstens untersagt. Auszüge und Links dürfen verwendet werden, sofern Classic-Car.TV mit einem angemessenen und spezifischen Verweis zum ursprünglichen Inhalt, vollständig und eindeutig in Verbindung gebracht wird.

The unauthorized use and/or duplication of any editorial or photographic content from Classic-Car.TV without express and written permission from the publisher is strictly prohibited. Excerpts and links may be used, provided that full and clear credit is given to Classic-Car.TV with appropriate and specific direction to the original content.