Bei der nächsten Silverstone Classic Live Online-Auktion wird ein Jaguar E-Type aus der Sammlung des TV-Schauspielers und Komikers Steve Coogan zum Verkauf angeboten.
Dieser Jaguar E-Type ist wirklich besonders – einer der ersten von nur 92 produzierten Rechtslenkern und einer der 56, die von den Händlern als Vorführwagen verwendet wurden. Dieser E-Type war der erste, der im Juli 1961 nach Schottland ging, zu Jaguar Edinburgh.
Am 8. September 1961 wurde die Fahrgestellnummer #62 auf den allerersten Besitzer in North Berwick registriert, der den Wagen bis 1978 behielt. Danach wurde er an seinen zweiten Besitzer mit Wohnsitz in Edinburgh verkauft. Später wurde er an seinen dritten schottischen Besitzer in Fife verkauft und an seinen vierten Besitzer nach Edinburgh zurückgegeben. Da er einen Großteil seiner Zeit in Schottland verbrachte, wurde #62 wenig gefahren.
Im Jahr 2016 verkaufte Silverstone Auctions das Auto, nachdem es aus Schottland herausgelockt worden war und als eines der 92 Originalautos identifiziert wurde. Ein adleräugiger Quentin Willson, selbst Besitzer eines frühen E-Type, kaufte den Wagen für seinen Freund Steve Coogan und dessen seltene und begehrte Oldtimer-Sammlung.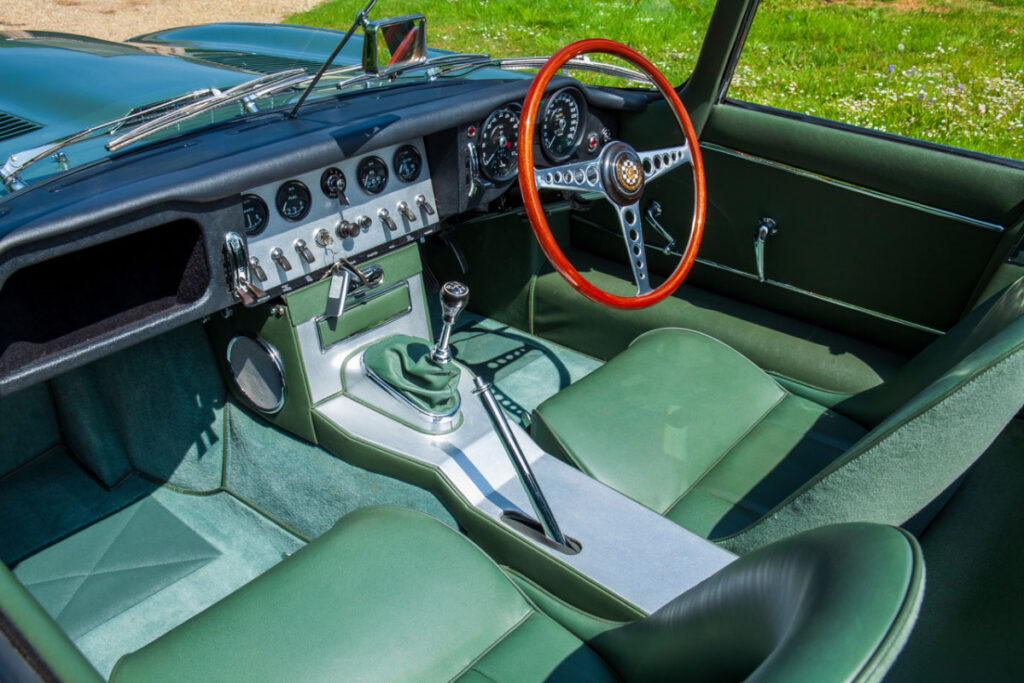 Der #62 hatte einige Restaurierungsarbeiten durchlaufen, aber 2017 wurde XK Engineering mit der vollständigen Restaurierung von Mutter und Bolzen dieses sehr seltenen und frühen E-Type mit flachem Boden beauftragt. Dieses Projekt sollte zwei Jahre dauern und wurde von der Zeitschrift Classic Cars vollständig dokumentiert.
Das Wichtigste ist, dass dieser seltene frühe E-Type noch die passende Karosserie, den Motor und den Zylinderkopf sowie das Moss-Getriebe enthält. Außerdem besitzt der Wagen einen vollständig flachen Boden, das geteilte Gasgestänge, den Rückspiegel, die Motorhaubenlamellen und die so wichtigen äußeren Motorhaubenverschlüsse. Diese einzigartigen Merkmale machen dieses Auto zu einem dieser sehr begehrten Objekt.
Der Restaurierungsprozess entsprach den höchstmöglichen Standards, man könnte die Detailversessenheit als forensisch bezeichnen. Er wurde in seiner Originalfarbe Sherwood Green mit einem grünen Lederinterieur und einem Dach in French Grey lackiert. Aufgrund dieser Details ist der angebotene Wagen möglicherweise der beste, den Sie finden konnten, exquisit bis ins letzte Detail mit einer vollständigen History, einem Jaguar-Heritage-Zertifikat und jetzt die einmalige Gelegenheit, eine echte britische Concours-Gewinner-Ikone zu besitzen, deren Wert auf 300.000 bis 350.000 Pfund geschätzt wird.
Fotos: ©Silverstone Auctions
Die unbefugte Verwendung und / oder Vervielfältigung von redaktionellen oder fotografischen Inhalten von Classic-Car.TV ohne ausdrückliche und schriftliche Genehmigung des Herausgebers ist strengstens untersagt. Auszüge und Links dürfen verwendet werden, sofern Classic-Car.TV mit einem angemessenen und spezifischen Verweis zum ursprünglichen Inhalt, vollständig und eindeutig in Verbindung gebracht wird.

The unauthorized use and/or duplication of any editorial or photographic content from Classic-Car.TV without express and written permission from the publisher is strictly prohibited. Excerpts and links may be used, provided that full and clear credit is given to Classic-Car.TV with appropriate and specific direction to the original content.