Simon Wright, Autonarr aus Nottingham, hat Limited100 ins Leben gerufen – einen Online-Shop, der Autodrucke in limitierter Auflage verkauft, mit dem Ziel, freiberufliche Autofotografen zu unterstützen.
Da etwas mehr als eine Million der Selbstständigen in Großbritannien (22%) von den Folgen des Lockdown bedroht sind und Autoveranstaltungen während des Ausbruchs der Pandemie abgesagt wurden, sind freiberufliche Autofotografen besonders hart betroffen und müssen sich daher diversifizieren und auf digitale Kanäle setzen, um Einnahmen zu erzielen.
Als begeisterter Autofotograf war Simon auf der Suche nach Autokunst für sein erstes Zuhause, aber er hatte Mühe, etwas zu finden, das ihm gefiel. Zu diesem Zeitpunkt beschloss Simon, mit Autofotografen zusammenzuarbeiten, um sein eigenes Sortiment an maßgeschneiderter, handgefertigter Wall Art zu schaffen.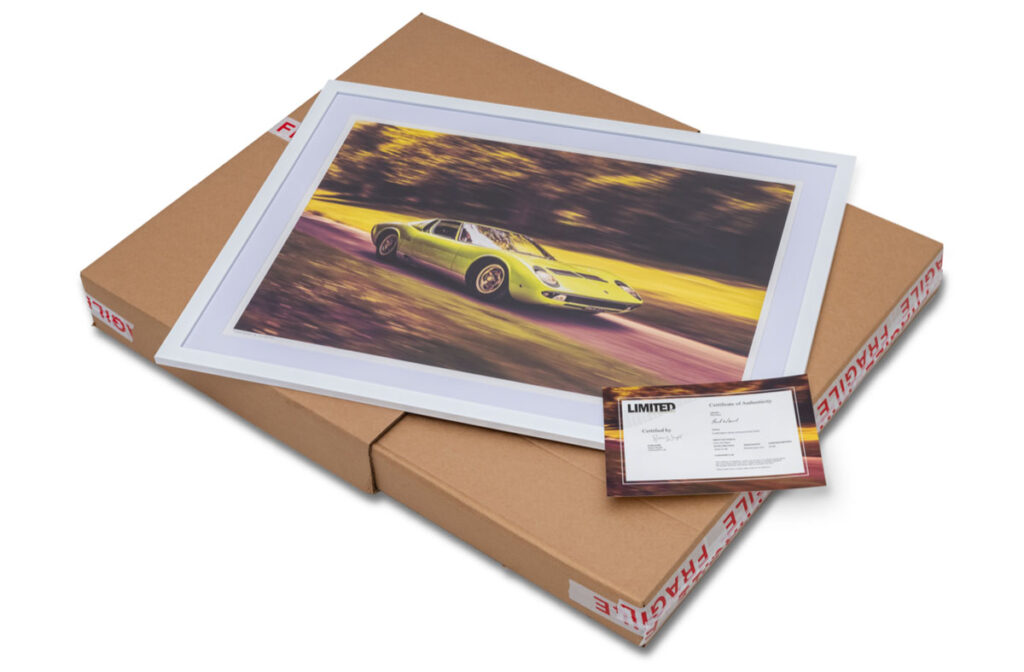 In den ersten Tagen des Lockdowns heckte Simon einen Plan aus, um aus den sechs Millionen Autoliebhabern und dem 13,5 Milliarden Pfund teuren Haushaltswarenmarkt Großbritanniens Kapital zu schlagen und entwickelte eine E-Commerce-Website, die Fotokunst von einigen der berühmtesten Autos der Welt verkauft. Das Angebot umfasst unter anderem einen Lamborghini Miura beim Prescott Hill Climb.
Simon fügte hinzu: "Unser Ziel ist es, die Essenz dessen einzufangen, was einige besondere Autos zu Ikonen macht. Wir arbeiten ausschließlich mit hochqualifizierten, preisgekrönten Fotografen zusammen, um Autonarren die eindrucksvollsten Automobilbilder zu liefern, die man sich vorstellen kann. Unsere Abzüge sind in einer Reihe von Formaten erhältlich, und wir garantieren, dass wir von jedem Bild immer nur hundert Stück produzieren werden".
Limited 100 arbeitet mit preisgekrönten Fotografen wie Paul Ward, Rick Noël und João Meneses zusammen.
Laut Limited100 besteht das Ziel, unabhängige Automobilfotografen zu unterstützen und zu zeigen, was sie bieten können. Die gerahmten Leinwand- und Aluminiumdrucke werden in Nottingham in Handarbeit hergestellt.
Fotos: ©Limited100
Die unbefugte Verwendung und / oder Vervielfältigung von redaktionellen oder fotografischen Inhalten von Classic-Car.TV ohne ausdrückliche und schriftliche Genehmigung des Herausgebers ist strengstens untersagt. Auszüge und Links dürfen verwendet werden, sofern Classic-Car.TV mit einem angemessenen und spezifischen Verweis zum ursprünglichen Inhalt, vollständig und eindeutig in Verbindung gebracht wird.

The unauthorized use and/or duplication of any editorial or photographic content from Classic-Car.TV without express and written permission from the publisher is strictly prohibited. Excerpts and links may be used, provided that full and clear credit is given to Classic-Car.TV with appropriate and specific direction to the original content.