Der Käfer symbolisierte viele Jahre Freiheit, er wurde zur eigenen Marke und er ist noch heute eines der begehrtesten klassischen Fahrzeuge, die noch erschwinglich sind. Jahrzehnte lang war der Käfer in Mexiko das Symbol der Mobilität. Volkswagen produzierte den Mexiko-Käfer bis 2003 mit rund 6 Millionen Exemplaren. Die mexikanischen Designer hinter den Aldekas Studios widmeten dieser Automobillegende ein sehr eigenes Design. Ein Go-Kart mit dem Namen Bugkart Wasowski und in der Form eines vorderen Kotflügels des VW Käfers. Allerdings erst einmal nur virtuell im Computer. Auch sind sie nicht die ersten Designer, die diese Idee zu Papier trugen. Der US-Amerikaner Brent Walker hatte bereits den Volkspod entworfen, ein Mini Bike mit der Kotflügelform eines Volkswagens.
Bei dem von den Aldekas Studios entworfenen Go-Kart sitzt der Kotflügel, der symmetrisch gespiegelt ist, auf einem knallroten Go-Kart Chassis. Der Sattel und der Lenker erinnern sehr an ein Dreirad. Vorne in der Mitte sitzt ein Käfer-Scheinwerfer und am Heck des Kotflügels sitzt der für den Käfer typische Mexiko-Käfer-Rückscheinwerfer. Nicht sonderlich sinnvoll sitzt ein Blinklicht in der Mitte oberhalb des Frontscheinwerfers. Die Rückspiegel am Lenker gleichen ebenfalls den Rückspiegeln an dem Original. Der Go-Kart Motor hat zwei Luftfilter, die dem Tuningset für Käfer-Boxer-Motoren gleichen.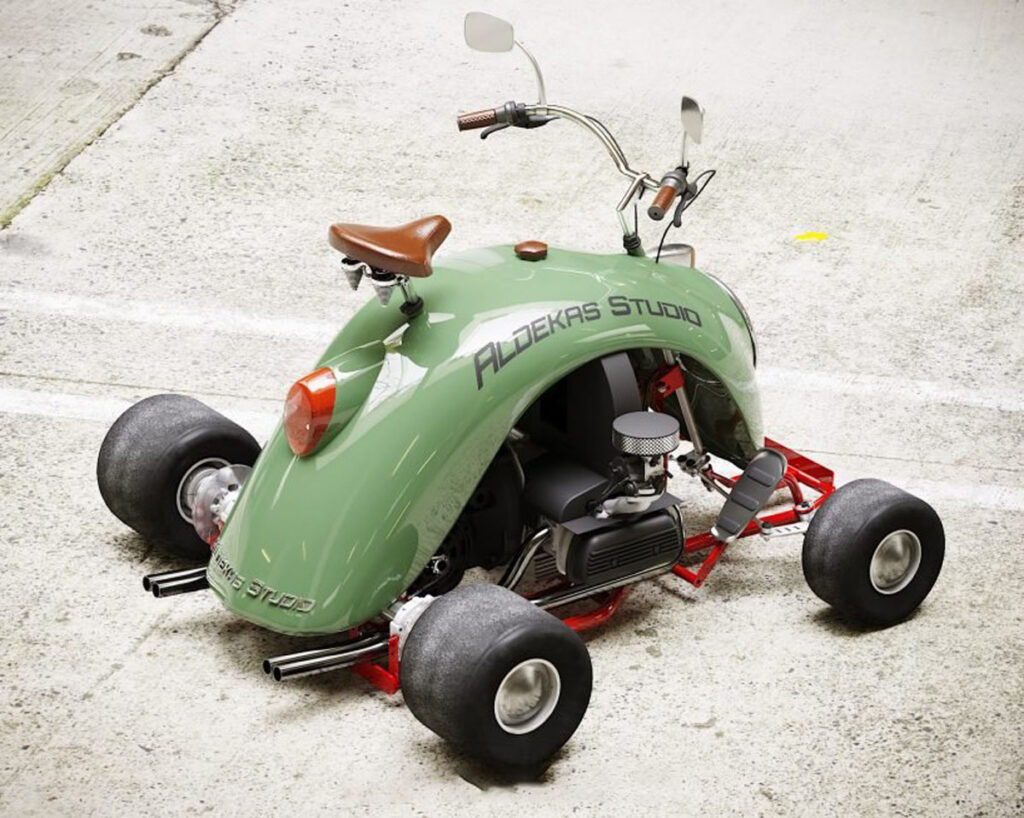 Übrigens ist das Bugkart Wasowski Go-Kart nur eine Designstudie aus dem Rechner und kann noch nicht erworben werden.
Fotos: ©Aldekas Studios
Die unbefugte Verwendung und / oder Vervielfältigung von redaktionellen oder fotografischen Inhalten von Classic-Car.TV ohne ausdrückliche und schriftliche Genehmigung des Herausgebers ist strengstens untersagt. Auszüge und Links dürfen verwendet werden, sofern Classic-Car.TV mit einem angemessenen und spezifischen Verweis zum ursprünglichen Inhalt, vollständig und eindeutig in Verbindung gebracht wird.

The unauthorized use and/or duplication of any editorial or photographic content from Classic-Car.TV without express and written permission from the publisher is strictly prohibited. Excerpts and links may be used, provided that full and clear credit is given to Classic-Car.TV with appropriate and specific direction to the original content.