Die Gewinner des jährlichen FIVA-Kreativwettbewerbs für das Jahr 2021 stehen fest. Liebhaber historischer Fahrzeuge aus der ganzen Welt – von Indien über Portugal bis Australien – hatten ihre Werke eingesendet.
Die FIVA (Fédération Internationale des Véhicules Anciens – Internationaler Verband historischer Fahrzeuge) hatte in Verbindung mit dem Internationalen Jugendtag der Vereinten Nationen die Teilnehmer gebeten, ein Foto oder eine Skizze/Malerei/Illustration darüber zu machen, wie sie in diesem Jahr mit ihrem historischen Fahrzeug "die Leidenschaft wiederbelebt" haben.
"Unser Ziel war es, eine Herausforderung zu stellen, die einen kleinen Funken Freude in die Düsternis der Pandemie bringt und sich an junge und junggebliebene Enthusiasten richtet", sagt Nataša G. Jerina, Vizepräsidentin der FIVA. "Wir bei der FIVA glauben, dass, wenn es eine positive Botschaft gibt, die man von der Pandemie mitnehmen kann, es der Wert des kostbaren Geschenks der Quality Time ist – Zeit, die wir in der Garage verbringen, uns die Hände schmutzig machen, gemeinsam lachen und Erinnerungen schaffen. Obwohl wir Beiträge aus der ganzen Welt hatten, möchten wir das Land mit der stärksten Beteiligung hervorheben, das seine Leidenschaft mit einer Vielzahl von Kunstwerken zum Ausdruck gebracht hat. Dieses Land war – vielleicht unerwartet – die Ukraine!"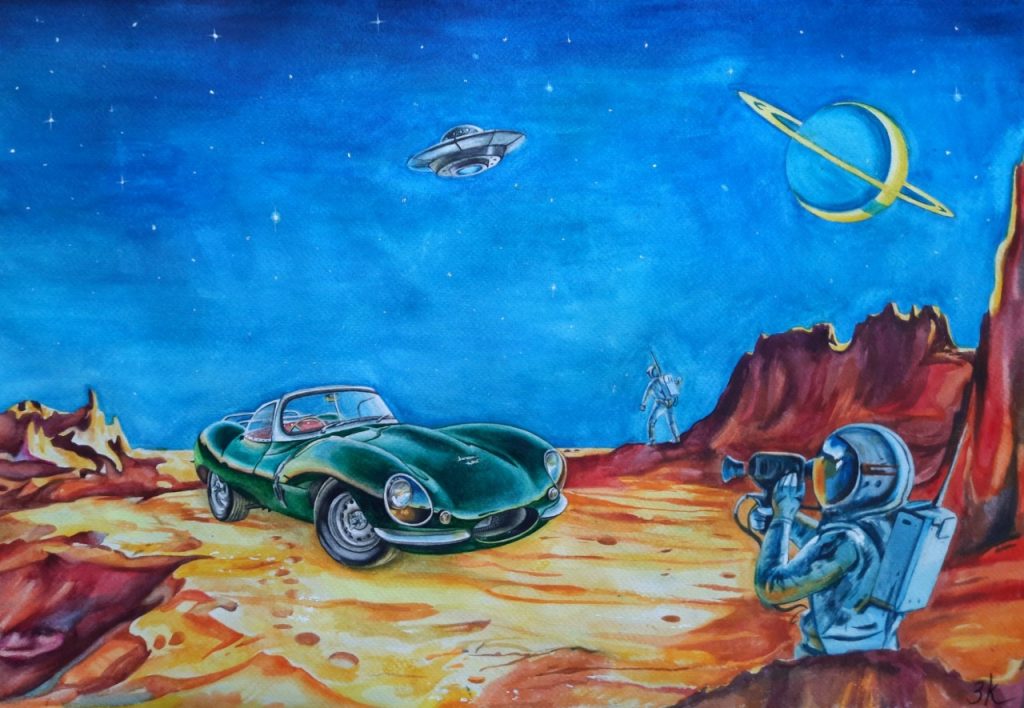 Die Gewinner in der Kategorie Skizze/Malerei/Illustration sind:
1) Andriy Duleba, Ukraine (47 Jahre alt)
2) Karina Zalievska, Ukraine (16 Jahre alt)
3) Viktoria Ostrovska, Ukraine (9 Jahre alt)
Ein Sonderpreis geht an Peter Vasiliadis aus Australien.
Der Gewinner in der Kategorie Fotografie ist Jehangir Foroogh aus Indien (über 18 Jahre), und eine besondere Anerkennung für hervorragende Arbeiten geht an Viktor Khodeev aus der Ukraine und Francisco Nogueira aus Portugal.
Dank der Unterstützung der globalen Partner Pirelli, Motul und Glasurit werden den Gewinnern Geschenke überreicht.
Fotos: ©FIVA
Die unbefugte Verwendung und / oder Vervielfältigung von redaktionellen oder fotografischen Inhalten von Classic-Car.TV ohne ausdrückliche und schriftliche Genehmigung des Herausgebers ist strengstens untersagt. Auszüge und Links dürfen verwendet werden, sofern Classic-Car.TV mit einem angemessenen und spezifischen Verweis zum ursprünglichen Inhalt, vollständig und eindeutig in Verbindung gebracht wird.

The unauthorized use and/or duplication of any editorial or photographic content from Classic-Car.TV without express and written permission from the publisher is strictly prohibited. Excerpts and links may be used, provided that full and clear credit is given to Classic-Car.TV with appropriate and specific direction to the original content.