Der Fiat Abarth 2000 Sport Tipo, intern codiert als "SE 010", erschien erstmals im Mai 1967 nach der Veröffentlichung des "2000 Sport Spider Tubolare Prototipo". Im Oktober 1967 wurde der Fiat Abarth 2000 Sport Tipo der Serie 1 eingeführt und verfügte über einen DOHC 2,0-Liter-Vierzylindermotor mit 250 PS. Das Rohr-Chassis der Serie 1 wurde mit einer 570 Kilogramm leichten Karosserie, Scheibenbremsen rundum, Einzelradaufhängung vorne und hinten und einem 100-Liter-Kraftstofftank für Langstreckenrennen ausgestattet.
Dieses Beispiel ist eine Serie 1-Version eines 1969er Fiat Abarth 2000 Sport Tipo SE 010, der zuerst dem französischen Rennfahrer Alain Finkelstein gehörte. Er trug die Fahrgestellnummer 0018 in die Ausgaben 1969 und 1970 des Championnat de France de la Montagne ein und beendete die Meisterschaft 1969 auf dem 3. Gesamtrang. Der Franzose beendete die Meisterschaft 1970 auf dem 6. Platz. Aufgrund der Einführung von Einsitzer-Rennwagen, die den Wettbewerbscharakter des Abarth 2000 reduzierten, fiel er in der Platzierung zurück.
Chassis 0018 wurde zwischen Ende 1970 und Anfang 1971 von Jean-Marie Porcier erworben, der den Abarth 1971 beim Championnat de France einsetzte und am 20. Juni 1971 auf dem Course de Côte de Sainte Anne den 2. Nach der Saison 1971 verkaufte Porcier den Abarth an den renommierten französischen Bergmeister Pierre Maublanc. Ein zeitgenössisches Foto zeigt diesen Abarth mit dem Schriftzug "Maublanc Racing Service" und einer Motorhaube der Serie 2.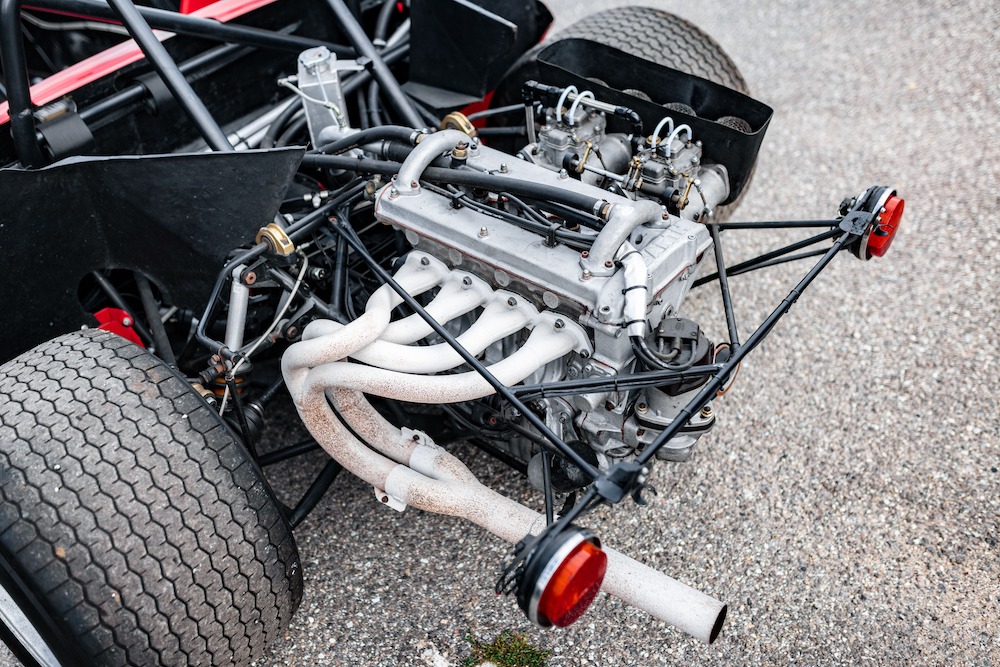 Am 8. Mai 1976 kaufte Jean Rocher das Fahrgestell 0018 von Maublanc. In den 40 Jahren im Besitz von Rocher soll der Abarth regelmäßig gewartet und gewartet worden sein, 1986 einer Restaurierung unterzogen worden sein und an einigen Motorsportveranstaltungen teilgenommen haben. Im Jahr 2016 beschloss der Sohn von Rocher, diesen Bergmeister zu restaurieren, um die Originalität des Fahrzeugs zu erhalten. Chassis 0018 wurde zerlegt, Antrieb und Fahrwerk neu aufgebaut. Die Karosserie erhielt einen frischen Anstrich und die Arbeiten wurden im Sommer 2017 abgeschlossen, wie Fotos in der Historie dieses Autos dokumentieren.
Nach der Restaurierung nahm der Abarth am historischen Bergrennen von Ollon-Villars, Schweiz im August 2017 und am Montée des Légendes du Col de la Faucille im Jahr 2018 teil. Mit diesem Fahrzeug wird ein Kaufvertrag von 1976, Kopien von a Zeitschriftenartikel, der dieses Auto beschreibt, FFSA Technical Passport, FIA Historical Technical Passport, gültig bis 2026, Rennverlaufstabelle und Restaurierungsfotos.
Fotos: ©RM Sotheby's
Die unbefugte Verwendung und / oder Vervielfältigung von redaktionellen oder fotografischen Inhalten von Classic-Car.TV ohne ausdrückliche und schriftliche Genehmigung des Herausgebers ist strengstens untersagt. Auszüge und Links dürfen verwendet werden, sofern Classic-Car.TV mit einem angemessenen und spezifischen Verweis zum ursprünglichen Inhalt, vollständig und eindeutig in Verbindung gebracht wird.

The unauthorized use and/or duplication of any editorial or photographic content from Classic-Car.TV without express and written permission from the publisher is strictly prohibited. Excerpts and links may be used, provided that full and clear credit is given to Classic-Car.TV with appropriate and specific direction to the original content.