Die London Classic Car Show ist vorüber und mit ihr auch die große Auktion der Veranstaltung, ausgerichtet am 26. Juni von Classic Car Auctions. Ein Gesamtumsatz von 1,9 Millionen Britische Pfund und eine Verkaufsrate von 76% lassen CCA eine positive Bilanz ziehen. Hier die wichtigsten Verkäufe:
Über 100 Jedermann-Klassiker aus allen Jahrzehnten kamen unter den Hammer, darunter der Mercedes-Benz 230SL (W113) von 1965 – früher gefahren von Britt Ekland. Im Vorfeld der Auktion erhielt dieses Exemplar viel Aufmerksamkeit. Die 'Pagode' wurde für £77.700 verkauft.
Los 301, der No Reserve 1986 Porsche 911 3.2 Carrera Supersport Targa, sorgte für viel Aufregung im Saal. Dieses seltene Modell in Guards Red und tadellosem Zustand präsentiert, wurde für £67.710 verkauft.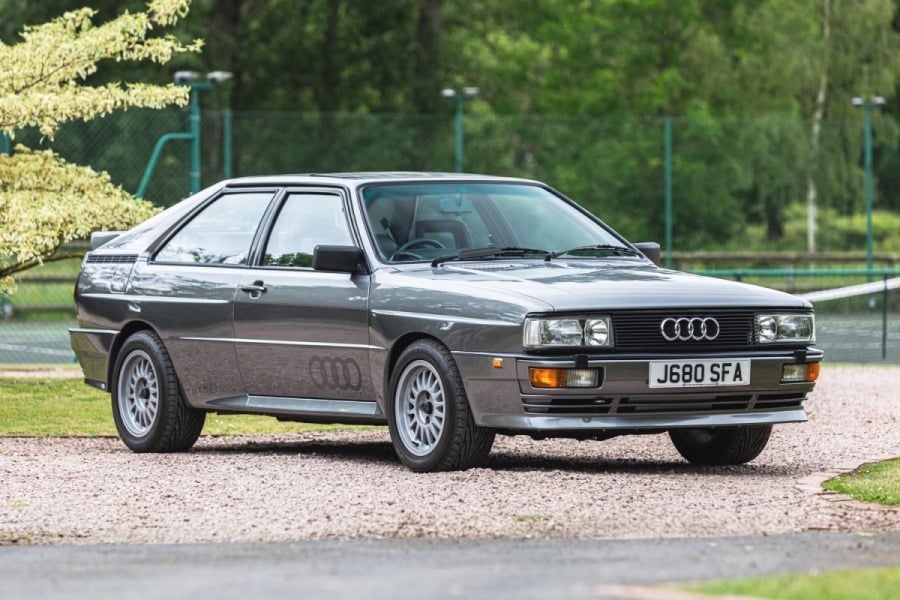 Vier außergewöhnliche Audi Quattros kamen unter den Hammer und wurden alle verkauft. Los 371, der 1992er Audi Quattro 20v (RR), von dem man annimmt, dass er der vorletzte Quattro in Großbritannien ist und einer von nur 295 Autos mit Rechtslenkung, wurde für £52.170 verkauft. Aus 30 Jahren Besitz und einer von 17 Vorserien-Prototypen war Los 354, der 1982 Audi Quattro-Pre-Production Prototype, der für £25.752 verkauft wurde. Los 326, ein 1985er Audi Ur-Quattro B2, der mit einem frischen Anstrich in Zermattsilber gut präsentiert wurde, wurde für £23.865 verkauft. Und der vierte und letzte Audi Quattro, der bei Classic Car Auctions verkauft wurde, war Los 320, ein 1988 Audi Quattro Turbo B2. Dieser schicke Ur-Quattro der ersten Generation wurde sorgfältig restauriert und mit allen Originalteilen wieder aufgebaut und für £29.970 verkauft.
Auch im Angebot: Ein Lotus Esprit S1 von 1977 (Los 352) mit original Lotus-Orange Lackierung. Mit 2.000 Arbeitsstunden und über £35.000, die für dieses Exemplar für die Restaurierung aufgewendet wurden und mit nur 27.000 Meilen auf der Uhr, wurde dieses Auto für £58.830 verkauft.
Ein Auto, das viel Interesse im Saal auf sich zog, war Los 357, ein Jaguar E-Type S3 Roadster von 1975. Mit weniger als 33.000 Meilen aus dem Neuzustand sprach dieser Serie 3 V12 viele Bieter an. Am Ende wurde der Wagen für £75.480 verkauft.
Die nächste Auktion von Classic Car Auctions findet am Samstag, den 25. September statt.
Fotos: ©Classic Car Auctions
Die unbefugte Verwendung und / oder Vervielfältigung von redaktionellen oder fotografischen Inhalten von Classic-Car.TV ohne ausdrückliche und schriftliche Genehmigung des Herausgebers ist strengstens untersagt. Auszüge und Links dürfen verwendet werden, sofern Classic-Car.TV mit einem angemessenen und spezifischen Verweis zum ursprünglichen Inhalt, vollständig und eindeutig in Verbindung gebracht wird.

The unauthorized use and/or duplication of any editorial or photographic content from Classic-Car.TV without express and written permission from the publisher is strictly prohibited. Excerpts and links may be used, provided that full and clear credit is given to Classic-Car.TV with appropriate and specific direction to the original content.