Hunderte Jaguar E-Types kamen am 4. Juli nach Oxfordshire, um das 60. Jubiläum der britischen Automobilikone zu feiern. Das Summer Jaguar Festival wurde vom Jaguar Enthusiasts' Club und dem Jaguar Drivers' Club organisiert. Mit dabei waren Jaguars aus allen Epochen, sowohl moderne als auch historische.
Auch Fahrzeuge aus der Sammlung des Jaguar Daimler Heritage Trust waren auf der Vorführstrecke in Bicester zu sehen. Sie boten Ticketinhabern Mitfahrgelegenheiten. Eine seltene Gelegenheit, diese historischen Jaguars in Bewegung auf einer Rennstrecke zu sehen. Zum Aufgebot gehörten u.a. ein 77RW, der E-Type, der im März 1961 von Werkstestfahrer Norman Dewis von Coventry aus durch die Nacht zur Vorstellung des Modells auf dem Genfer Autosalon gefahren wurde. Der TWR XJS des Jaguar Daimler Heritage Trust, Gewinner der European Touring Car Championship, begeisterte die Zuschauer mit seinem fantastisch klingenden V12-Motor. Auch der XK120 des Trusts, der 1952 in Montlhéry bei Paris sieben Tage und sieben Nächte lang mit einer Durchschnittsgeschwindigkeit von über 100 Meilen pro Stunde gefahren wurde, bewies, dass er immer noch mit Elan eine Runde fahren kann!
Die Veranstaltung feierte auch den 70. Jahrestag des ersten Jaguar-Sieges in Le Mans mit einem C-Type, gefahren von Peter Walker und Peter Whiteheadmit einer Ausstellung von Le-Mans-Autos im Flugzeughangar. Auf der Rennstrecke rundete eine Fahrvorführung des C-Type gegen den D-Type den Nachmittag ab.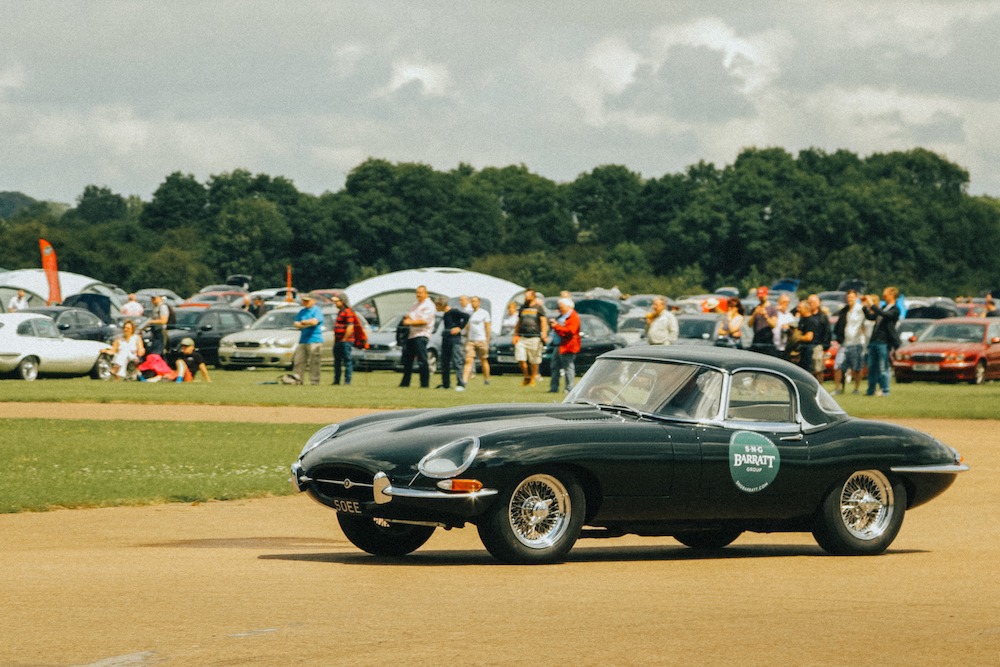 Der Flugzeughangar beherbergte eine Indoor-Messe für die Veranstaltung mit dem eigenen Merchandising-Stand des Jaguar Enthusiasts' Club. Auch andere Händler, darunter Castrol Classic Oils, CBR Classic Restorations und Hamilton Classic, boten alles an, von neuwertigen Teilen bis hin zu modernen Produkten für klassische und moderne Jaguars.
Der Höhepunkt des Sommer-Jaguar-Festivals 2021 war die Präsentation der Gewinner in einem exklusiven Concours d'Elégance für E-Types und einem Pride of Ownership-Wettbewerb für alle anderen Jubiläums-Jaguars.
Den dritten Platz beim "Pride of Ownership" belegte der XK8 von Max Thompson, den zweiten Platz der XKR von Stephen Berry und der Gewinner des "Pride of Ownership" war ein E-Type im Besitz von Phil Kenworthy. Alle erhielten hohe Punktzahlen von den Richtern und verließen die Show mit einer Kolbentrophäe und einem Reinigungsset von Sponsor Meguiar's.
Der Gesamtsieger des E-Type Concours d'Elégance erhielt einen VIP-Eintritt für den Salon Privé, wo er mit seinem Sieger-E-Type vom 1. bis 5. September 2021 antreten kann. Diese Auszeichnung ging an Paul Bridges, der nun seinen E-Type für seinen Moment auf der Weltbühne des Concours vorbereiten wird!
Fotos: ©Bicester Heritage
Die unbefugte Verwendung und / oder Vervielfältigung von redaktionellen oder fotografischen Inhalten von Classic-Car.TV ohne ausdrückliche und schriftliche Genehmigung des Herausgebers ist strengstens untersagt. Auszüge und Links dürfen verwendet werden, sofern Classic-Car.TV mit einem angemessenen und spezifischen Verweis zum ursprünglichen Inhalt, vollständig und eindeutig in Verbindung gebracht wird.

The unauthorized use and/or duplication of any editorial or photographic content from Classic-Car.TV without express and written permission from the publisher is strictly prohibited. Excerpts and links may be used, provided that full and clear credit is given to Classic-Car.TV with appropriate and specific direction to the original content.