Der Bentley Blower hat einen ganz besonderen Stellenwert in der Geschichte von Bentley. Jetzt wird der berühmteste Bentley aller Zeiten nachgebaut.  Die 'Blower Continuation Series' geht mit zwölf Exemplaren im Bentley-Werk in Crewe in Produktion.
Der original Bentley Blower wurde von Sir Tim Birkin in den späten 1920er Jahren für den Rennsport entwickelt. Die zwölf neuen Exemplare sind längst für Bentley-Sammler und -Enthusiasten auf der ganzen Welt vorgemerkt.
Der technische Prototyp für das Projekt – Car Zero – ist im Bau, der erste Motor wird von Bentley Mulliner mit der fachmännischen Unterstützung von Spezialisten nachgebildet. Zwischenzeitlich begann ein Team von Bentley-Ingenieuren mit der Vorbereitung eines der vier Motorenentwicklungs-Prüfstände am Bentley-Hauptsitz in Crewe. Die Motorenprüfstände befinden sich bei Bentley seit dem Bau des Werks im Jahr 1938 und waren ursprünglich zum Einfahren und zur Leistungsprüfung von Merlin-V12-Flugmotoren gedacht, die das Werk für die Spitfire- und Hurricane-Jagdflugzeuge des Zweiten Weltkriegs produzierte.
Zur Vorbereitung des Prüfstandes wurde ein Nachbau des vorderen Blower-Chassis zur Aufnahme des Motors angefertigt, das dann auf den computergesteuerten Motorprüfstand montiert werden konnte. Es wurde eine neue Softwareversion zur Messung und Steuerung des Motors geschrieben und getestet, die es den Bentley-Ingenieuren ermöglichte, den Motor zu überwachen und mit präzisen Parametern zu betreiben. Da sich der Blower-Antriebsstrang in Größe und Form erheblich von den modernen Serienmotoren von Bentley unterscheidet, wurde eine Reihe der originalen Merlin-Vorrichtungen verwendet, um den Prüfstand an diese speziellen Motoren anzupassen.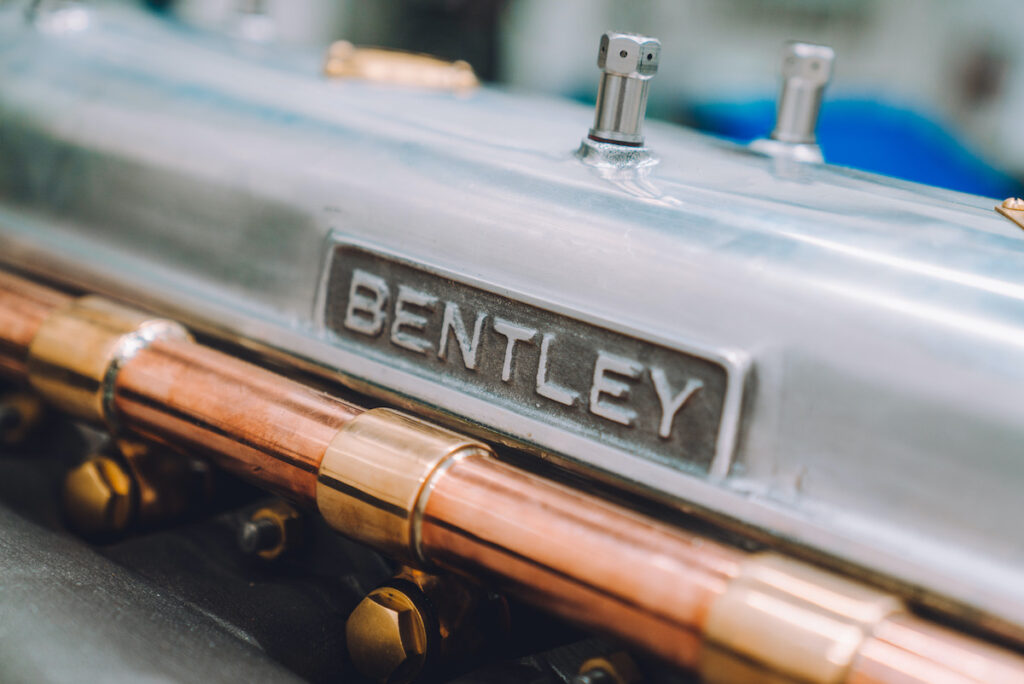 Das erste Triebwerk durchläuft nun den festgelegten Zeitplan für das Einfahren vor einem Volllasttest. Die Motoren werden über einen 20-Stunden-Zyklus getestet, wobei sowohl die Motordrehzahl als auch die Lastbedingungen vom Leerlauf bis zu 3.500 U/min schrittweise erhöht werden. Sobald jeder Motor vollständig eingefahren ist, wird eine Volllastleistungskurve gemessen.
Wenn der Bau des Wagens abgeschlossen ist, beginnt ein Programm von Streckentests, bei denen die Dauer und Geschwindigkeit der Tests allmählich zunimmt und die Funktionalität und Robustheit unter immer härteren Bedingungen geprüft wird. Das Testprogramm ist so ausgelegt, dass es das Äquivalent von 35.000 Kilometern realen Fahrens auf 8.000 Streckenkilometern erreicht. Es simuliert außerdem die Durchführung berühmter Rallyes wie Peking nach Paris und Mille Miglia.
Im Renneinsatz war der Original-Blower von Tim Birkin unglaublich – er leistete rund 240 PS. Die 'Blower Bentleys' waren daher extrem schnell ­– aber leider auch extrem empfindlich.
Fotos: ©Bentley
Die unbefugte Verwendung und / oder Vervielfältigung von redaktionellen oder fotografischen Inhalten von Classic-Car.TV ohne ausdrückliche und schriftliche Genehmigung des Herausgebers ist strengstens untersagt. Auszüge und Links dürfen verwendet werden, sofern Classic-Car.TV mit einem angemessenen und spezifischen Verweis zum ursprünglichen Inhalt, vollständig und eindeutig in Verbindung gebracht wird.

The unauthorized use and/or duplication of any editorial or photographic content from Classic-Car.TV without express and written permission from the publisher is strictly prohibited. Excerpts and links may be used, provided that full and clear credit is given to Classic-Car.TV with appropriate and specific direction to the original content.