Während des Lockdowns im vergangenen Jahr hat der Aston-Martin-Spezialist McGurk Performance Cars einen Aston Martin DB5 aus dem Jahr 1964 vollständig restauriert. John McGurk, Eigentümer von McGurk Performance Cars, kaufte das Auto im März 2020 mit der Absicht, es nur leicht zu restaurieren, aber da der Lockdown bedeutete, dass niemand anreisen konnte, um das Fahrzeug zu besichtigen, geriet das Projekt zu einer vollständigen Bare-Metal-Restaurierung.
Der 1964 an den Aston Martin-Konzessionär J. S. Inskip, 64th Street, New York, USA, ausgelieferte Wagen verließ das Vereinigte Königreich in der Farbe California Sage (ein helles Metallic-Grün) mit einer weißgoldenen Innenausstattung, Weißwandreifen, einer beheizbaren Scheibe, einem Motorola-Radio, einer elektrischen Antenne und einer Klimaanlage. Der Wagen war in den USA, bis er in den 1980er Jahren nach Europa zurückkehrte, wo er von Jean-Marie Cousty, einem Mitglied des französischen Aston Martin Owners Club, ersteigert wurde, der ihn zwei Jahrzehnte lang in und um Paris fuhr, bevor er ihn im Jahr 2000 verkaufte. Der Wagen verließ Frankreich und ging nach Holland und wurde später von der kuwaitischen Königsfamilie gekauft.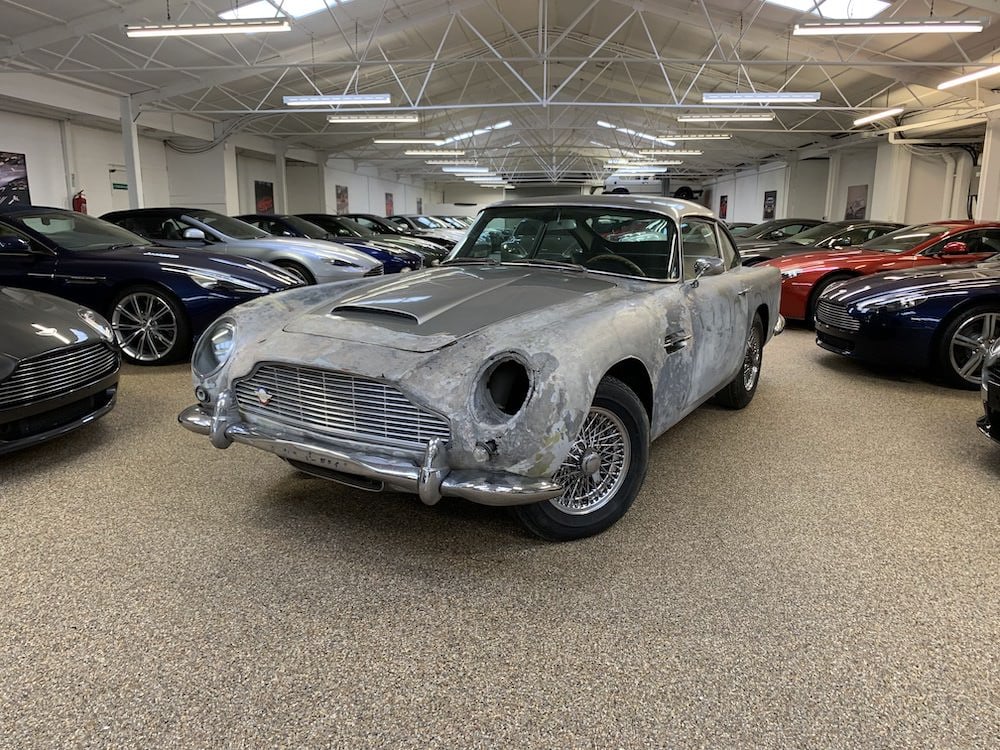 McGurk entdeckte den Wagen im Jahr 2020 und brachte ihn zurück in den Hauptsitz von McGurk Performance Cars in Warwickshire. "Wir erkannten, dass es ein sehr solides Auto war, und wir dachten, dass es eine großartige Basis für eine leichte Restaurierung sein würde. Ich inserierte den Wagen zum Verkauf und wurde von Interessenten überschwemmt, aber niemand konnte ihn besichtigen, weil sie während des Lockdowns nicht reisen konnten. Als es Juni (2020) wurde, beschlossen wir, das Auto selbst zu zerlegen und den Motor zum Laufen zu bringen, und von da an eskalierte die Sache", so McGurk.
McGurk fand alle Karosserieteile mit der Fahrgestellnummer 334 nummeriert, was die Originalität unterstreicht, allerdings war der Einbau eines Schiebedachs im Jahr 1978 dank der Datierung des Blechteils durch den Monteur offensichtlich. Er trägt auch die Vantage-Plakette, da er zuvor auf Vantage-Spezifikationen umgerüstet wurde, mit den richtigen Weber-Vergasern und überarbeiteten Nockenwellen, um die Leistung des 4,0-Liter-Reihensechszylinders von 282 PS auf 325 PS zu erhöhen.
Die Suche nach den korrekten Originalteilen war eine Mission, die des berühmtesten Fahrers des DB5 würdig war. Besonders knifflig war es, Dinge wie die originalen Scheinwerferabdeckungen aus Glas zu beschaffen. Nach Abschluss der Restaurierung wird McGurk's den Wagen in den nächsten Monaten ausstellen und bestimmungsgemäß nutzen. Wahrscheinlich wird er in seine frühere Heimat Paris zurückkehren und dort auf eine klassische Europatournee gehen.
Fotos: ©McGurk Performance Cars
Die unbefugte Verwendung und / oder Vervielfältigung von redaktionellen oder fotografischen Inhalten von Classic-Car.TV ohne ausdrückliche und schriftliche Genehmigung des Herausgebers ist strengstens untersagt. Auszüge und Links dürfen verwendet werden, sofern Classic-Car.TV mit einem angemessenen und spezifischen Verweis zum ursprünglichen Inhalt, vollständig und eindeutig in Verbindung gebracht wird.

The unauthorized use and/or duplication of any editorial or photographic content from Classic-Car.TV without express and written permission from the publisher is strictly prohibited. Excerpts and links may be used, provided that full and clear credit is given to Classic-Car.TV with appropriate and specific direction to the original content.