Das Volvo Classic-Racing Team startet 2021 nicht nur als eines der größten Teams in der TWC, sondern ist auch Sponsor der bekannten klassischen Motorsport Serie.
Die bekannte Crew setzt dabei in den kommenden Wochen und Monaten auf eine in der Renn-Historie neue Kombination: Am Start stehen sowohl die Limousine als auch die Kombi-Version – letztere gleich doppelt – des Volvo 850 Turbo der Gruppe A. Sie kehren nach jahrzehntelanger Pause – Premiere war ein Gastauftritt beim OGP 2020 – als Team Volvo Classic-Racing auf die Rennstrecken zurück.
Dahinter verbirgt sich die enge Zusammenarbeit bekannter Namen: Die GEMEC Solutions GmbH (Kelberg) von Gerhard Hinkelmann, die HSO Hütter Sport Orga GmbH (Adenau) und die Baumann Logistik GmbH (Bonn). Sie stemmen gemeinsam den Einsatz in der Touren Wagen Classic (TWC).
Damit wird der Bogen geschlagen von den inzwischen legendären Auftritten der Boliden bei den 24h Rennen auf der Nordschleife Mitte der 90er Jahre. Basierend auf der damaligen Entscheidung des Importeurs wurden 1994 zwei Fahrzeuge im Gruppe A Trim unter der Projektleitung von Gerhard Hinkelmann bei den Spezialisten von HEICO Motorsport aufgebaut. Das 2,3l 5-Zylinder-Turbo-Aggregat leistete so präpariert ca. 243kW/330 PS. Als Vorbereitung auf den Marathon zweimal rund um die Uhr nutzte man damals die Läufe des damaligen Veedol Langstreckenpokals.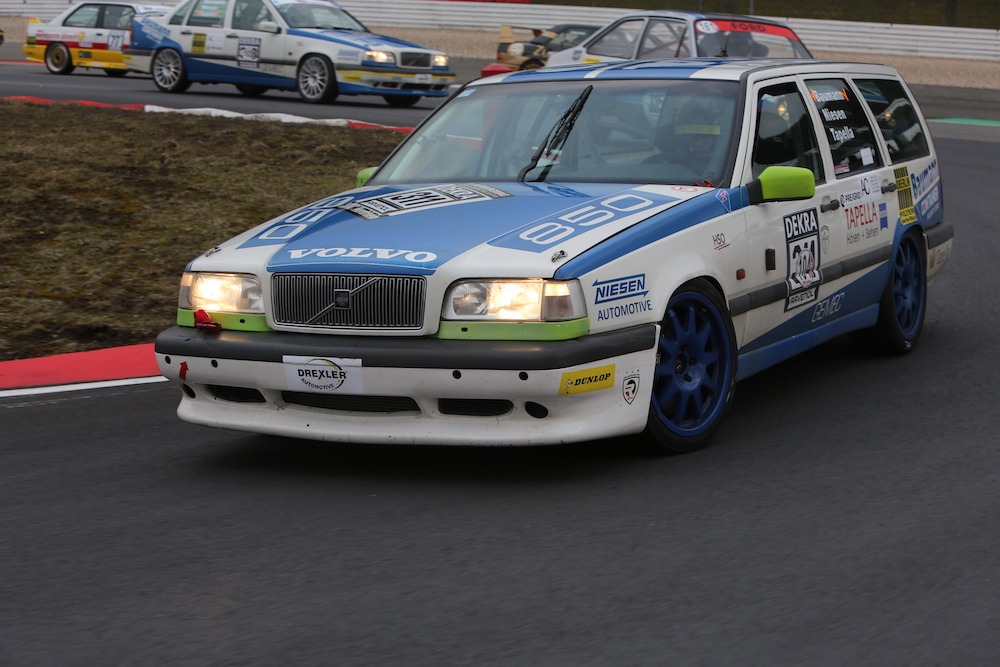 Erfolgreiche Einsätze bei dem Langstreckenklassiker durch die Grüne Hölle in den Jahren 1995 bis 1997 folgten und sorgten für großes Aufsehen.
"Volvo gelang 1994 in der Rennszene ein nie zuvor und danach da gewesener Coup: Kombis im Rennsport! Jetzt schreiben wir in der Oldtimer-Serie ein neues Kapitel dieser Geschichte", so bringt Gerhard Hinkelmann die eigene sportliche Historie mit der Gegenwart in einem Satz auf den Punkt.
Helmut Baumann als Team-Sprecher für die Partner Niesen System Logistik (Leverkusen), Tapella Hören + Sehen (Rheinbach), Tapella Zahnimplantate (Bonn) sowie die Baumann Logistik GmbH und Baumann Container Raumsysteme (Bonn) fokussierte weitere Eckpunkte:
"Von unserem gelungenen Debüt mit der TWC im Rahmen des letztjährigen OGP wuchs die Begeisterung bei uns allen. Wir wollten und wollen mehr. Dementsprechend treten wir mit drei Boliden an. Aber nicht nur das. Wir möchten auch offiziell mitwirken, die große Serie und die im letzten Jahr stetig gewachsene attraktive mediale Basis durch unser Engagement als Serien-Partner weiter voranzubringen. Wir fühlen uns in der TWC-Familie sehr wohl und lieben es mit unseren Power-Boliden das ausgesprochen breite Starterfeld mit seiner Markenvielfalt aufzumischen."
Fotos: ©Volvo Racing
Die unbefugte Verwendung und / oder Vervielfältigung von redaktionellen oder fotografischen Inhalten von Classic-Car.TV ohne ausdrückliche und schriftliche Genehmigung des Herausgebers ist strengstens untersagt. Auszüge und Links dürfen verwendet werden, sofern Classic-Car.TV mit einem angemessenen und spezifischen Verweis zum ursprünglichen Inhalt, vollständig und eindeutig in Verbindung gebracht wird.

The unauthorized use and/or duplication of any editorial or photographic content from Classic-Car.TV without express and written permission from the publisher is strictly prohibited. Excerpts and links may be used, provided that full and clear credit is given to Classic-Car.TV with appropriate and specific direction to the original content.