Der Lamborghini Countach ist das Kultmodell der Marke mit dem Stier.  Dieses Jahr wird der Countach 50 Jahre alt und hat mit seinen ultramodernen Linien das Design all seiner Nachfolger mitbestimmt, einschließlich der aktuellen Modelle Aventador, Huracán, Sián sowie Urus.
"Manche Kunstwerke bleiben immer aktuell, die Form des Countach ist eines von ihnen." Mit diesen Worten hat Mitja Borkert, Head of Design bei Lamborghini, den Stil dieses Kultfahrzeugs der globalen Automobilbranche beschrieben. "Sein Design", ergänzt Mitja Borkert, "setzt sich aus perfekten Proportionen zusammen und ist durch einen äußerst puristischen und minimalistischen Stil gekennzeichnet. Sein typisches Erkennungsmerkmal besteht in einer einzigen Längslinie, die den Front- und Heckbereich optisch miteinander verbindet. In stilistischer Hinsicht eine brillante Idee, denn dieses Element schafft, selbst wenn sich das Rundherum verändert, eine visuelle Kontinuität zwischen Vergangenheit und Gegenwart. Es stellt die Summe der Design-DNA von Lamborghini dar, die Tradition der Designsprache von den Anfängen bis zum heutigen Tag."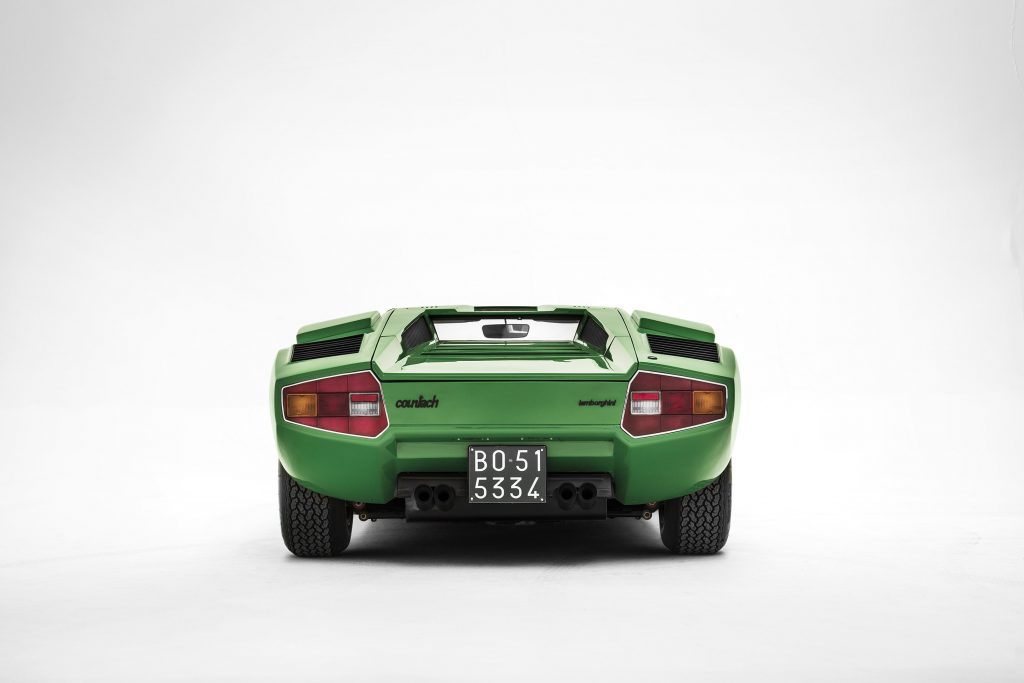 Der von vorne tief und breit wirkende Countach zeichnet sich durch diagonale Linien an der Frontklappe aus, die sich an der Motorhaube wiederfinden und selbst von Weitem unmittelbar erkennbar sind. Die tiefe, rechteckige Form des Innenraums gepaart mit der typischen Neigung der Frontscheibe haben dazu beigetragen, das Design der zahlreichen Nachfolgemodelle des Countach zu prägen. Eben diese Formen sind über die Jahre unverändert geblieben. Dazu gehört auch die charakteristische Formgebung der Seitenfenster, die einen Lamborghini auf den ersten Blick erkennbar macht.
Ein futuristisches Design, das seiner Zeit voraus war und auf die 70er-Jahre zurückgeht, eine Zeit höchster Kreativität, die für die Designwelt richtungsweisend war. Eine Zeit bedeutender sozialer Errungenschaften, die sich in grundlegenden Veränderungen niederschlugen, die wiederum Designer und Kreative auf der ganzen Welt inspirieren sollten. Der Wettlauf ins All, der Anbruch der High-Tech-Ära mit dem Bau moderner Computer, die Modetrends in Verbindung mit geometrischen Motiven, extravaganten Elementen und der Explosion lebendiger Farben, der Beginn des Individualismus und des Jet-Zeitalters, all diese Dinge haben die stilistischen Entscheidungen des Countach-Designers Marcello Gandini beeinflusst. Dies ist auch dem visionären Geist von Ferruccio Lamborghini zu verdanken, der vom ersten Augenblick an an ein derart revolutionäres Projekt glaubte, das noch heute das Design der modernen Lamborghinis beeinflusst und deren von Natur aus innewohnende Bestimmung als Pioniere der Zukunft bekräftigt.
Fotos: ©Automobili Lamborghini
Die unbefugte Verwendung und / oder Vervielfältigung von redaktionellen oder fotografischen Inhalten von Classic-Car.TV ohne ausdrückliche und schriftliche Genehmigung des Herausgebers ist strengstens untersagt. Auszüge und Links dürfen verwendet werden, sofern Classic-Car.TV mit einem angemessenen und spezifischen Verweis zum ursprünglichen Inhalt, vollständig und eindeutig in Verbindung gebracht wird.

The unauthorized use and/or duplication of any editorial or photographic content from Classic-Car.TV without express and written permission from the publisher is strictly prohibited. Excerpts and links may be used, provided that full and clear credit is given to Classic-Car.TV with appropriate and specific direction to the original content.