Bowers & Wilkins, hochklassiger Lautsprecher-Hersteller aus Großbritannien, hat den BMW iX, den neuen elektrischen Luxus-SUV von BMW, mit einem Sound System ausgestattet.
Das Bowers & Wilkins Diamond Surround Sound System im iX soll ein Klangerlebnis liefern, das sich anfühlt, als wäre man mit dem Künstler im Studio – ein Konzept, das Bowers & Wilkins als "True Sound" bezeichnet. Dieses Konzept wird von Bowers & Wilkins als True Sound" bezeichnet. Erreicht werden kann dies nur durch eine enge Zusammenarbeit zwischen den Entwicklungsteams von BMW und Bowers & Wilkins sowie durch den Einsatz bewährter Technologien aus dem Kernsortiment der Passivlautsprecher von Bowers & Wilkins.
Der BMW iX ist das erste vollelektrische Fahrzeug, das mit Diamond Dome-Hochtönern ausgestattet ist, wie sie auch in den Bowers & Wilkins-Lautsprechern der 800er Serie Diamond zu finden sind, dem Monitorlautsprecher der Wahl in den Abbey Road Studios. Die außergewöhnlich präzisen, verzerrungsarmen Hochtöner verfügen über NautilusTM-Wirbel, spiralförmige Kanäle hinter den Hochtonkalotten, die reflektierte Schallwellen, die von der Rückseite der Antriebseinheit ausgehen, ableiten und Verzerrungen begrenzen. Passend zum minimalistischen Innenraum des BMW iX sind die Hochtöner mit Abdeckungen aus gebürstetem Edelstahl mit gelasertem Logo und dezentem Lichteffekt versehen, und die Türlautsprecher sind diskret hinter akustisch optimiertem Stoff verborgen.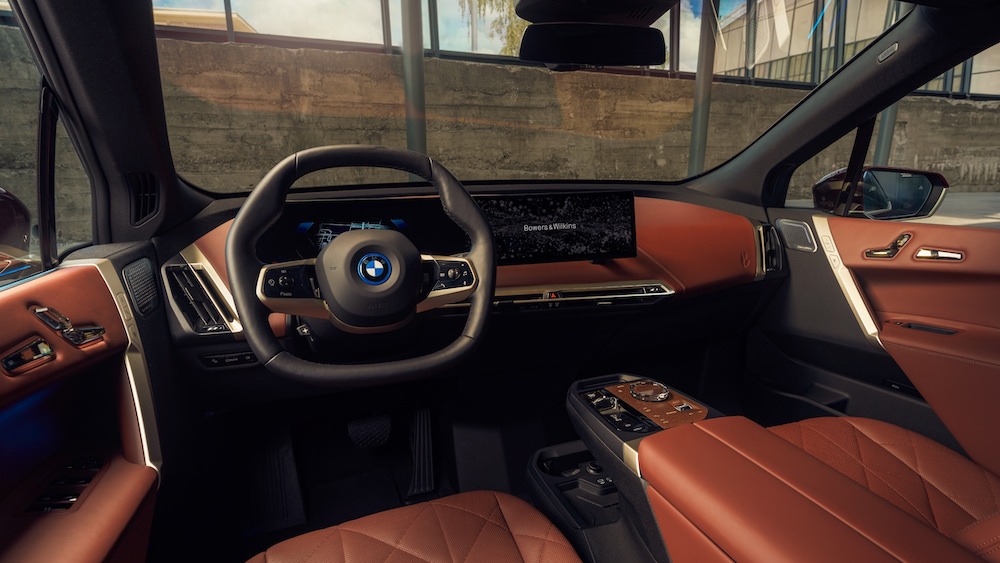 Insgesamt gibt es zwei Diamantkalotten-Hochtöner, drei Aluminiumkalotten-Hochtöner und fünf Aramidfaser-Mitteltöner, die so hoch wie möglich in der hellen, geräumigen Kabine angebracht sind. Weitere acht Lautsprecher sind in die vorderen und hinteren Kopfstützen integriert, die individuell eingestellt werden können, um für jeden Fahrgast ein ganz persönliches Klangerlebnis zu schaffen. Zum ersten Mal werden vier Basslautsprecher durch 4D Shaker ergänzt, die strategisch im Innenraum positioniert sind und selbst bei geringer Lautstärke ein sattes Basserlebnis erzeugen.
Die Fahrgäste können das Soundsystem je nach Vorliebe in vier verschiedenen Klangmodi einstellen. Das Ergebnis ist ein hervorragend detaillierter und verfärbungsfreier Klang, der sich nahtlos in das Fahrzeugdesign einfügt.
https://www.bowerswilkins.com/
Fotos: ©Bowers & Wilkins
Die unbefugte Verwendung und / oder Vervielfältigung von redaktionellen oder fotografischen Inhalten von Classic-Car.TV ohne ausdrückliche und schriftliche Genehmigung des Herausgebers ist strengstens untersagt. Auszüge und Links dürfen verwendet werden, sofern Classic-Car.TV mit einem angemessenen und spezifischen Verweis zum ursprünglichen Inhalt, vollständig und eindeutig in Verbindung gebracht wird.

The unauthorized use and/or duplication of any editorial or photographic content from Classic-Car.TV without express and written permission from the publisher is strictly prohibited. Excerpts and links may be used, provided that full and clear credit is given to Classic-Car.TV with appropriate and specific direction to the original content.